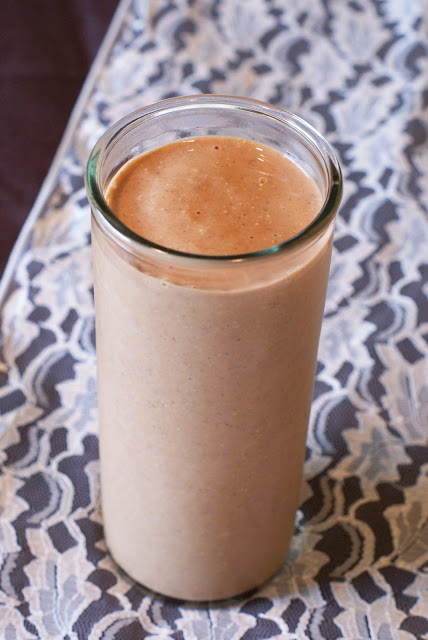 My weekday mornings are pretty consistent.  I get Kyri up so she can start getting ready for school.  She is able to do most things on her own (get dressed, eat breakfast, brush her teeth), but I just have to be her motivator.  Kaden just wants his cup of warm, organic rice milk when he wakes up and he's good.  This mama, however, needs a morning pick-me-up to get her ready for the day.  Sometimes a cup of coffee just won't do.  I need something with substance.

I came up with the idea of doing a clever combo of my morning smoothie with my cup of decaf coffee.  I love bananas and chocolate together so that is where I started.  A frozen banana, chilled coffee, and some So Delicious Chocolate Coconut Milk.  Can I just say that chocolate coconut milk is simply amazing?  So thankful to have it in my life.  I also added gluten free oats and chia seeds.  Sneaking in those chia seeds again.  Yep, I just can't help myself!  They are full of antioxidants and protein.  It would also be pretty fantastic if you added a couple tablespoons of nut butter!  I discovered this breakfast smoothie can be easily made the night before, placed in refrigerator and enjoyed in the morning.  A filling, delicious breakfast in a cup!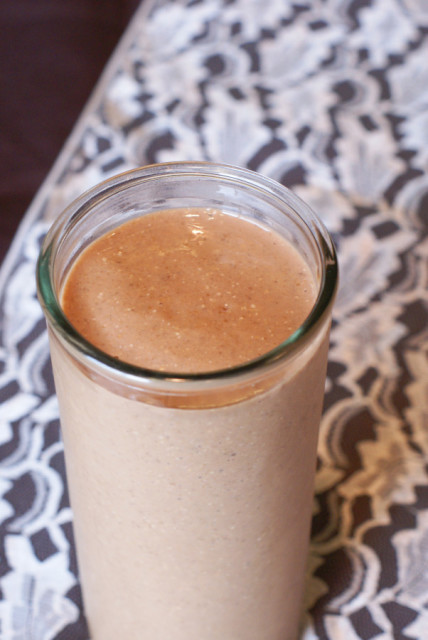 dairy free mocha breakfast smoothie
AUTHOR:
Sarah Bakes Gluten Free
RECIPE TYPE:
smoothies & drinks
INGREDIENTS
6-8 ice cubes
1 frozen banana
1/2 cup strong brewed coffee, chilled
3/4 cupSo Delicious Chocolate Coconut Milk
1/4 cup gluten free oats
1 tablespoon chia seeds
1 tablespoon pure maple syrup or honey
INSTRUCTIONS
Add all ingredients to your blender. Blend on high until everything is smooth and blended well, 1-2 minutes. Add additional coconut milk if needed.
Serve or chill in refrigerator to enjoy later.