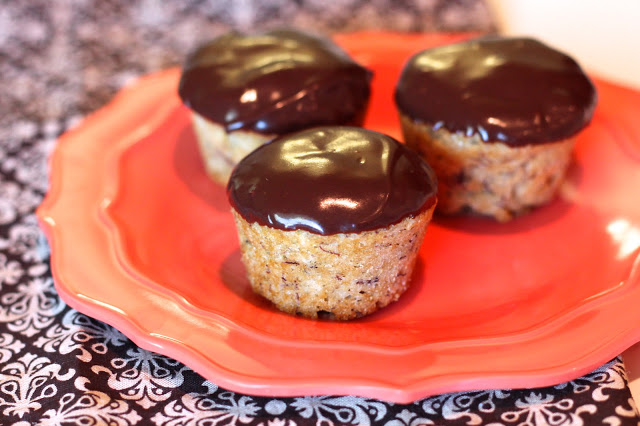 These chocolate glazed banana muffins are pretty amazing. Scrumptious banana muffins, topped with a simple vegan chocolate ganache. Yes, vegan ganache does exist! I use So Delicious coconut milk coffee creamer (the French vanilla is my favorite) with dairy free chocolate chips. It's out of this world!
This is my new EASY recipe for banana muffins (delightful even without the chocolate ganache). I'm loving the texture. The coconut oil adds great flavor too. The ganache adds just enough, not too much, sweetness. You can make these in either the mini muffin size, as I did, or in regular sized muffins. I give instructions for both. I baked up a batch of these for my women's bible study and they loved them! I hope you will too!
gluten free vegan chocolate dipped banana muffins
makes 15 regular muffins or 30 mini muffins
1 1/2 teaspoons baking powder
1/2 teaspoon baking soda
1/2 teaspoon salt
2 large bananas, mashed
1/2 cup coconut oil, melted
1/2 cup organic sugar
1/4 cup So Delicious unsweetened coconut milk
1/4 cup pure maple syrup
2 teaspoons apple cider vinegar
1 teaspoon pure vanilla extract
vegan chocolate ganache
1 cup vegan free chocolate chips
4 tablespoons So Delicious coconut milk coffee creamer
Preheat oven to 350 degrees. Spray regular-size or mini muffin tins with cooking spray. Sift flour, powder, baking soda, and salt. Set aside. In large mixing bowl, mash bananas until no large pieces remain. Mix in melted coconut oil, sugar, coconut milk, maple syrup, vinegar, and vanilla. Stir until combined. Fold in flour mixture. Pour batter into greased muffin tins, filling 2/3 full. Bake 20-22 minutes for regular-size and 14-16 for mini. Remove from pan and cool on cooling rack.
To make vegan ganache, mix chocolate chips and coffee creamer in small bowl. Place in microwave for 30 seconds, stir. Microwave for another 15 seconds and stir until chocolate chips are completely melted. Dip the tops of cooled muffins into ganache. Allow to cool and the chocolate to set completely.