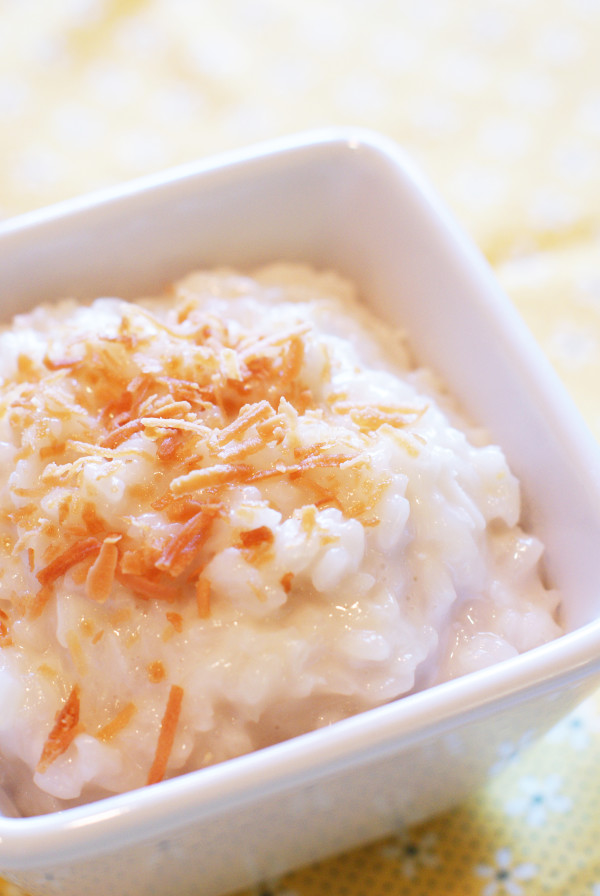 One dessert that I am secretly in love with…pudding.  Chocolate, vanilla, tapioca, banana. I just love how it is such a simple, comforting dessert. Now I'm not talking about the boxed powder stuff that you mix with milk and it magically gets thick. No, no, no. I'm talking about homemade, from scratch pudding.  It's made with only a few ingredients so there is no reason you can't make it yourself. It may not be instant, but it's so worth the time it takes to make!
The other night I got this craving for rice pudding. Not sure where it came from, but I just had to give in.  I cooked up some white rice with a mixture of So Delicious unsweetened coconut milk, as well as vanilla coconut milk. A little organic sugar, a little shredded coconut. The result was a beautiful bowl of warm, creamy coconut rice pudding. The sprinkling of toasted coconut (one of my favorite toppings) added a little crunch and more depth to the coconut flavor. Simple and comforting is the best way to describe this coconut rice pudding. It just warms the soul.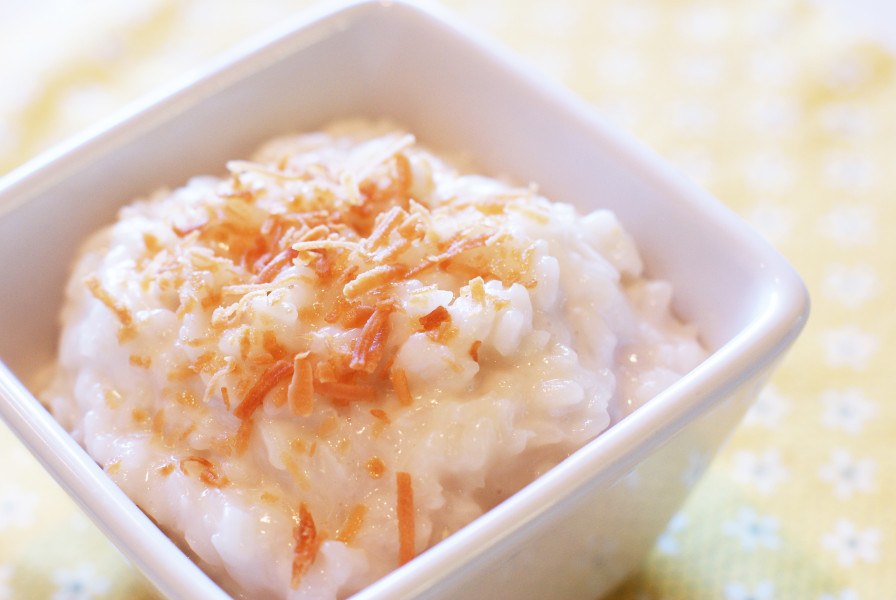 vegan coconut rice pudding
AUTHOR:
Sarah Bakes Gluten Free
INGREDIENTS
1 1/2 cups, plus 1/2 cup So Delicious Dairy Free unsweetened coconut milk
1 cup So Delicious Dairy Free unsweetened vanilla coconut milk
3/4 cup short-grain white rice
1/4 cup organic cane sugar
1/4 cup shredded coconut
1/4 teaspoon salt
1/2 teaspoon pure vanilla extract
2 tablespoons toasted coconut, for garnish*
INSTRUCTIONS
In medium saucepan, combine 1 1/2 cups unsweetened coconut milk with 1 cup vanilla coconut milk, rice, sugar, coconut and salt.
Bring to a boil, then turn down heat to low and simmer uncovered. Occasionally stir as the rice absorbs the milk and becomes tender, about 25-30 minutes.
When most of milk is absorbed and the rice is cooked, remove from heat. Pour in the vanilla extract and 1/2 cup of the remaining unsweetened coconut milk. Add more coconut milk until you've reached the desired consistency (pudding will thicken as it sits).
Top pudding with toasted coconut and serve warm. op with toasted coconut.
Cover and refrigerate leftover pudding. When you reheat rice pudding, you may need to add a bit more coconut milk.
NOTES
*To make toasted coconut, place shredded coconut in a single layer on baking sheet. Bake at 350 degrees for 8-10 minutes. Make sure you keep an eye on the coconut! It tends to go from toasted to burnt in a matter of seconds.