vegan coconut rice pudding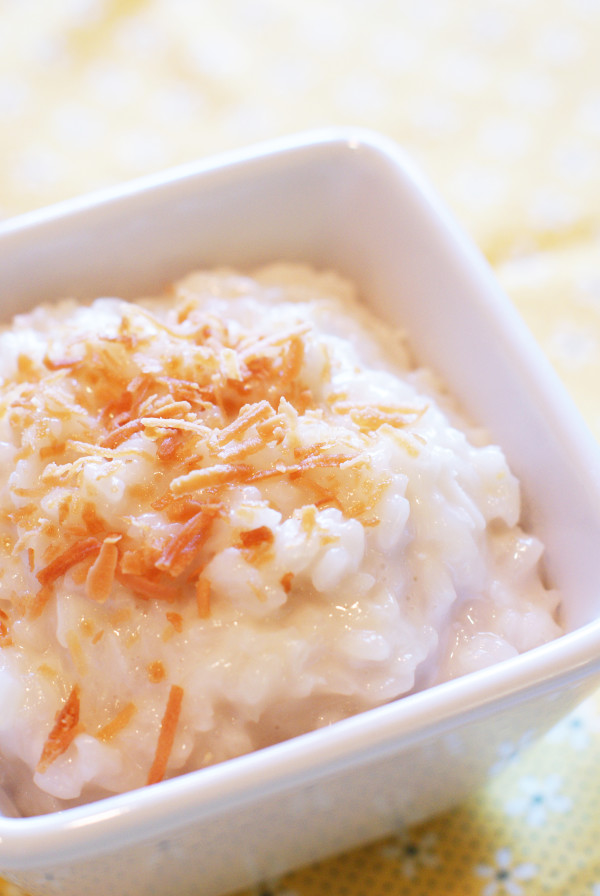 AUTHOR:
Sarah Bakes Gluten Free
1 1/2 cups, plus 1/2 cup So Delicious Dairy Free unsweetened coconut milk
1 cup So Delicious Dairy Free unsweetened vanilla coconut milk
3/4 cup short-grain white rice
1/4 cup organic cane sugar
1/4 cup shredded coconut
1/4 teaspoon salt
1/2 teaspoon pure vanilla extract
2 tablespoons toasted coconut, for garnish*
In medium saucepan, combine 1 1/2 cups unsweetened coconut milk with 1 cup vanilla coconut milk, rice, sugar, coconut and salt.
Bring to a boil, then turn down heat to low and simmer uncovered. Occasionally stir as the rice absorbs the milk and becomes tender, about 25-30 minutes.
When most of milk is absorbed and the rice is cooked, remove from heat. Pour in the vanilla extract and 1/2 cup of the remaining unsweetened coconut milk. Add more coconut milk until you've reached the desired consistency (pudding will thicken as it sits).
Top pudding with toasted coconut and serve warm. op with toasted coconut.
Cover and refrigerate leftover pudding. When you reheat rice pudding, you may need to add a bit more coconut milk.
*To make toasted coconut, place shredded coconut in a single layer on baking sheet. Bake at 350 degrees for 8-10 minutes. Make sure you keep an eye on the coconut! It tends to go from toasted to burnt in a matter of seconds.
Recipe by
Sarah Bakes Gluten Free
at https://www.sarahbakesgfree.com/2013/03/vegan-coconut-rice-pudding.html