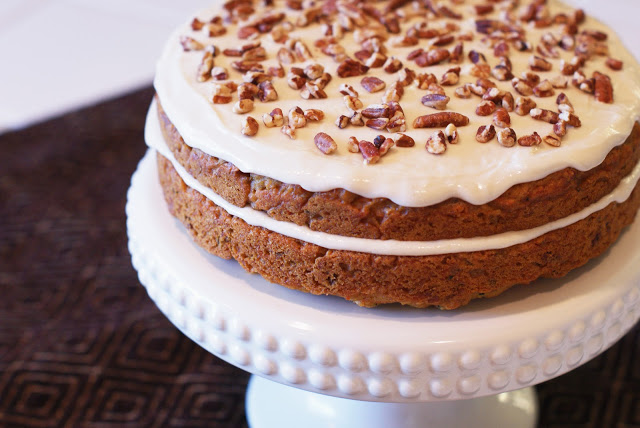 How is it already March? Seriously. February was such a busy month for us. We had family in town for a week, Kevin and I went to the GFAF Expo, we celebrated the day of love and I feel like there was something else….oh yeah, I turned 31. This birthday was not as eventful as turning 30. I don't really feel much older, but I must say it is still weird to be in my "thirties." Not a bad thing, just weird. With each year that goes by, I just seem to feel more and more blessed. Thank you, Jesus, for my beautiful life!
Now that it is March, we can start preparing for the next holiday…Easter! Easter is full of much joy and rejoicing. Such a glorious day! We celebrate by going to church together and then spending the afternoon with our family. The food is a big part of the gathering and I always like to try a new dessert. I'm planning a bit early and tested out this recipe for gluten free carrot zucchini cake. So easy and so moist! There are options to make it dairy and egg free as well (which is what I did). Full of fresh flavors from the veggies, studded with toasted pecans, and topped with a creamy frosting. Don't be intimidated by this layered cake, it comes together rather quickly. Plus, it's rustic display makes it quite the show stopper!
gluten free carrot zucchini cake
serves 8
1 3/4 cups Sarah's gluten free flour blend
1 teaspoon baking powder
1/2 teaspoon baking soda
1/2 teaspoon salt
3/4 cup organic brown sugar
1/2 cup sunflower seed oil
1/4 cup unsweetened applesauce
1 egg or flax-egg*
1/4 cup honey or pure maple syrup
1 teaspoon apple cider vinegar
1 teaspoon pure vanilla extract
1 1/2 cups carrots, finely grated
1 cup zucchini, finely grated
1/2 cup pecans, toasted and chopped
frosting
2 cups organic powdered sugar
1/4 cup butter or Earth Balance buttery spread
1 tablespoon honey or pure maple syrup
1-2 tablespoons coconut milk
1/4 cup pecans, toasted and chopped
Preheat oven to 350 degrees. Prepare 2 8-inch round cake pans by lining bottom with parchment paper and spraying with cooking spray. In medium bowl, sift together flour, baking powder, baking soda and salt. Set aside. In large mixing bowl, combine brown sugar, oil, applesauce, egg, honey, vinegar and vanilla. Fold in the grated carrots and grated zucchini (excess water squeezed out). Add the flour mixture and chopped pecans. Stir until combined.
Evenly divide the cake batter between the 2 8-inch prepared cake pans. Bake for 25-27 minutes or until toothpick inserted in center comes out clean. Cool in pans for 5 minutes, then invert onto cooling rack to cool completely.
To make the frosting, cream together the powdered sugar, butter, honey, and coconut milk. Add additional milk if needed. Frost the top of one cake layer with half the frosting. Top with the additional layer. Finish frosting the top of the cake with the remaining frosting. Sprinkle with chopped pecans. Best if served within 1-2 days.
*To make a flax-egg, mix together 1 tablespoon ground flaxseed meal with 3 tablespoons warm water. Allow to sit for 5 minutes to thicken.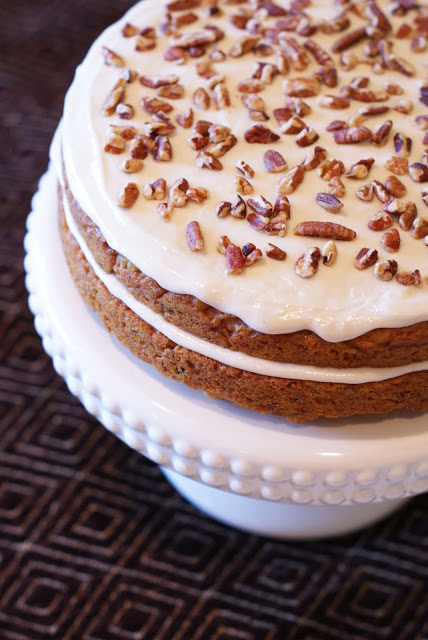 Recipe adapted from Real Mom Kitchen