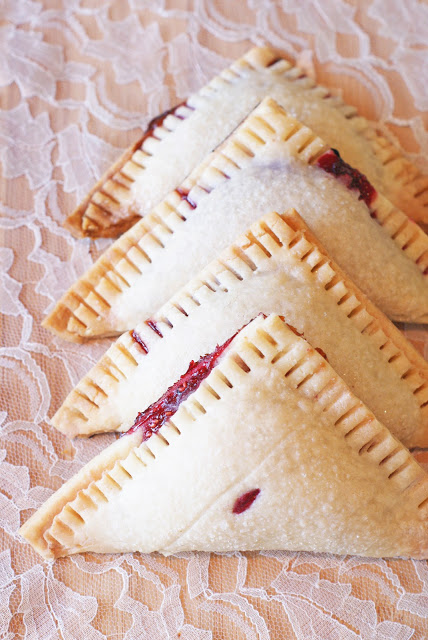 Does anyone remember those "home run pies" you would get as a kid?  They were about 50 cents at the grocery store and came in all different flavors.  My favorite was cherry.  Or maybe chocolate pudding!  It was a pretty cool treat because it was pie, that you could hold in your hand.  We would get super excited when my mom would buy them for us.  They may have been about 90% artificial, but they sure did taste good!
I certainly don't miss mr. home run.  Not when I can have these gluten free vegan raspberry hand pies! Delicious and I might add, quite darling.  I used a simple pie dough recipe and an easy raspberry filling.  Don't forget about the sugar sprinkle love.  These take a bit of time as you have to do some rolling, slicing and crimping with the dough.  Once they are baked up though, you will be enjoying a flaky, warm pie.  I love that you can pick them up and just take a bite!  These gluten free vegan raspberry hand pies are perfect just the way they are.  Flavorful and fruity.  You could always get a little crazy and serve them with a scoop of So Delicious vanilla coconut milk ice cream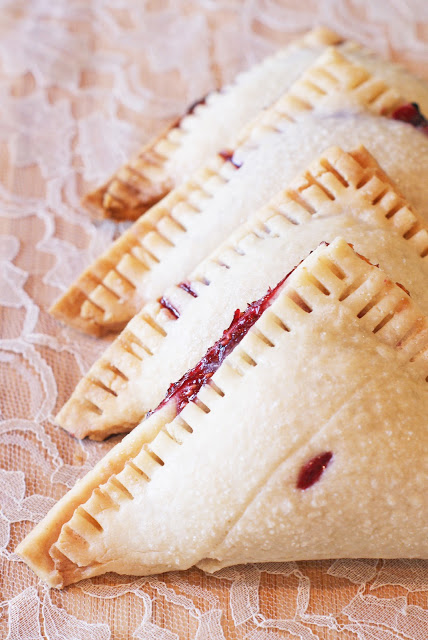 gluten free vegan raspberry hand pies
AUTHOR:
Sarah Bakes Gluten Free
RECIPE TYPE:
pies & tarts
INGREDIENTS
pie dough
1 1/2 cups Sarah's gluten free flour blend
1 tablespoon organic cane sugar
1/2 teaspoon salt
4 tablespoons vegan butter, cold
3 tablespoons organic non-hydrogenated shortening
4 tablespoons cold water
1 teaspoon apple cider vinegar
raspberry filling
1/2 cup fresh or frozen raspberries, thawed and drained
1/2 cup organic raspberry preserves
topping
2 tablespoons So Delicious coconut coffee creamer or coconut milk
1 tablespoon organic cane sugar
INSTRUCTIONS
Sift together the flour blend, sugar and salt. Add the vegan butter and shortening. Using a pastry cutter, combine until resembles a course meal and butter pieces are less than pea-size.
Pour in 4 tablespoons cold water and vinegar. Continue to blend until dough comes together (add another tablespoon of water if needed). Pat dough into a round disc, wrap in plastic wrap and place in refrigerator for an hour or until ready to use.
Preheat oven to 375 degrees. Line two baking sheets with parchment paper.
On counter surface, lay out a large piece of parchment paper. Place pie dough in the center and top with another large piece of parchment paper (this keeps the dough from sticking to the rolling pin). Start rolling out your dough into a 9x17-inch rectangle, about 1/8-inch thick.
Using a pizza cutter, cut the dough into eight 4x4-inch squares (cutting off excess around edges). Place squares onto prepared baking sheets.
Make the filling by mixing together the raspberries and preserves, slighlty smashing the raspberries. Place 2 tablespoons of filling into the center of each pie dough square.
Fold one corner of dough over diagonally to the other corner. To seal the dough, use a fork to crimp the edges around both sides.
Brush the tops of the pies with coconut creamer and sprinkle with sugar. Use a small knife to carefully cut a 1/2-inch cut into the top layer of each pie for steam to escape.
Bake in oven for 20-25 minutes or until golden brown. Allow to cool for 10 minutes on cooling rack. Serve warm.