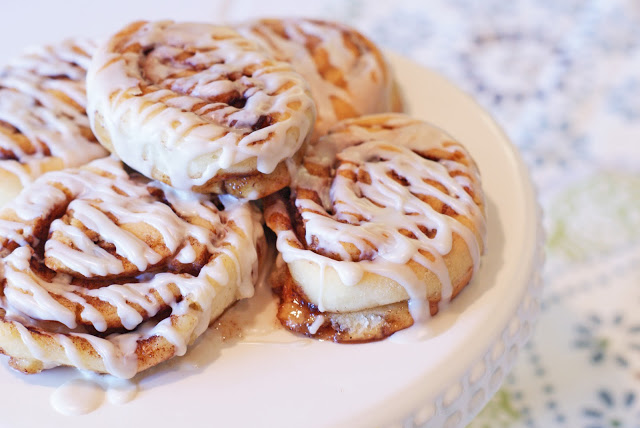 Let me start by saying, cinnamon rolls just might be one of the greatest baked goods ever invented. Warm, soft yeast dough, intwined with cinnamon and sugar. A gooey, pull-apart center and covered with a simple vanilla glaze. Seriously the work of a genius. I wish I came up with such a beautiful creation!
I have made cinnamon rolls many times, especially before our adventures in gluten free. They are a family favorite and always make an appearance in our house on Christmas morning. When my husband first found out he had celiac disease, I knew this was one thing I had to figure out how to make. So my journey began! I've tried a handful of gluten free cinnamon roll recipes. Some good. Some not so good. Now to come up with a dairy and egg free recipe too, that was a whole other challenge.
Here it is. My recipe for gluten free vegan cinnamon rolls! The dough comes together nicely and rolls out with ease. Just follow the steps and you should have no problems. There is one rise period in the process, so there is a bit of waiting. However, the result is a tender and gooey cinnamon roll with just enough vanilla glaze. I don't like a thick frosting on my cinnamon rolls because they are already so sweet from the cinnamon-sugar. It's all about balance. These gluten free vegan cinnamon rolls really are best served right after they've been baked, when they are still nice and warm. They don't keep their soft texture long after the first day…but I'm pretty sure that won't be a problem since they are so irresistable!
gluten free vegan cinnamon rolls
makes 10 rolls
1/4 cup warm water
1 tablespoon active dry yeast
1/4 cup, plus 1 teaspoon organic cane sugar
3 cups Sarah's gluten free flour blend*
2 teaspoons baking powder
1 teaspoon salt
1 cup So Delicious unsweetened coconut milk, warm
1 teaspoon apple cider vinegar
1/4 cup Earth Balance vegan butter, melted
filling
2 tablespoons tapioca starch
1/4 cup organic brown sugar
1/4 cup organic cane sugar
2 teaspoons cinnamon
1/4 cup Earth Balance vegan butter, softened
vanilla icing
1 1/2 cups organic powdered sugar
1 tablespoon Earth Balance vegan butter, melted
2-3 tablespoons So Delicious unsweetened coconut milk
1/2 teaspoon pure vanilla extract
Mix together the warm water with yeast and 1 teaspoon sugar. Let sit for 5 minutes, while the yeast proofs. Sift together the flour blend, baking powder and salt. Set aside. In large bowl of electric mixer with paddle attachment, add the 1/4 cup sugar, warm coconut milk, apple cider vinegar, and melted vegan butter. Add the water/yeast mixture. Mix on low until combined. While mixer is on low, slowly add the flour mixture. Once flour is incorporated, scrape down the sides of the bowl. Continue to beat the dough on medium speed for 5 minutes.
Mix together the brown sugar, sugar, and cinnamon in small bowl. Set aside. Cover counter space with large piece of plastic wrap (15×20 inches). Sprinkle with 2 tablespoons tapioca starch. Place dough in middle of plastic wrap. Begin to roll out dough until you've made a 12×17 inch rectangle. Spread on the softened vegan butter, covering all the way to the edges. Sprinkle on the cinnamon/sugar mixture. Start by rolling the longer edge of the dough towards the center, keeping the dough semi-tight as you go. Gently roll up the dough until you reach the other edge. Get your finger wet with warm water and dab it across the edge to help it seal the seam. With large knife, cut dough into about 1 1/2 inch circles. Place rolls seam-side down into greased 9×13 pan or 12-inch round pan. Slightly flatten the rolls. Cover lightly with towel.
Preheat oven to 350 degrees. Place cinnamon rolls next to or on top of warming oven. Let rise for 45 minutes or until doubled in size. Bake in oven for 30-35 minutes, or until golden brown. Let cool in pan for 10 minutes. To make the vanilla icing, mix together the powdered sugar, vegan butter, coconut milk, and vanilla. Add additional tablespoon of coconut milk if needed. Stir until smooth and creamy. Drizzle icing over cinnamon rolls and serve warm.
*I used the lighter blend of my flour mixture, using white rice flour in place of the sweet white sorghum.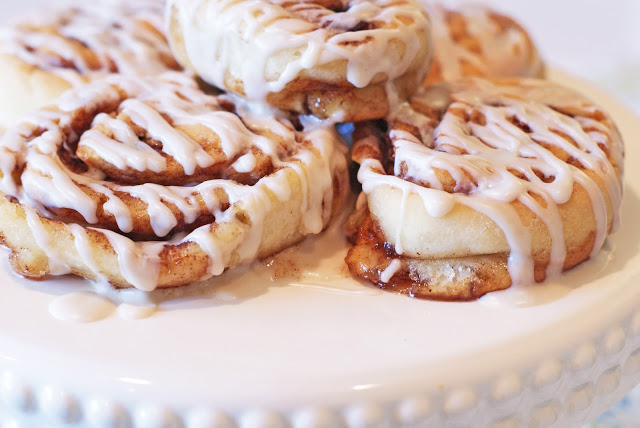 you know you want to bite into one!