gluten free vegan raspberry hand pies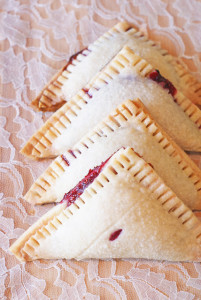 AUTHOR:
Sarah Bakes Gluten Free
RECIPE TYPE:
pies & tarts
1 1/2 cups Sarah's gluten free flour blend
1 tablespoon organic cane sugar
1/2 teaspoon salt
4 tablespoons vegan butter, cold
3 tablespoons organic non-hydrogenated shortening
4 tablespoons cold water
1 teaspoon apple cider vinegar
1/2 cup fresh or frozen raspberries, thawed and drained
1/2 cup organic raspberry preserves
2 tablespoons So Delicious coconut coffee creamer or coconut milk
1 tablespoon organic cane sugar
Sift together the flour blend, sugar and salt. Add the vegan butter and shortening. Using a pastry cutter, combine until resembles a course meal and butter pieces are less than pea-size.
Pour in 4 tablespoons cold water and vinegar. Continue to blend until dough comes together (add another tablespoon of water if needed). Pat dough into a round disc, wrap in plastic wrap and place in refrigerator for an hour or until ready to use.
Preheat oven to 375 degrees. Line two baking sheets with parchment paper.
On counter surface, lay out a large piece of parchment paper. Place pie dough in the center and top with another large piece of parchment paper (this keeps the dough from sticking to the rolling pin). Start rolling out your dough into a 9x17-inch rectangle, about 1/8-inch thick.
Using a pizza cutter, cut the dough into eight 4x4-inch squares (cutting off excess around edges). Place squares onto prepared baking sheets.
Make the filling by mixing together the raspberries and preserves, slighlty smashing the raspberries. Place 2 tablespoons of filling into the center of each pie dough square.
Fold one corner of dough over diagonally to the other corner. To seal the dough, use a fork to crimp the edges around both sides.
Brush the tops of the pies with coconut creamer and sprinkle with sugar. Use a small knife to carefully cut a 1/2-inch cut into the top layer of each pie for steam to escape.
Bake in oven for 20-25 minutes or until golden brown. Allow to cool for 10 minutes on cooling rack. Serve warm.
Recipe by
Sarah Bakes Gluten Free
at https://www.sarahbakesgfree.com/2013/03/gluten-free-vegan-raspberry-hand-pies.html