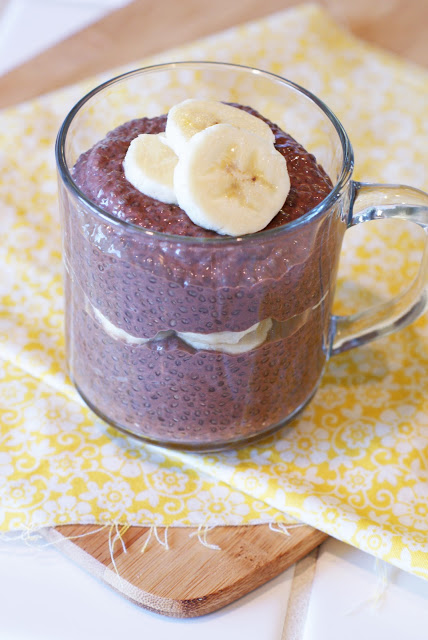 Three ingredients. Chocolate coconut milk, chia seeds, bananas. Doesn't get much easier than that! I was craving a chocolate version of chia seed pudding and I remembered that I had some So Delicious chocolate coconut milk in the fridge. I poured some into a mason jar, sprinkled on the chia seeds, and shook it up. A couple hours in the fridge and it was ready to go!
This chia pudding was already pretty yummy, but I wanted to add some fresh fruit. My favorite pair with chocolate…bananas! I layered the pudding with freshly cut bananas, like a little parfait. Bananas with every bite of creamy chocolate chia seed pudding. You can also check out my recipe for vanilla chia seed pudding…which is crazy popular on pinterest these days!
chocolate chia seed pudding
makes 3 servings
1 1/3 cups So Delicious chocolate coconut milk
1/3 cup chia seeds
1 banana, sliced
Mix together chocolate coconut milk and chia seeds. Cover and refrigerate for at least 3 hours, or overnight. Once pudding is set, layer with freshly cut bananas in serving dishes. Serve cold.