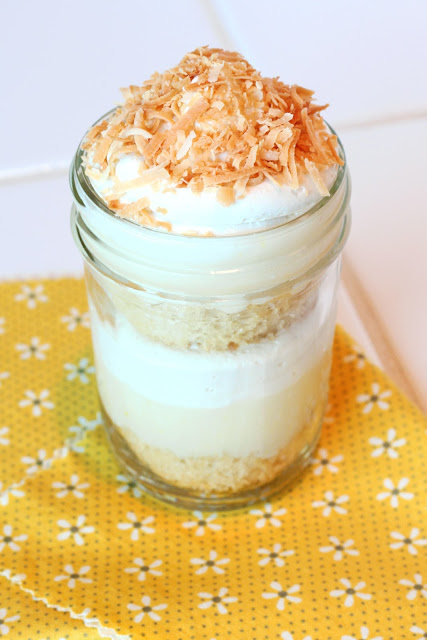 How many of you have your whole Easter meal planned out? Mine is coming along. I'm actually hosting this year and we are having some of our close friends over to join us. It's going to be glorious! So far my menu includes rosemary crusted pork tenderloin, roasted garlic fingerling potatoes, and asparagus. For dessert, I'm going to attempt a brownie torte with raspberry filling and smothered in chocolate ganache. I'll be sure to share the recipe…if it turns out!
If you are still in need of a dessert for Easter Sunday, these gluten free vegan coconut lemon cupcakes are quite the showstopper! I layered them in tiny mason jelly jars because everything is cuter in a mason jar. I love how they turned out! The coconut cupcakes are very similar to my vanilla cupcakes, with shredded coconut added to the mix. I layered them with vegan lemon curd (oh yes, it's amazing) and my simple vanilla buttercream. It's a beautiful thing how the tangyness from the lemon curd cuts through the sweetness of the buttercream. Coconut and lemon together is simply meant to be. Give these cupcakes in a jar a try and your guests will surely ask you for the recipe!
gluten free vegan coconut lemon cupcakes
serves 14
vegan lemon curd
1 cup fresh lemon juice
1/2 cup water
1 1/2 cups organic sugar
1/2 cup So Delicious coconut milk coffee creamer
4 tabelspoons cornstarch
2 tablespoons Earth Balance vegan butter
zest from 2 lemons
1/8 teaspoon salt
coconut cupcakes
1 3/4 cups Sarah's gluten free flour blend*
1 cup shredded coconut, finely chopped
1 teaspoon baking powder
1/2 teaspoon baking soda
1/2 teaspoon salt
1 cup So Delicious vanilla coconut milk
1 tablespoon white vinegar
1 cup organic cane sugar
1/3 cup sunflower seed oil
2 teaspoons pure vanilla extract
vegan vanilla buttercream frosting
1/2 cup Earth Balance vegan butter, cold
1/4 cup organic non-hydrogenated shortening
3 cups organic powdered sugar, sifted
3-4 tablespoons So Delicious coconut milk coffee creamer
1 teaspoon pure vanilla extract
1 cup shredded coconut, for garnish
Start by making the lemon curd. Place lemon juice, water, and sugar in medium saucepan. Cook over medium until the sugar is dissolved. In small bowl, whisk together the coffee creamer and cornstarch. Slowly pour into the sugar mixture and whisk continuously while on medium-low heat. Whisk for about 2 minutes, until the lemon curd begins to thicken. Remove from heat and add the vegan butter, lemon zest and salt. Whisk until smooth and creamy. Pour into bowl and cover with plastic wrap. Allow to cool completely in refrigerator.
Preheat oven to 350 degrees. Line cupcake pans with paper cupcake liners. Place coconut in food processor or high-powered blender and pulse until no long pieces of coconut remain. Add to large mixing bowl along with flour blend, baking powder, baking soda, and salt. Set aside. In large mixing bowl, stir together the coconut milk, and vinegar. Allow to sit for 1 minute to curdle. Add the sugar, oil, and vanilla extract. Slowly whisk in the flour mixture. Beat for 1 minute. The batter will become smooth and start to thicken. Pour batter into prepared cupcake pan. Bake for 17-19 minutes, or until toothpick inserted in center of cupcake comes out clean. Place cupcakes on cooling rack and cool completely.


To make buttercream, beat together the Earth Balance with the shortening for 1 minute. Add the sifted powdered sugar, 2 tablespoons coffee creamer and vanilla. Beat for an additional 2 minutes. Add another tablespoon or 2 of the coffee creamer if needed. Beat the buttercream until light and fluffy. Place into piping bag with large round tip and set aside.
You will need 14 8-oz mason jelly jars to assemble the cupcakes. Unwrap the cupcakes and cutting in half, horizontally. Place one half of a cupcake into the bottom of each jar (I found that using a fork to lower them into the jar works really well). Top with a couple tablespoons of the chilled lemon curd. Pipe on vanilla buttercream over lemon curd. Place another half of cupcake. Top with more lemon curd and buttercream. Sprinkle on the toasted coconut. Repeat with remaining jars and cupcakes. Cover with lids or plastic wrap until ready to be served. Best enjoyed within 1-2 days.
*For best results on texture and taste, be sure to make the lighter flour blend by replacing the 2 cups sweet white sorghum flour with white rice flour.