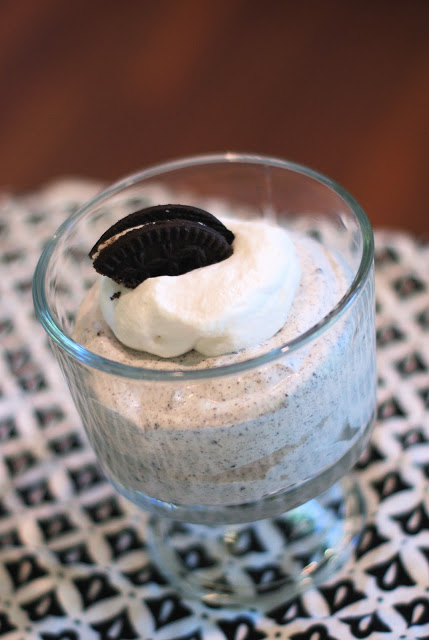 One type of ice cream I truly miss since going gluten free…cookies n' cream. It was my favorite flavor growing up, so it makes my heart a little sad when I see it in the freezer isle of the grocery store. If there is a gluten free cookies n' cream ice cream out there, you might not want to tell me about it. Or maybe you should. Yes, you should.
I whipped up this delicious cookies n' cream no-bake cheesecake the other night and my family loved it! It tastes just like cookies n' cream ice cream too! I used Glutino Chocolate Sandwich Cookies and they are pretty much just like eating a real oreo…but even better. This recipe is so easy to put together. Crush some cookies, blend the ingredients together, refrigerate. Boom. You're done. I have a lemon blueberry version of this recipe that is quite delightful too. If you're looking for a low-fat, lighter no-bake cheesecake…today is your lucky day!
cookies n' cream no-bake cheesecake
makes 6 servings
1/4 cup sugar
4 ounces light cream cheese, softened
1/2 cup nonfat plain Greek yogurt
1/2 teaspoon pure vanilla extract
6-7 gluten free chocolate sandwich cookies, crushed
8-ounce tub non-dairy whipped topping (I use Trader Joe's all-natural House Whip)
additional cookies for garnish
In large mixing bowl, blend together sugar, cream cheese, yogurt and vanilla. Stir in crushed chocolate sandwich cookies. Gently fold in whipped topping using a rubber spatula (reserve about 1/2 cup for garnish, if you would like). Spoon into 6 single-serving dessert cups. Cover with plastic wrap and refrigerate for at least 1 hour. To serve, garnish with reserved whipped topping and cookies.