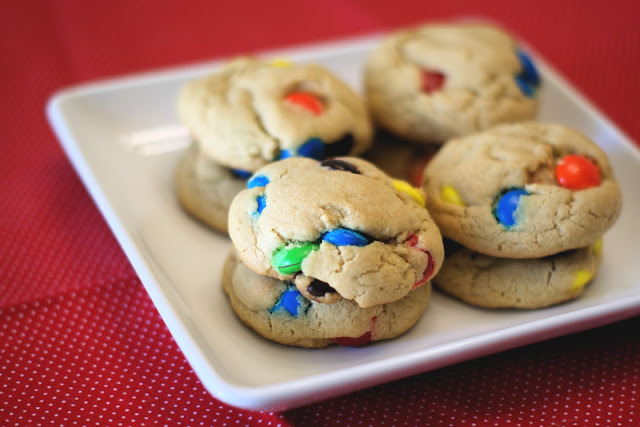 I can remember as a little girl, my grandma would always have a plate of freshly-baked cookies when we came to visit her. Cookies and a glass of milk. She knew the way to her grandkids hearts. It was such a treat to visit grandma's house, but her cookies made our visit that much sweeter. I sure do miss my grandma. Her love for baking was passed down to my mom, which my mom so graciously passed down to me. I'm pretty thankful for my inherited heart for baking!
Creamy peanut butter and milk chocolate m&m's. Who can argue with that match made in heaven? I'm pretty sure I've found my new favorite gluten free cookie. They are totally out of control good. The texture is perfectly perfect. Chewy on the inside, with bits of crunch from the colorful m&m's. I think my grandma would be quite proud of my gluten free peanut butter m&m cookies. Love you, grandma.
gluten free peanut butter m&m cookies
makes 36 cookies
2 3/4 cups Sarah's gluten free flour blend
1 1/2 teaspoons baking soda
1/2 teaspoon salt
1/2 cup unsalted butter, softened
3/4 cup brown sugar
3/4 cup sugar
3/4 cup natural peanut butter (no sugar added)
2 eggs
2 teaspoons vanilla
16 oz. bag plain m&m's
Preheat oven to 350 degrees. Line large baking sheets with parchment paper. Whisk together flour, baking soda, and salt. Set aside. In large mixing bowl, cream together softened butter, brown sugar and sugar for 2 minutes. Add peanut butter, eggs, and vanilla. Beat until nice and creamy. Add flour mixture. Mix until ingredients are well combined. Using rubber spatula, stir in m&m's.
Drop cookie dough by rounded tablespoons onto prepared baking sheets (cookies don't spread much). Bake for 9-11 minutes, until lightly golden brown on edges. Remove from oven and let cool on pans for 3 minutes. Place cookies on cooling rack to cool completely.