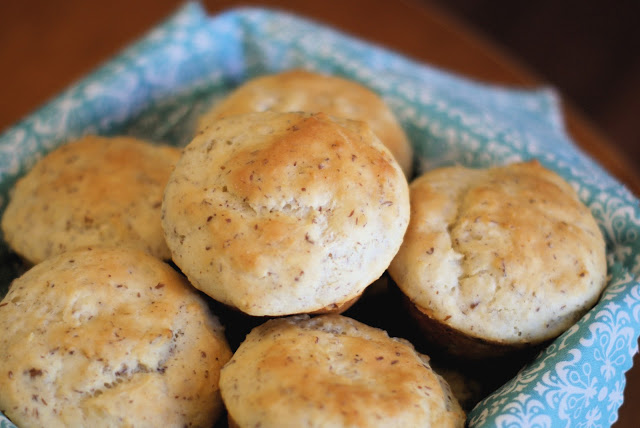 I'm always up for trying new ingredients to make my gluten free baked goodies even better. When I read this blog post on Gluten Free Girl and the Chef about pysillium husk, I was very intrigued! I had never heard of psyllium husk. It sounded weird and I wasn't even sure I was saying it right. Gluten Free Girl came to the rescue and took away all of my uncertainty. She has a great video explaining how it is the perfect ingredient to bind your bread dough together. I purchased some (very inexpensive) at my local health food store. I came home and decided to create a recipe for gluten free dinner rolls…using psyllium husk!
These are the lightest, fluffiest rolls I have ever had. I was almost in disbelief when I took the first bite. Could gluten free rolls really be this good? I added both psyllium husk and flaxseed meal. The yogurt makes them tender and moist. We devoured these dinner rolls with savory, barbecue shredded chicken. They are also quite delicious with butter and jam. My daughter said, "I could eat these everyday!" Perfect gluten free rolls. They do exist!
gluten free dinner rolls
makes 12 rolls
1/2 cup warm water
1 tablespoon active dry yeast
3 tablespoons coconut oil, melted*
3 tablespoons honey
1/2 cup plain Greek yogurt
2 eggs
1 teaspoon apple cider vinegar
1 1/2 cups Sarah's gluten free flour blend
2 tablespoons flaxseed meal
1 tablespoon psyllium husk
1 tablespoon baking powder
1 teaspoon sea salt
In small bowl, combine warm water and yeast. Let sit for 5 minutes to proof. In bowl of electric mixer with paddle attachment, add coconut oil, honey, yogurt, eggs, and vinegar. Mix on low to combine. Pour in yeast mixture. In separate bowl, whisk together flour, flaxseed meal, psyllium husk, baking powder and salt. While mixer is on low, add dry ingredients. Mix until all ingredients are combined. Turn mixer on medium-high and beat for an additional 2 minutes.
Grease muffin pan with non-stick cooking spray. Fill muffin cups 2/3 with dough. Smooth dough with wet fingertips. Cover with light kitchen towel. Let rise for 1 hour. Preheat oven to 350 degrees. Bake for 13-15 minutes or until golden brown. Remove dinner rolls from pan and allow to cool on cooling rack. Serve warm.
*If you don't have coconut oil, you can use melted unsalted butter.