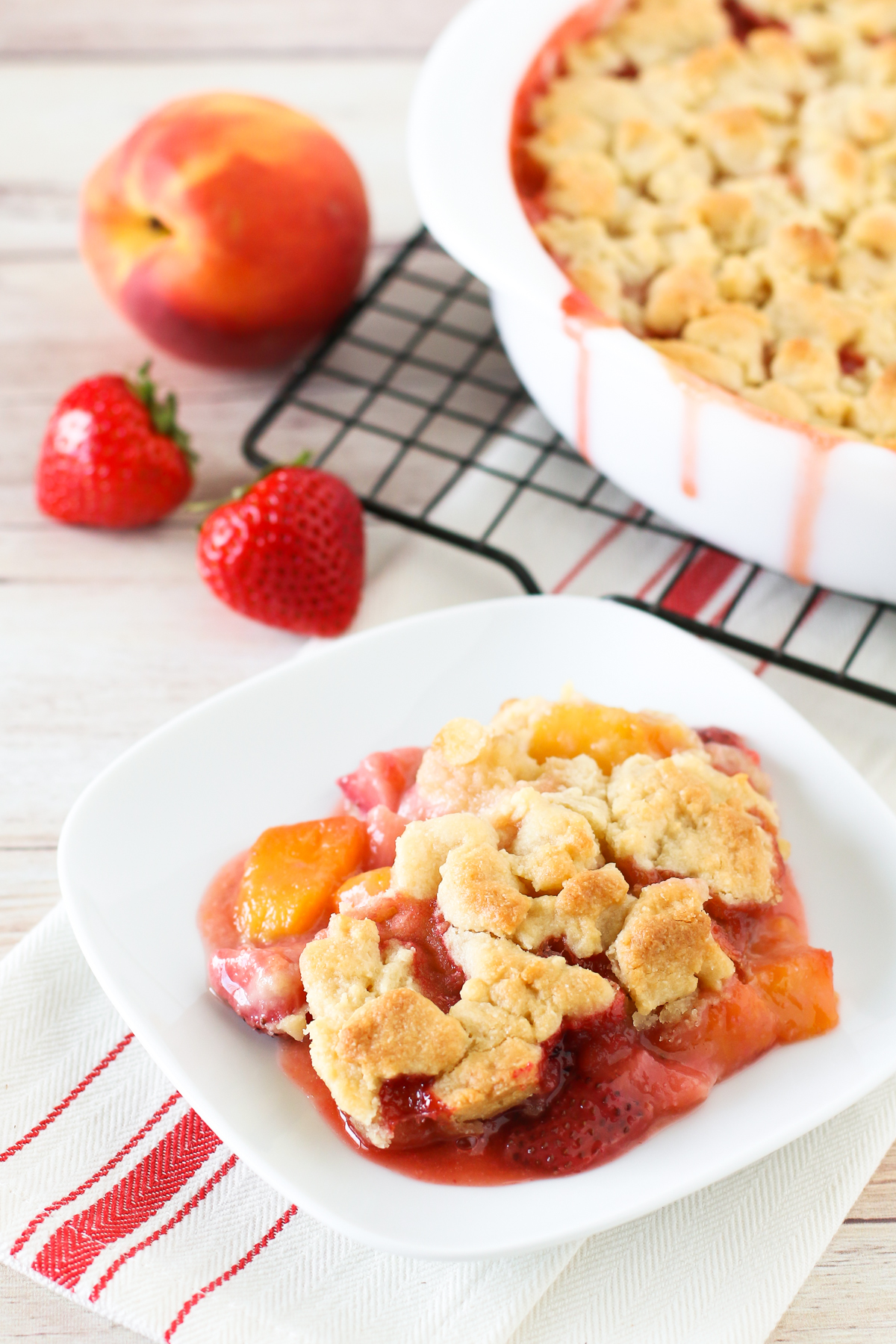 This grain free vegan strawberry peach crisp is a summertime MUST! Perfectly golden, grain free crisp topping over juicy, sweet strawberries and peaches. The combination of these two summer fruits is simply splendid!
Summertime is all about the beautiful assortment of fresh fruit. Am I right? Watermelon, peaches, strawberries, cantaloupe, cherries, blueberries, nectarines, blackberries. The grocery stores here in California are just bursting with amazing fresh produce, just waiting to be used in so many summer recipes. Some of my faves are my classic strawberry shortcake, this beautiful berry cheesecake and refreshing watermelon lemonade.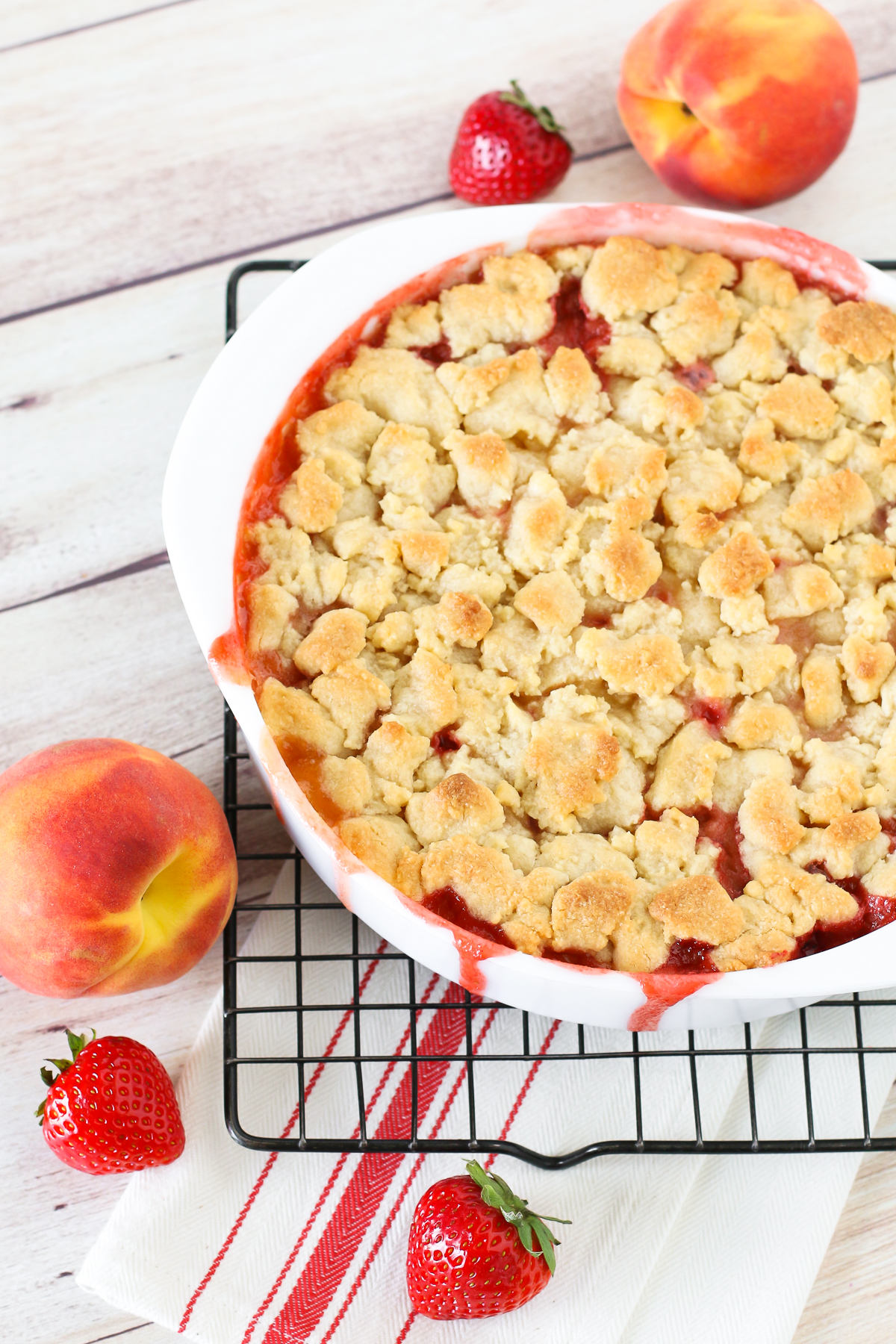 Summer is also for creating memories with family and friends. Wether it's camping trips, countless trips to the local pool or celebrating the Fourth of July with a backyard BBQ. There are just so many great opportunities for gathering with those you love during this time of year.
One of the most important parts of summer gatherings, is of course the food! Pasta salads, grilled veggies, fruit salads, corn on the cob, giant slices of watermelon, homemade baked beans. Mmmmmm. Now my mouth is watering and I'm getting hungry! I probably get most excited for all of the summer desserts, especially cobblers and crisps, made with naturally-sweet, fresh fruit.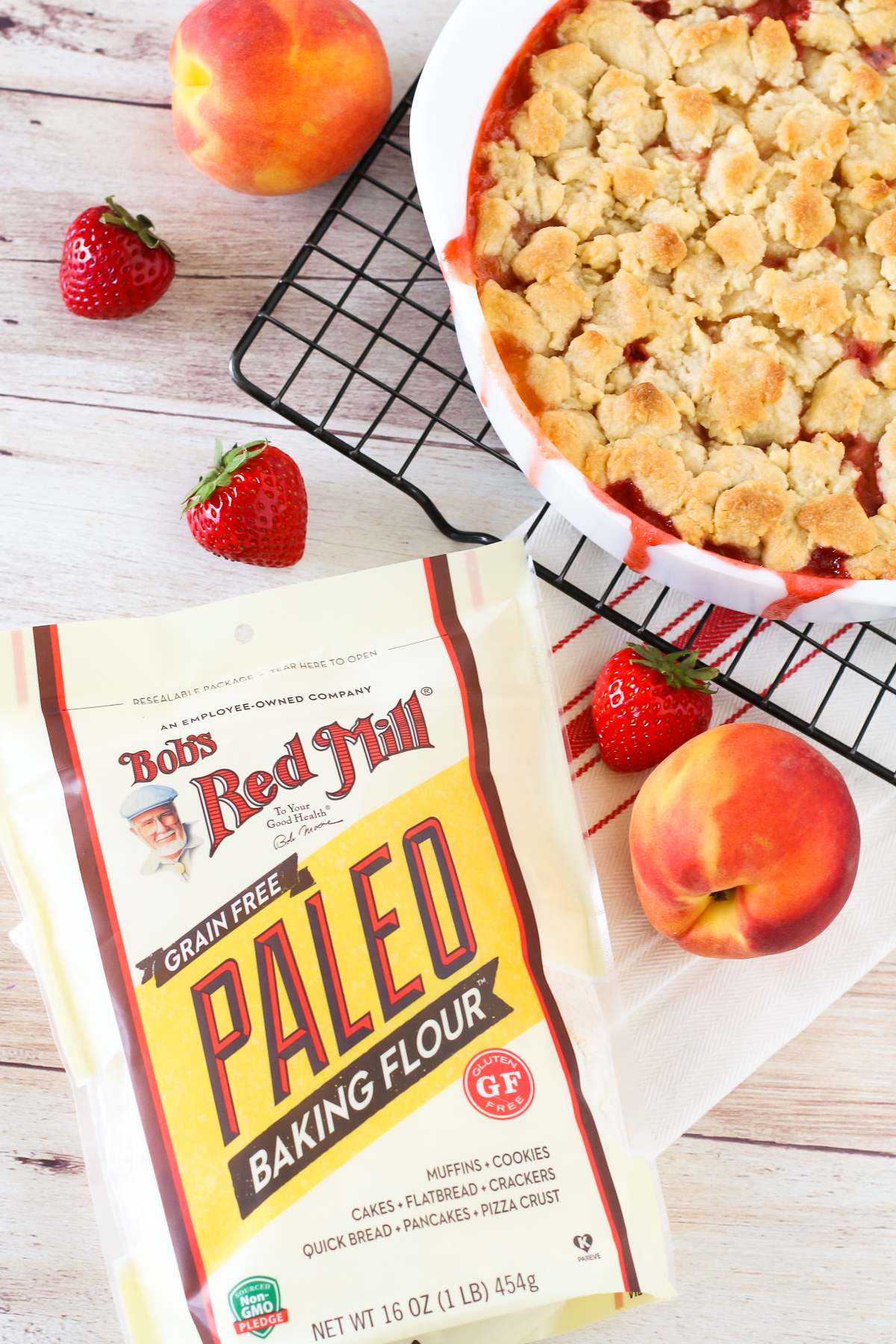 I've made peach cobbler and peach crisp countless times, but never with the addition of strawberries. Why oh why did I not try this combination before? It is glorious!! The two fruits go so well together, both with such a beautiful, natural sweetness. The peaches and strawberries are tossed with a little maple syrup and then topped with a grain free vegan crisp topping.
Bob's Red Mill Paleo Baking Flour is the star of this perfectly golden topping of my new strawberry peach crisp recipe. It's an all-purpose grain free baking flour blend, great for using in muffins, cookies, quick breads and pancakes. The ingredients are just almond flour, arrowroot starch, coconut flour and tapioca starch. Thanks, Bob's Red Mill, for continuing to make our gluten and grain free baking simply delicious!
What could possibly make this grain free vegan strawberry peach crisp even more irresistible? A giant scoop of dairy free vanilla bean ice cream, that's what. It slowly melts over the warm strawberry peach crisp, creating this warm-cold contrast. It's a beautiful thing. I'm thinking it would be a major priority to make this recipe this a summer. Yes, a must.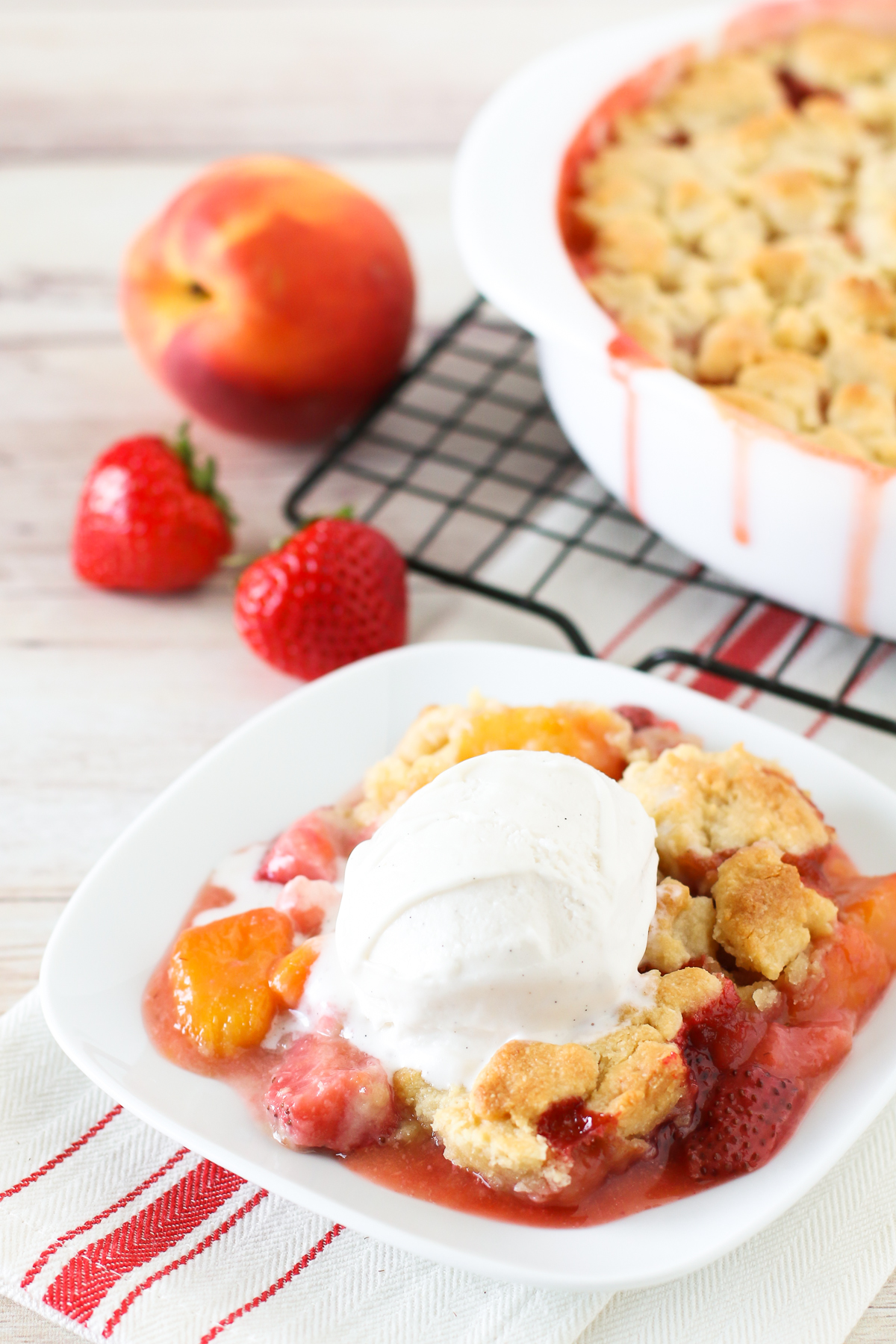 grain free strawberry peach crisp
AUTHOR:
Sarah Bakes Gluten Free
INGREDIENTS
strawberry peach filling
3 cups thick-sliced fresh strawberries
3 cups peeled and large-diced ripe, fresh peaches
1/4 cup pure maple syrup
3 tablespoons Bob's Red Mill Paleo Baking Flour
1 tablespoon lemon juice
crisp topping
INSTRUCTIONS
Preheat oven to 350 degrees.
In large bowl, add thick-sliced strawberries and large-diced peaches*, maple syrup, 3 tablespoons paleo baking flour and lemon juice. Pour into 9-inch baking dish.
To make crumb topping, whisk together 1 1/2 cups paleo baking flour and salt. Add coconut oil and maple syrup. Stir to combine, until crisp topping comes together.
Use fingers to pinch off small pieces of dough and place over the strawberries/peaches, making an even layer.
Bake crisp 35-40 minutes, until bubbly and golden brown. Place baking sheet on oven rack under crisp, to catch any juices that bubbles over.
Place strawberry peach crisp on cooling rack to cool slightly. Serve warm. Best served same day.
NOTES
*For the strawberries and peaches, slicing/cutting them larger will help them to hold their shape and texture while baking.
This post has been sponsored by Bob's Red Mill. All opinions are my own. Check out more delicious healthy recipes, snag coupons and find stores near you at bobsredmill.com!
This post contains affiliate links. If you purchase items through some of the links, I earn a small commission off the sale at no extra cost to you. Helps keeps the recipes coming and the blog up and running!