grain free strawberry peach crisp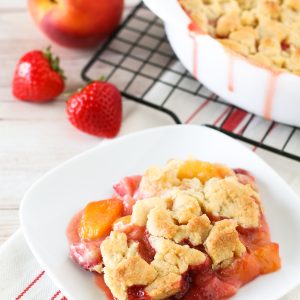 AUTHOR:
Sarah Bakes Gluten Free
3 cups thick-sliced fresh strawberries
3 cups peeled and large-diced ripe, fresh peaches
1/4 cup pure maple syrup
3 tablespoons Bob's Red Mill Paleo Baking Flour
1 tablespoon lemon juice
Preheat oven to 350 degrees.
In large bowl, add thick-sliced strawberries and large-diced peaches*, maple syrup, 3 tablespoons paleo baking flour and lemon juice. Pour into 9-inch baking dish.
To make crumb topping, whisk together 1 1/2 cups paleo baking flour and salt. Add coconut oil and maple syrup. Stir to combine, until crisp topping comes together.
Use fingers to pinch off small pieces of dough and place over the strawberries/peaches, making an even layer.
Bake crisp 35-40 minutes, until bubbly and golden brown. Place baking sheet on oven rack under crisp, to catch any juices that bubbles over.
Place strawberry peach crisp on cooling rack to cool slightly. Serve warm. Best served same day.
*For the strawberries and peaches, slicing/cutting them larger will help them to hold their shape and texture while baking.
Recipe by
Sarah Bakes Gluten Free
at https://www.sarahbakesgfree.com/2018/06/grain-free-vegan-strawberry-peach-crisp.html