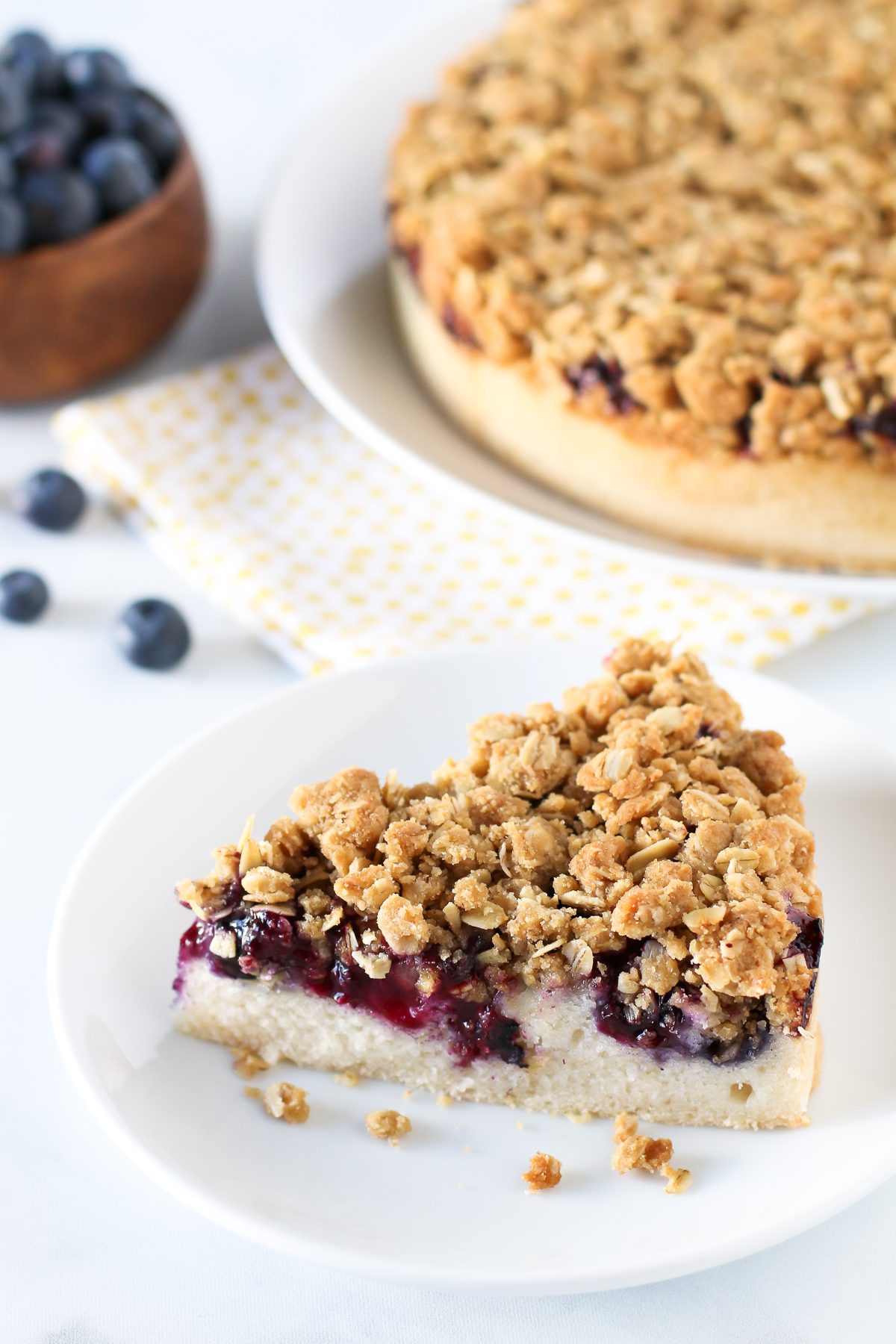 Light vanilla cake with a layer of fresh, juicy blueberries and an oat crumb topping. This gluten free vegan blueberry coffee cake is sure to be a breakfast favorite!
When it comes to breakfast, I'm a sweets girl. I like my waffles, coffee cake, pancakes and muffins. Give me a freshly baked scone with a side of fresh fruit and a cup of coffee, I'm set! Every once in awhile I'll crave something savory, like a sweet potato hash with lots of veggies or a slice of avocado toast. How about you? For breakfast, do you go for the sweet or the savory?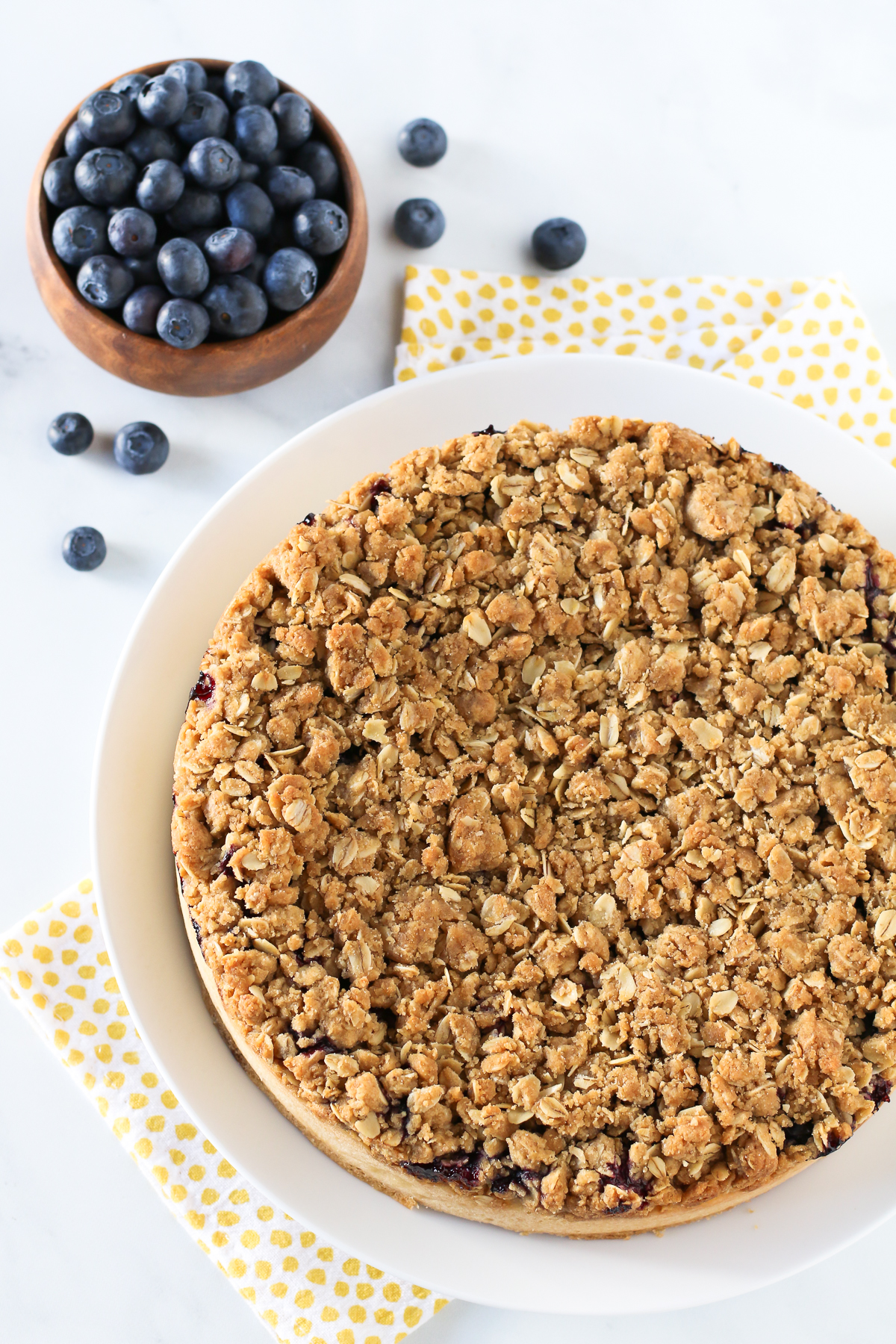 For a simple breakfast, I love a bowl of creamy, warm oatmeal. Topped with brown sugar, blueberries and a little almond milk. Perfect every time. Bob's Red Mill is my go-to when it comes to oats. I ALWAYS have their Gluten Free Organic Rolled Oats on hand. They're a fantastic whole grain, high in both fiber and protein. I use them when making my maple pecan oatmeal cookies, coconutty granola or this insanely delicious blueberry coffee cake.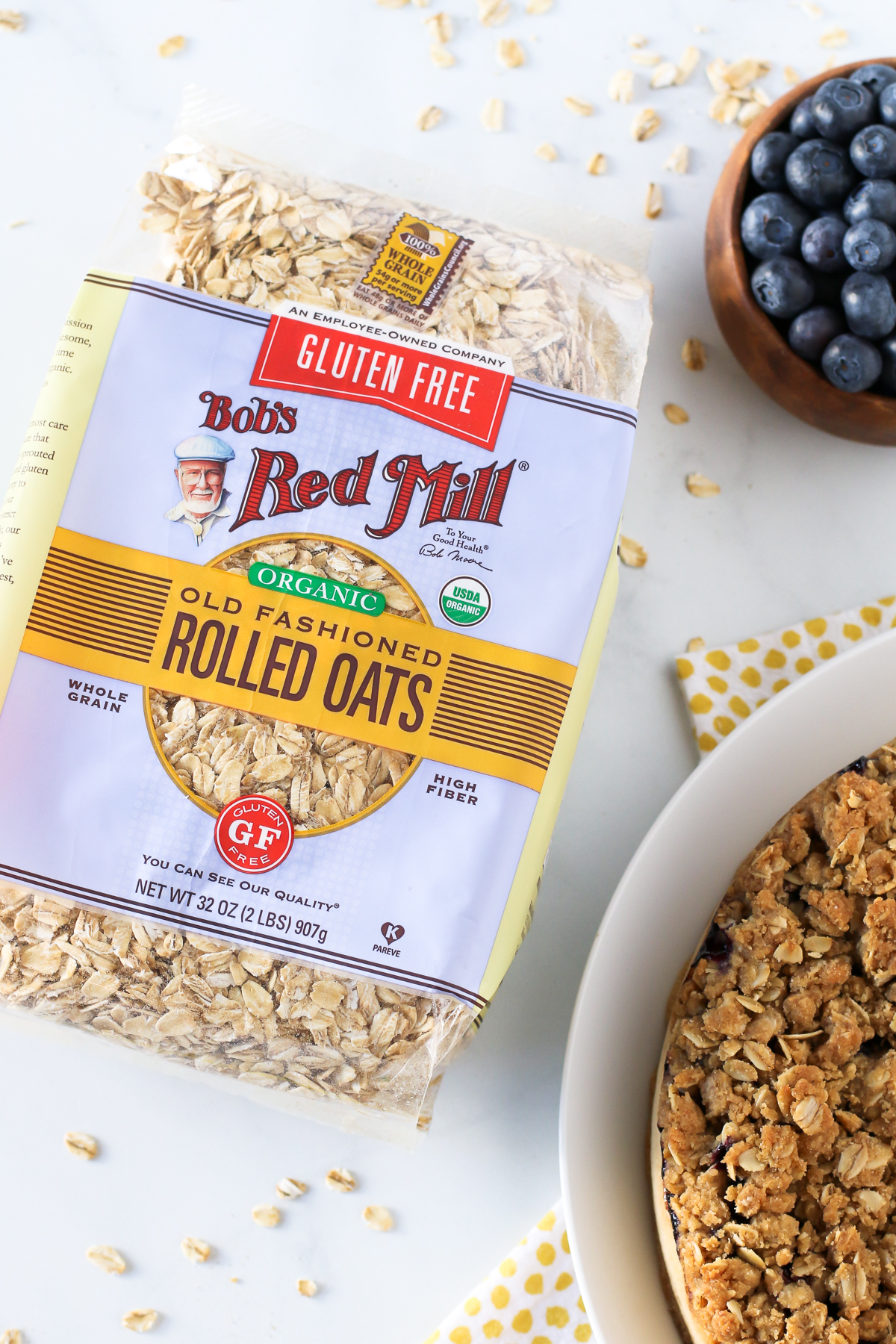 Coffee cake has been one of my favorite things to make for breakfast for some time now. I can remember making coffee cake with my trusty Bisquick mix when my husband and I were first married. It was beyond easy to make and it came out perfect every time. Fluffy cake with a cinnamon crumb topping.
Now I'm making coffee cake without gluten, eggs or dairy and it's STILL amazing! Who'd have thought that would be possible? This gluten free vegan blueberry coffee cake starts with a slightly-sweet vanilla cake, which is moist and tender. In the middle, there is a layer of fresh, juicy blueberries. To top it all off, you have a glorious oat crumb topping which just makes everything better. The textures and flavors of this coffee cake will have you going back for a second slice. Guaranteed!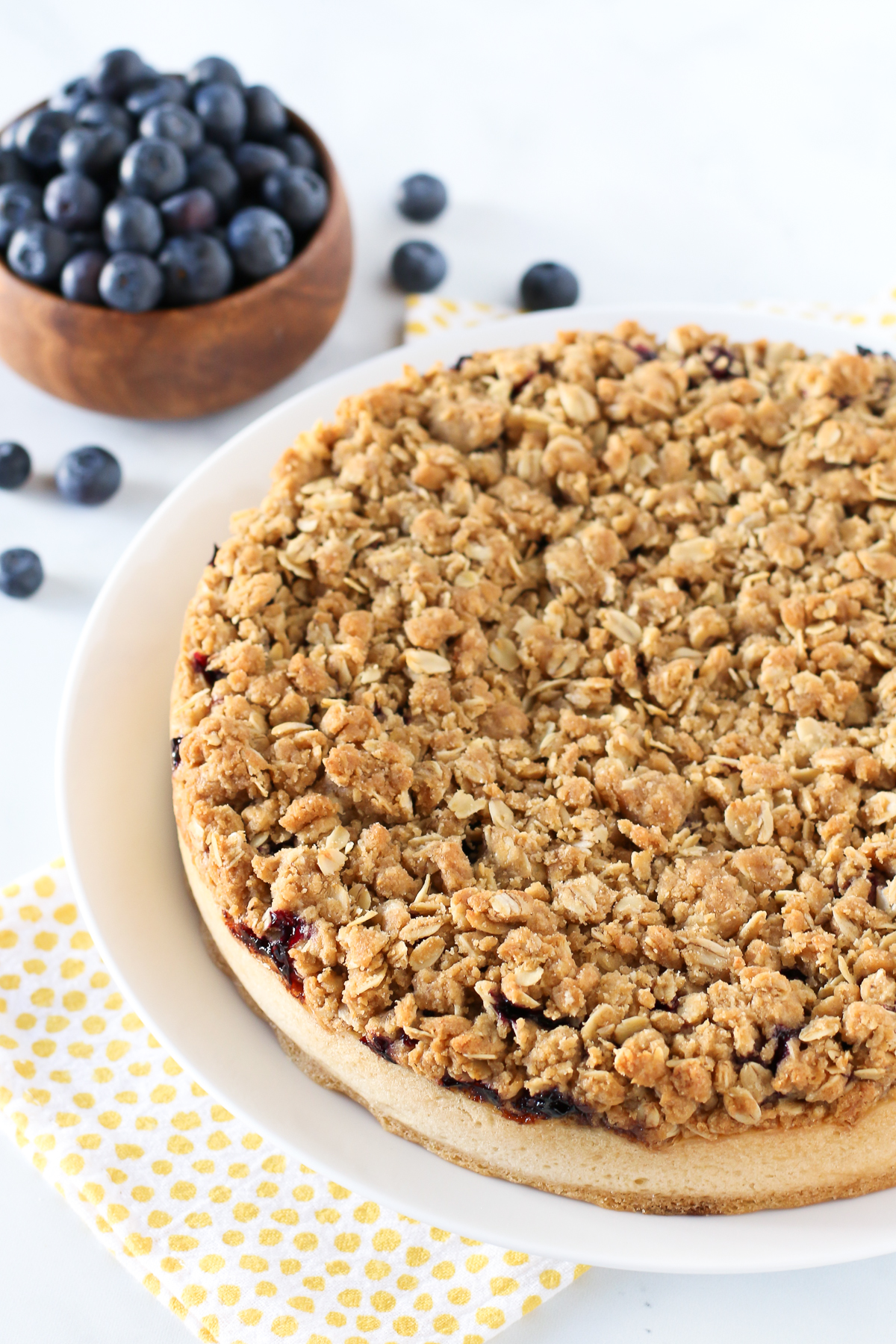 gluten free vegan blueberry coffee cake
AUTHOR:
Sarah Bakes Gluten Free
INGREDIENTS
oat crumb topping
vanilla cake
1 1/2 cups Sarah's gluten free flour blend
1/2 cup cane sugar
2 teaspoon baking powder
1/2 teaspoon sea salt
3/4 cup, plus 2 tablespoons unsweetened almond, coconut or cashew milk
1/3 cup sunflower seed or grape seed oil
2 teaspoons vinegar
1 teaspoon pure vanilla extract
1 1/2 cup fresh blueberries
INSTRUCTIONS
Preheat oven to 375 degrees. Spray 9-inch springform pan with cooking spray and line bottom with parchment paper.
To make oat crumb topping, mix together rolled oats, flour blend, brown sugar and salt. Add coconut oil and maple syrup. Mix until crumb topping comes together. Set aside.
In large mixing bowl, whisk together flour blend, sugar, baking powder and salt. Add almond milk, oil, vinegar and vanilla. Whisk until cake batter is smooth.
Scoop batter into prepared springform pan. Smooth out evenly with rubber spatula. Sprinkle layer of blueberries over top and slightly press into batter. Top blueberries with layer of oat crumb topping.
Bake coffee cake 40-45 minutes, until cake is set and crumb topping is golden brown. Place cake on cooling rack to cool 15-20 minutes in pan.
Remove coffee cake from springform pan and cool completely. Slice and serve.
This post has been sponsored by Bob's Red Mill. All opinions are my own. Check out more delicious healthy recipes, snag coupons and find stores near you at bobsredmill.com!
This post contains affiliate links. If you purchase items through some of the links, I earn a small commission off the sale at no extra cost to you. Helps keeps the recipes coming and the blog up and running!