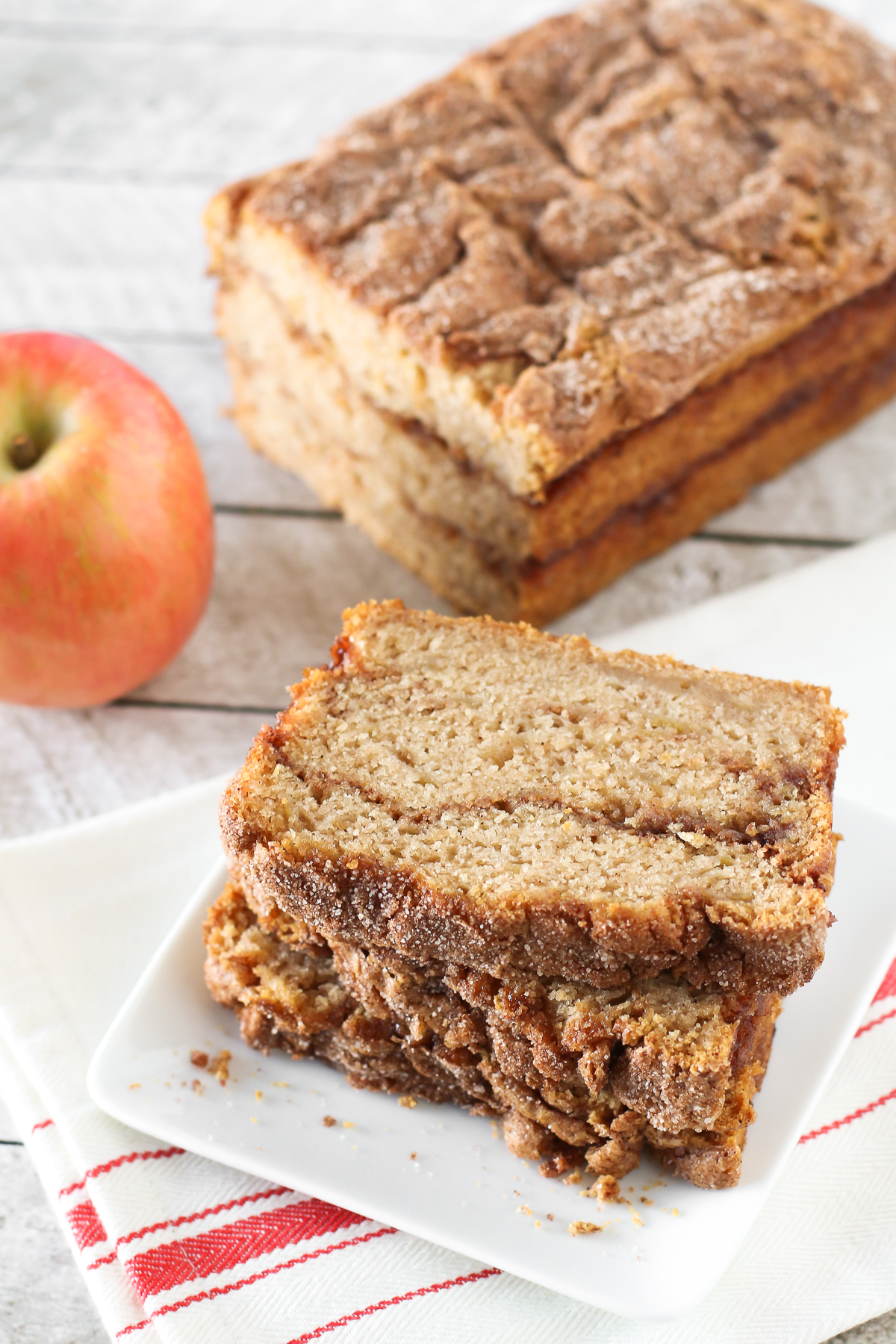 Moist apple bread, with swirls of cinnamon sugar goodness. This gluten free vegan apple cinnamon swirl bread is a fall favorite in our house!
Quick breads. One of the many things I love to bake. Pumpkin bread, banana coconut bread, cinnamon swirl bread. With little effort, you can have a loaf of homemade, sweet bread baking in your oven in no time. I think that's why I love making them so much. Just mix, pour and bake! Oh, and eat too.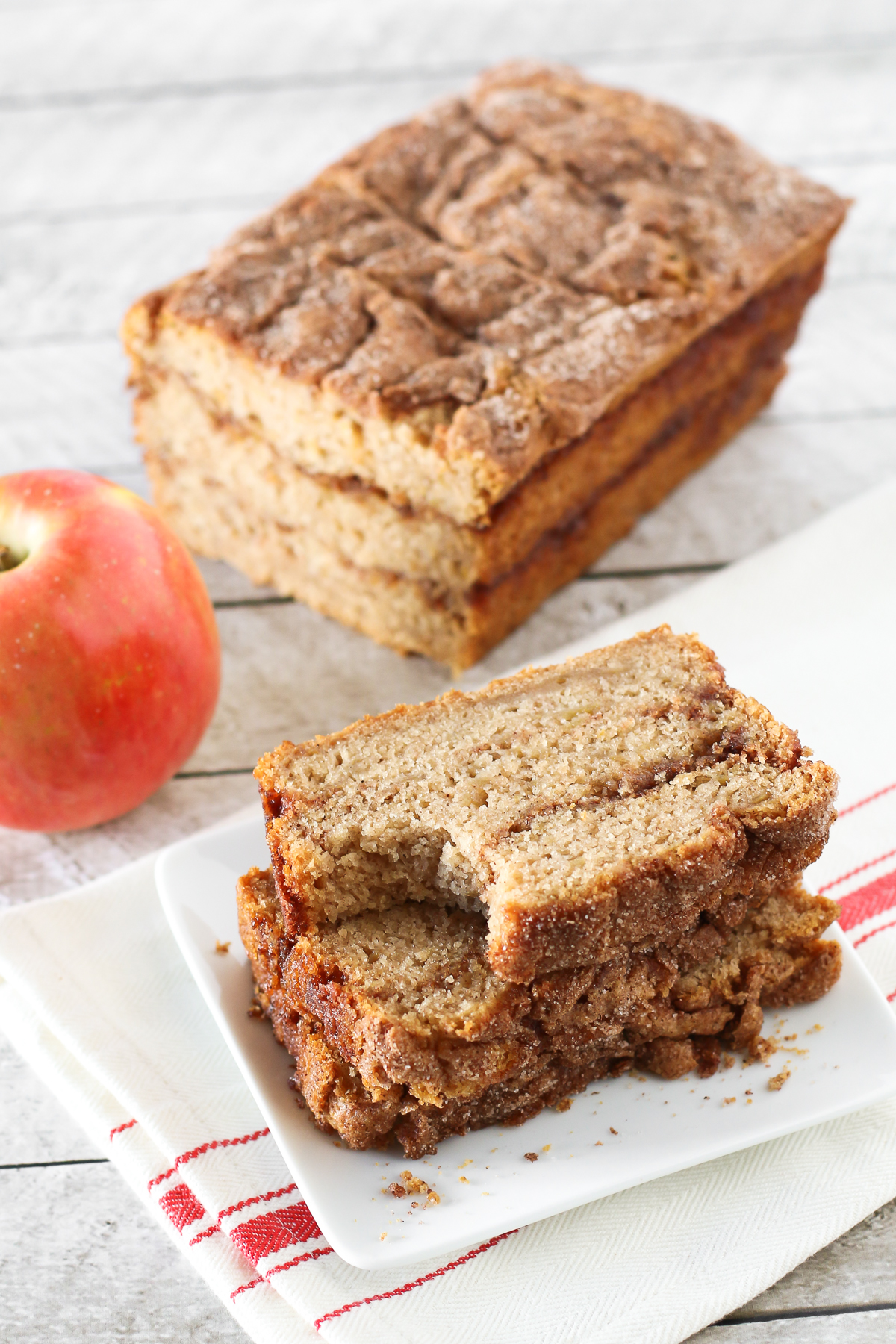 Don't you wanna take a big bite? The addition of applesauce and freshly grated apples makes this gluten free vegan apple cinnamon swirl bread oh so moist. My favorite part would have to be the layers of cinnamon sugar swirled into the bread and also on top. When baked, it becomes caramelized and gives a sweet crust to the bread. Heavenly!
The apple cinnamon combo is a fall favorite of mine. It's such a warm, comforting flavor, especially for baked goods. Muffins, breads, pies. Do you love it as much as I do? If you do, I know you're going to ADORE this apple cinnamon swirl bread.
Here's to apple season and all the delicious, homemade apple recipes!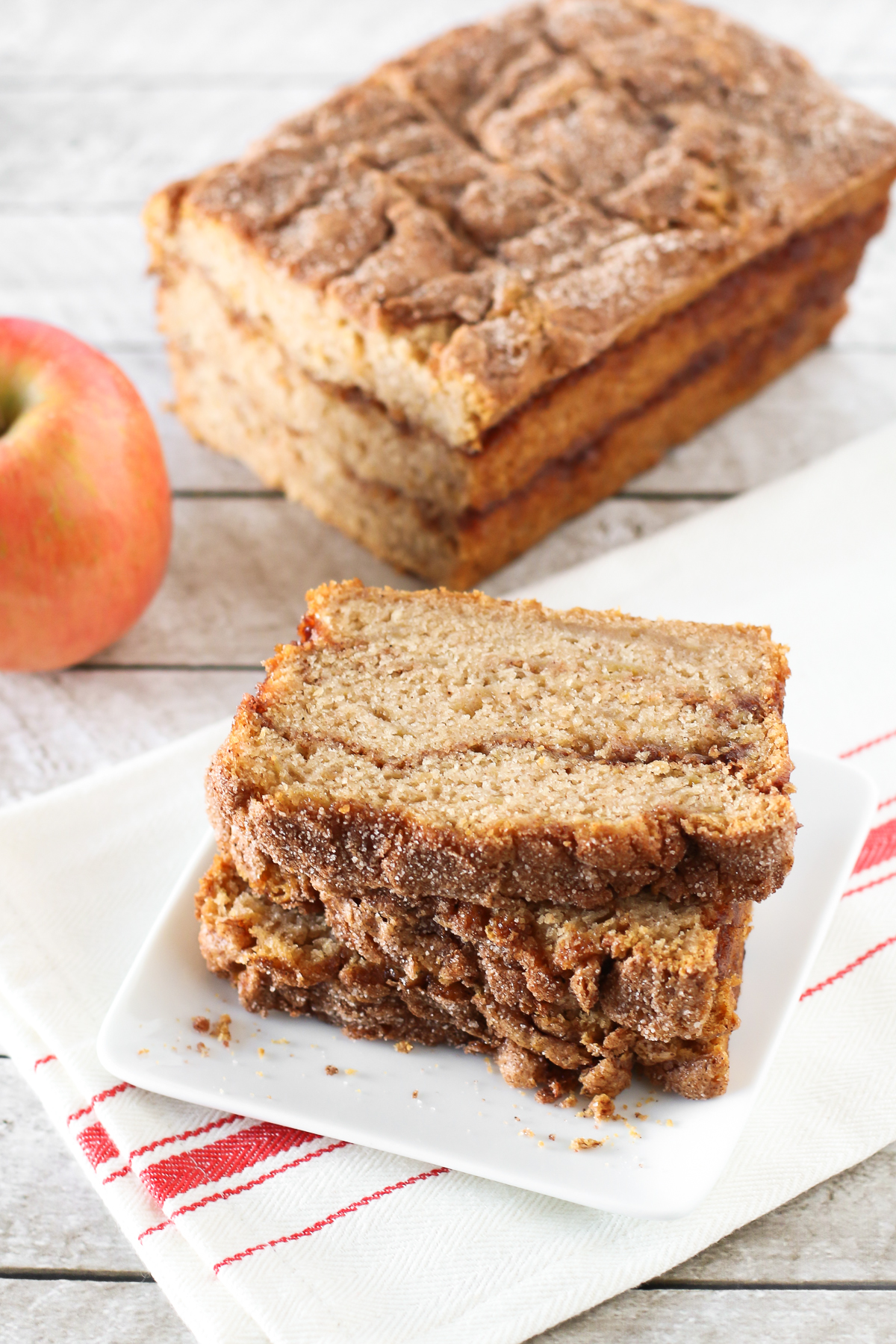 gluten free vegan apple cinnamon swirl bread
AUTHOR:
Sarah Bakes Gluten Free
INGREDIENTS
1 3/4 cups Sarah's gluten free flour blend
1/4 cup cane sugar
1/4 cup brown sugar
1 teaspoon baking powder
1/2 teaspoon baking soda
1/2 teaspoon cinnamon
1/2 teaspoon sea salt
1/2 cup unsweetened almond milk or coconut milk
1/3 cup organic grape seed or sunflower seed oil
1/4 cup unsweetened applesauce
1/4 cup pure maple syrup
1 tablespoon vinegar
1 teaspoon pure vanilla extract
2 apples, peeled and grated on large holes of grater
cinnamon swirl
5 tablespoons cane sugar
2 teaspoons ground cinnamon
INSTRUCTIONS
Preheat oven to 350 degrees. Prepare 9x5-inch loaf pan by spraying with nonstick cooking spray.
In large mixing bowl, sift together flour, sugar, brown sugar, baking powder, baking soda, cinnamon and salt.
Stir together almond milk, oil, applesauce, maple syrup, vinegar and vanilla. Mix in grated apples. Add to flour mixture and mix gently until batter is just combined.
In small bowl, combine remaining sugar and cinnamon for cinnamon swirl.
Scoop 1/3 of batter in prepared loaf pan. Spread into even layer. Sprinkle about 2 tablespoons of cinnamon-sugar mixture over batter. Using butterknife, slightly swirl batter.
Scoop in another 1/3 of batter and spread evenly. Top with additional 2 tablespoons cinnamon-sugar mixture. Gently swirl.
Top with remaining 1/3 of batter and spread evenly. Sprinkle remaining cinnamon-sugar mixture over top and gently swirl.
Bake bread 50-55 minutes or until toothpick inserted in center comes out clean. Let cool in pan 10 minutes. Invert onto cooling to cool completely.
Slice and serve bread. Best enjoyed the same day.