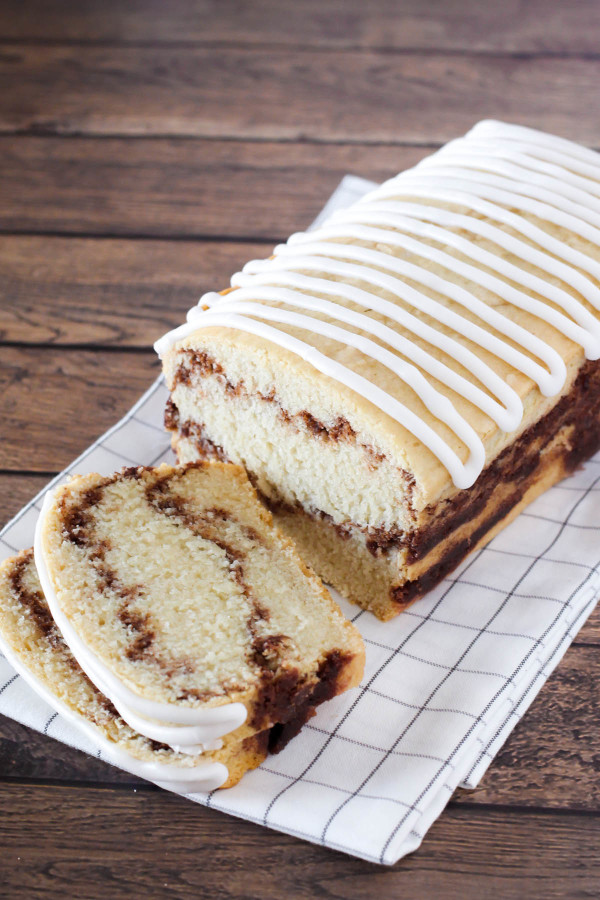 I could easily enjoy a slice of this cinnamon swirl bread every morning of everyday! Now if only someone would come to my house and bake it for me. This mama got no time for that.
Mornings in my house are always a little crazy. My husband leaves early for work so it's always just me and the kids. Getting them fed, making sure they are dressed, packing snacks and lunches. It's chaos and exhausting. I come home from dropping them off and all I want to do is sit down and have my cup of coffee. A cup of coffee with almond milk and a slice of this cinnamon swirl quick bread.
This gluten free vegan cinnamon swirl bread, with that lovely vanilla glaze, may even qualify as cake. I'm going to stick with calling it bread so I don't feel as guilty eating 2 slices! It's such a soft, light sweet bread, with layers of cinnamon sugar throughout. The sugar even gets a little caramelized as it bakes. So good. My family raved over this new recipe and I think yours will too!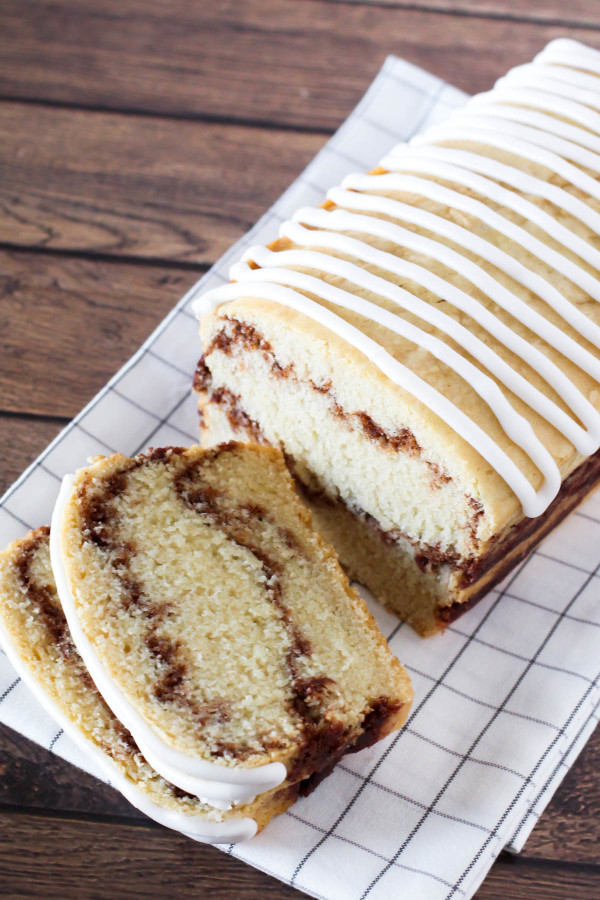 gluten free vegan cinnamon swirl bread
AUTHOR:
Sarah Bakes Gluten Free
INGREDIENTS
1 cup cane sugar
1 teaspoon baking powder
1/2 teaspoon baking soda
1/2 teaspoon sea salt
1 cup, plus 2 tablespoons So Delicious unsweetened almond milk or coconut milk
1 tablespoon vinegar
1/3 cup organic canola or sunflower seed oil
1 teaspoon pure vanilla extract
cinnamon swirl
1/4 cup cane sugar
2 teaspoons ground cinnamon
vanilla glaze
1 cup powdered sugar
1-2 tablespoons water
1/2 teaspoon pure vanilla extract
INSTRUCTIONS
Preheat oven to 350 degrees. Prepare 9x5-inch loaf pan by spraying with nonstick cooking spray.
In large mixing bowl, sift together flour, sugar, baking powder, baking soda and salt.
Stir together almond milk, vinegar, oil and vanilla. Add to flour mixture and stir until batter is smooth.
In small bowl, combine remaining sugar and cinnamon.
Scoop 1/3 of batter in prepared loaf pan. Spread into even layer. Sprinkle 1/2 of cinnamon-sugar mixture over batter. Using butterknife, gently swirl batter.
Scoop in another 1/3 of batter and spread evenly. Top with remaining cinnamon-sugar mixture. Gently swirl.
Top with remaining 1/3 of batter and spread evenly.
Bake bread 45-50 minutes or until toothpick inserted in center comes out clean and edges are golden brown. Let cool in pan 10 minutes. Invert onto cooling to cool completely.
Make vanilla glaze by mixing together powdered sugar, water and vanilla. Stir until smooth. Drizzle over cinnamon bread.
Allow glaze to set. Slice and serve bread.