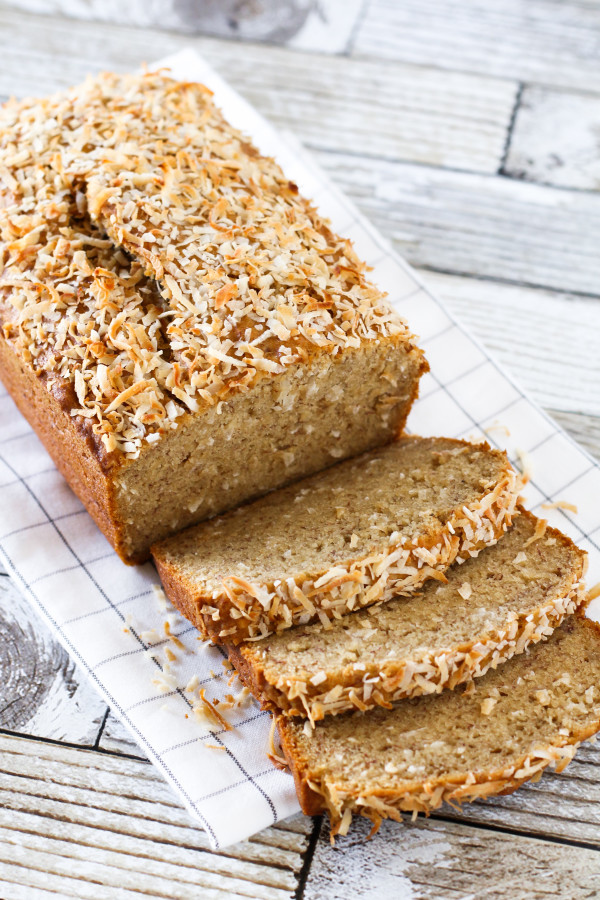 Slices of soft, warm banana bread, topped with toasted coconut. That's one beautiful sight!
Raise your hand if you're a fan of coconut sugar? Made from the nectar of coconut tree blossoms, this natural sweetener has a lovely caramel flavor that I can't get enough of! I use it in cookies, muffins, pancakes, granola and even in my coffee. A staple in my pantry is Bob's Red Mill organic coconut sugar. I'm pretty much using it in my baking whenever I can. It gives just the right amount of sweetness and can be used as a 1-to-1 sugar replacement in your favorite recipes.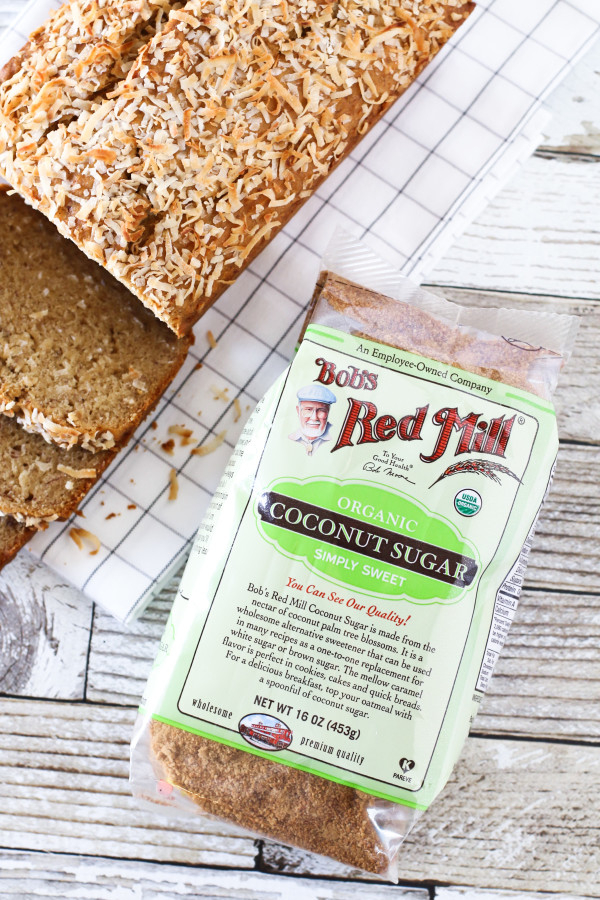 My favorite place to use coconut sugar is in my quick breads. It gives off a similar flavor as brown sugar and has such a deep, nutty taste. With this gluten free vegan coconut banana bread recipe, I'm using all the coconut! Coconut oil, coconut milk, unsweetened shredded coconut and of course, coconut sugar. Naturally sweet, this bread is oh so moist. The banana coconut combination is deeeelicious and don't get me started on the amazing smell as it bakes!
Be sure to pin this quick bread recipe. I promise you it's one you'll be making time and time again!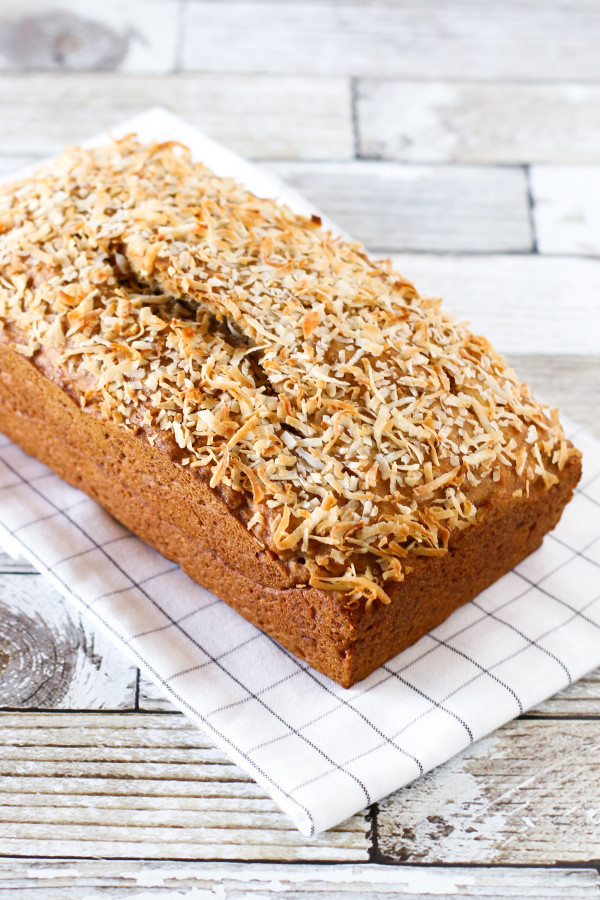 gluten free vegan coconut banana bread
AUTHOR:
Sarah Bakes Gluten Free
INGREDIENTS
1 teaspoon baking powder
1/2 teaspoon baking soda
1/2 teaspoon sea salt
2 ripe bananas, mashed
1/2 cup Bob's Red Mill coconut sugar
1/4 cup coconut oil, melted
1/4 cup unsweetened almond milk or coconut milk, room temperature
1/4 cup orange juice
3 tablespoons pure maple syrup, room temperature
1 teaspoon pure vanilla extract
1/2 cup unsweetened shredded coconut, plus 2 tablespoons
INSTRUCTIONS
Preheat oven to 350 degrees. Line 9x5-inch loaf pan with parchment paper or spray with nonstick cooking spray.
Sift together flour blend, baking powder, baking soda and salt. Set aside.
In large mixing bowl, mash bananas with potato masher or fork. Add coconut sugar, melted coconut oil, coconut milk, orange juice, maple syrup and vanilla. Stir until blended.
Add flour mixture and 1/2 cup shredded coconut to batter. Mix until just combined.
Pour batter into prepared loaf pan and spread out evenly. Top with 2 tablespoons shredded coconut.
Bake banana bread 45-50 minutes. Cool in pan 15 minutes. Remove from pan and place on cooling rack to cool completely.
Slice bread and serve. Store in airtight container.
Get a Bob's Red Mill coupon for a discount on organic coconut sugar by clicking
here
!

This post is sponsored by Bob's Red Mill. All opinions are my own.