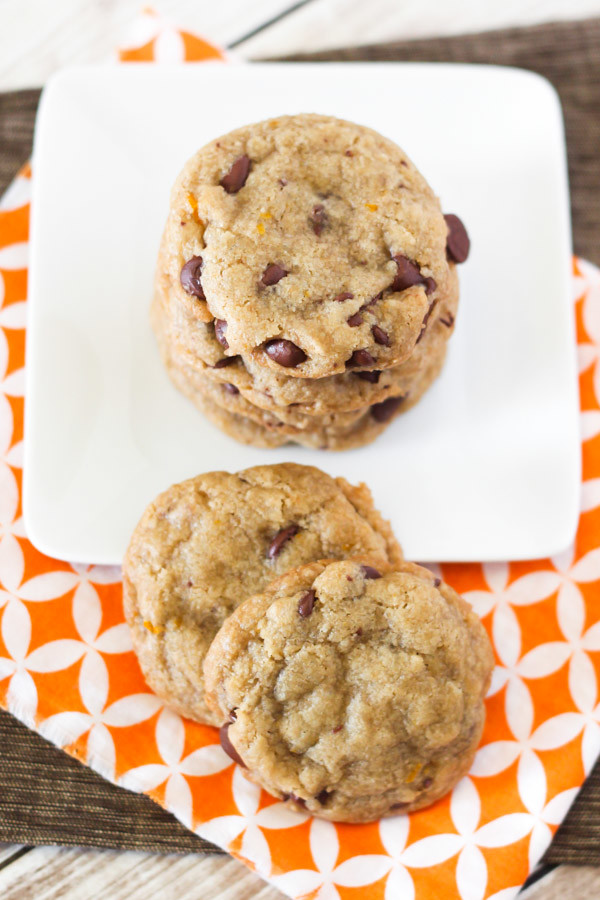 Christmas and cookies are two things that just go together for me. I have so many memories of baking cookies at this time of year. In the kitchen with my mom, recreating all of my grandma's Czech cookie recipes. Raspberry tarts, almond crescents and apricot kolaches. It was tradition and it just felt right.
Creating new cookie recipes doesn't come easy for me because I love the classics so much. Other than my grandma's recipes, there are only a few that I hold close to my heart. Chocolate chip, peanut butter, snickerdoodle. I just love the simples. Simple ingredients, simple preparation.
I'm a firm believer in keeping the chocolate chip cookie true to it's roots. However, when orange zest is involved, I'm ok with a little moderation. Orange and chocolate are such a happy marriage. There is a reason so many people love the combo. Cause it's good! You'll notice the little flecks of orange zest in these (perfect) chocolate chip cookies. Nothing fussy or fancy. Just another delicious gluten free vegan cookie recipe to add to your holiday baking!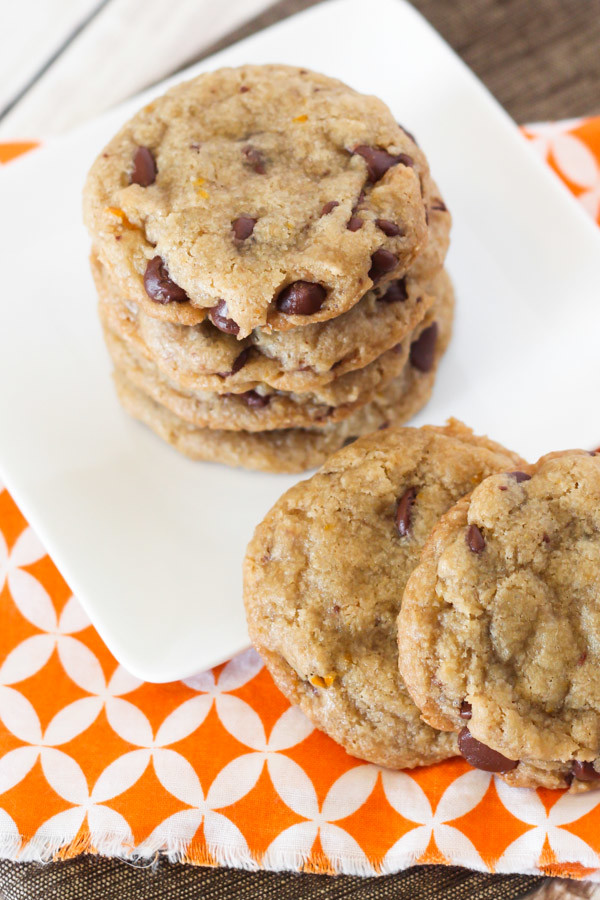 gluten free vegan orange chocolate chip cookies
AUTHOR:
Sarah Bakes Gluten Free
INGREDIENTS
2 cups, plus 2 tablespoons Sarah's gluten free flour blend
1 teaspoon baking powder
1/2 teaspoon baking soda
1/2 teaspoon sea salt
3/4 cup cane sugar
1/2 cup brown sugar
1/3 cup coconut oil, softened*
3 teaspoons orange zest
1/4 cup fresh orange juice
2 tablespoons pure maple syrup, room temperature
1 teaspoon pure vanilla extract
1 1/2 cup dairy free chocolate chips
INSTRUCTIONS
Preheat oven to 350 degrees. Line baking sheets with parchment paper.
In medium bowl, sift together flour blend, baking powder, baking soda and salt. Set aside.
In large mixing bowl, cream together sugar, brown sugar, coconut oil and orange zest, 1-2 minutes.
Add orange juice, maple syrup, and vanilla. Mix until blended. Add flour mixture and chocolate chips. Stir until just combined.
Scoop heaping tablespoons of cookie dough and roll into balls. Place onto prepared baking sheet. Slightly flatten with fingers.
Bake cookies for 8-9 minutes. Cookies with be golden brown on edges and soft to the touch.
Place on cooling rack to cool completely. Store in air-tight container.
NOTES
*Using refined coconut oil gives less of a coconut flavor in the cookies.
I'm spreading some holiday cheer with a $50 Target gift card giveaway! Target is my happy place. My favorite place to go when I need to grab a cup of coffee and have alone time. My favorite place to shop when I'm in search of a cute boyfriend sweater. Use this Target gift card for Christmas shopping or to buy yourself some fun, new baking tools!
a Rafflecopter giveaway
Ready for MORE cookie recipes? I've teamed up with 17 lovely bloggers to do a Gluten Free Virtual Cookie Exchange! Just in time for those holiday parties, cookie swaps and baking days with your kids. Every blogger has also included a $50 value giveaway with their recipes. Simply click on the links below. Be sure to check out every scrumptious cookie recipe and enter the giveaways too!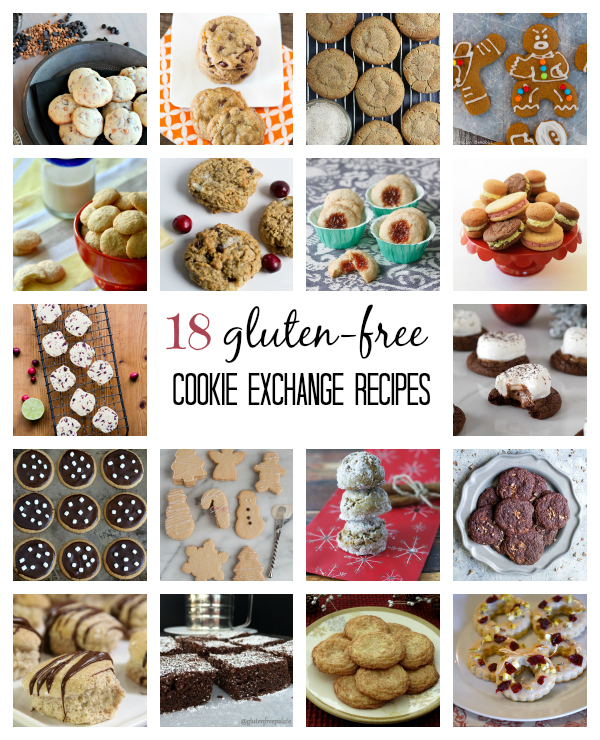 Gluten-free Chocolate Chip Butterscotch Cookies Recipe from Vegetarian Mamma
Gluten-free Vegan Orange Chocolate Chip Cookies Recipe from Sarah Bakes Gluten Free
Gluten-free Snickerdoodles Recipe from Only Taste Matters
Gluten-free Vegan Ninjabread Men Recipe from Flippin' Delicious
Gluten-free Vanilla Wafers Recipe from gfJules
Gluten-free Cranberry Bliss Oatmeal Cookies Recipe from Making It Milk Free
Gluten-free Strawberry Thumbprints Recipe from Learning to Eat Allergy-Free
Gluten-free Holiday Sandwich Cookie Assortment Recipes from Go Dairy Free
Gluten-free Cranberry Lime Cornmeal Cookies Recipe from Cafe Johnsonia
Gluten-free Caramel Hot Chocolate Cookies Recipe from Faithfully Gluten Free
Gluten-free No Bake S'mores Cookies Recipe from My Gluten-free Kitchen
Gluten-free Dairy-free Sugar Cookies Recipe from Allergy Free Alaska
Gluten-free Pfeffernusse Recipe from Fearless Dining
Gluten-free Dark Chocolate Peppermint Cookies Recipe from Maebells
Gluten-free Flourless Chocolate Pecan Cookies Recipe from Around My Family Table
Gluten-free Chocolate Gingerbread Bars Recipe from Gluten-Free Palate
Gluten-free Snickerdoodles Recipe from Gluten-Free Homemaker
Gluten-free Christmas Wreath Cookies Recipe from Gluten-free Frenzy