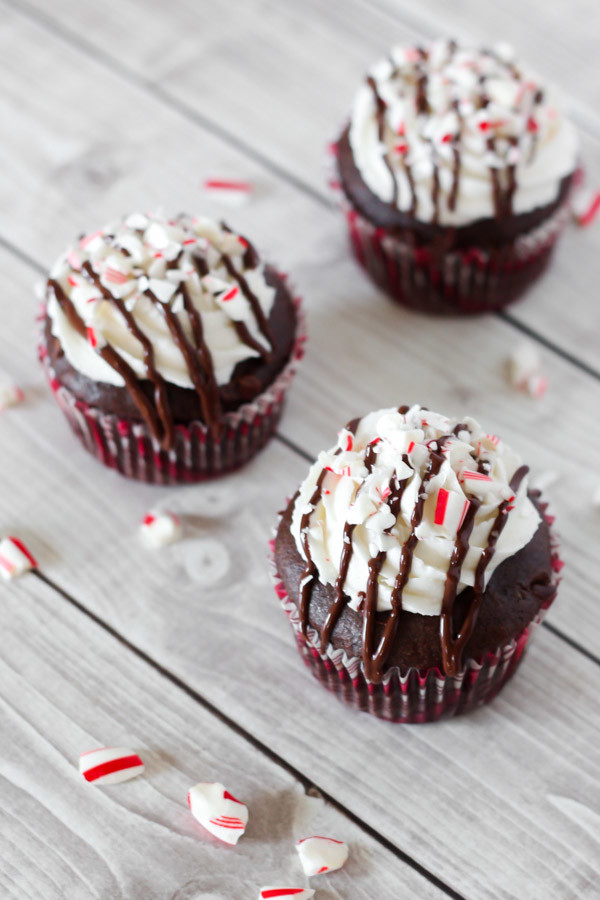 Every year on Christmas Eve, my grandma would give all of the grandkids their own ginormous candy cane. Like the biggest ever, especially to a small child. They were too huge to finish and always made a sticky mess, but it was tradition. For my grandma, you didn't mess with Christmas traditions.
Even as an adult, I still love candy canes. I especially like to crush them up and use them to sprinkle on cookies, cupcakes and So Delicious coconut milk ice cream. Oh yes, a frozen peppermint treat!
I'd like to take this time to introduce you to the gluten free vegan chocolate peppermint cupcake. The merriest cupcake of all! A decadent double chocolate peppermint cupcake, filled with mini chocolate chips. Topped with a light and fluffy peppermint buttercream, chocolate drizzle and crushed candy canes. Chocolate and peppermint. Done and done. A holiday treat to bake for your next holiday celebration!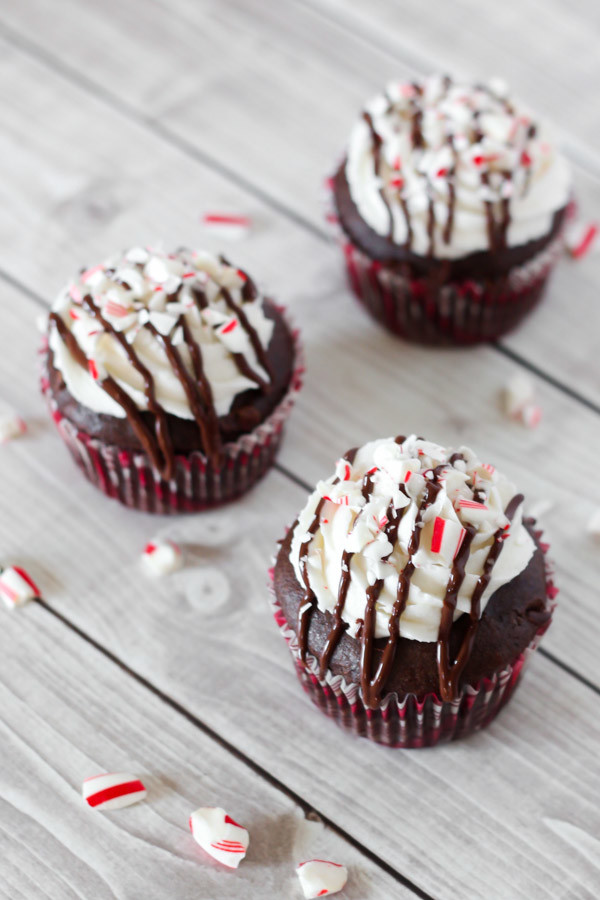 gluten free vegan chocolate peppermint cupcakes
AUTHOR:
Sarah Bakes Gluten Free
RECIPE TYPE:
cupcakes & cakes
INGREDIENTS
chocolate cupcakes
1 1/3 cups Sarah's gluten free flour blend
1/2 cup good quality cocoa powder
1 teaspoon baking powder
1/2 teaspoon baking soda
1/2 teaspoon sea salt
1/2 cup So Delicious unsweetened coconut milk
1/2 cup water
1 tablespoon white vinegar
1/2 cup organic cane sugar
1/2 cup organic brown sugar
1/3 cup sunflower seed oil (or mild flavor oil)
1 teaspoon pure vanilla extract
1/2 teaspoon pure peppermint extract
1/2 cup dairy free mini chocolate chips
peppermint dairy free buttercream
6 tablespoons Earth Balance vegan butter, softened
6 tablespoons non-hydrogenated shortening
2 1/2 cups organic powdered sugar, sifted
1-2 tablespoons So Delicious coconut milk vanilla coffee creamer
1/2 teaspoon pure peppermint extract
chocolate drizzle
1/4 cup dairy free chocolate chips
1 teaspoon non-hydrogenated shortening
2 tablespoons crushed candy canes or peppermint candies
INSTRUCTIONS
Preheat oven to 350 degrees. Line cupcake pans with paper cupcake liners.
Sift together flour blend, cocoa powder, baking powder, baking soda and salt. Set aside.
In large mixing bowl, stir together coconut milk, water and vinegar. Add sugar, brown sugar, oil, vanilla and peppermint extract. Mix until smooth.
Slowly whisk in flour mixture. Add mini chocolate chips and beat until fully combined.
Pour batter into prepared cupcake pans. Bake for 16-18 minutes, or until toothpick inserted in center of cupcake comes out clean. Place cupcakes on cooling rack and cool completely.
To make buttercream, beat together vegan butter with shortening for 1 minute in large bowl of standing mixer. Add powdered sugar, coffee creamer and peppermint extract. Beat for an additional 2 minutes, until light and fluffy.
Melt 1/4 cup chocolate chips with 1 teaspoon shortening in microwave safe bowl, low-power in 30 second intervals.
Place buttercream in piping bag with large star tip and frost cooled cupcakes. Drizzle on melted chocolate and sprinkle with crushed candy canes. Best served within 1-2 days.