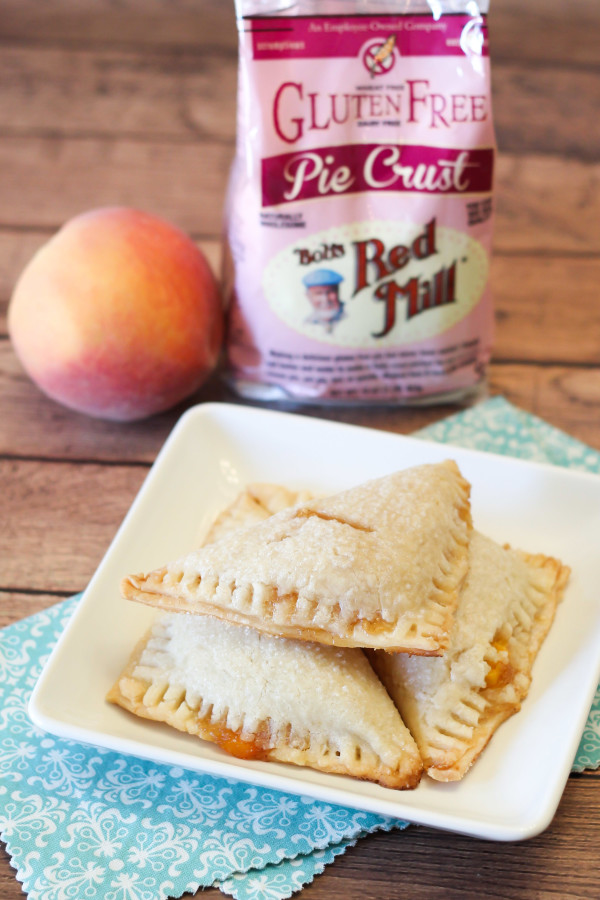 Making pies, all the pies. Summer pies to be exact. Filled with fresh peaches, fresh apples, fresh blueberries, fresh cherries. What's your ideal summer fruit pie? If I had to choose, it would most certainly be peach pie! I just love the flavor of fresh peaches. Regular, not white. An overload of natural sweetness. My fave.
Hand pies are one way to make eating fruit pies way more fun! Who doesn't love hand-held desserts? Much easier to eat and serving these at a party is always a hit. They take a bit of time to make, but the outcome is so worth it. Little pockets of peachy goodness, flakey gluten free crust and a crispy top from a sprinkling of sugar.
In this recipe, I'm featuring the Bob's Red Mill gluten free pie crust mix (which I adore). Great blend of flours and starches, helping to create the perfect pie crust. I make it dairy free by using a combo of vegan butter and organic shortening. I'm also doing a little giveaway for a few pouches of the pie crust mix too. Enter away…just after you try out these summerific hand pies!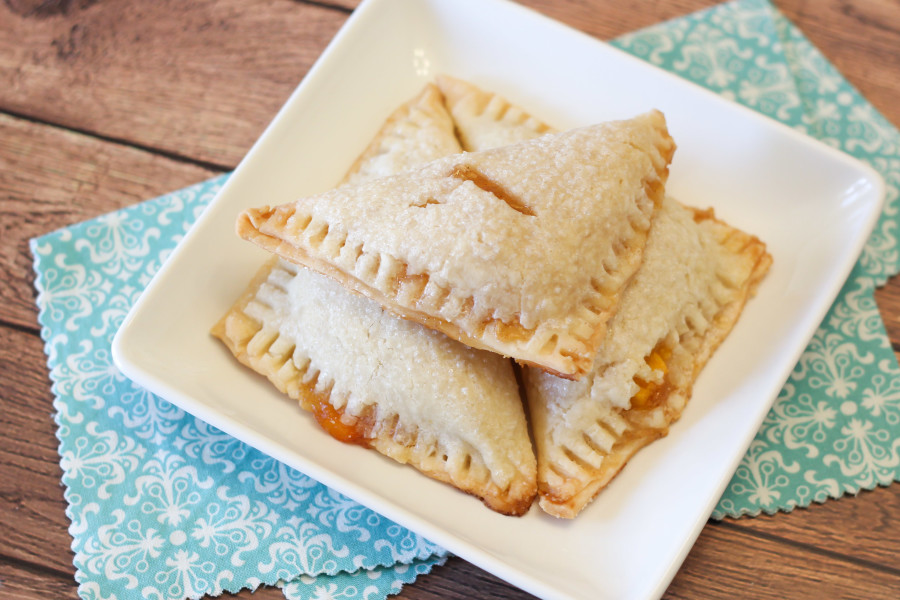 gluten free vegan peach hand pies
AUTHOR:
Sarah Bakes Gluten Free
RECIPE TYPE:
pies & tarts
INGREDIENTS
pie crust
1 package Bob's Red Mill gluten free pie crust
10 tablespoons Earth Balance vegan butter, chilled
6 tablespoons organic non-hydrogenated shortening
6-8 tablespoons ice cold water
peach filling
4-5 peaches, peeled, pitted and diced
1/4 cup organic cane sugar
1 1/2 tablespoons cornstarch
1/2 teaspoon cinnamon
1/2 teaspoon pure vanilla extract
2 tablespoons So Delicious coconut milk coffee creamer
2 tablespoons organic cane sugar
INSTRUCTIONS
In mixing bowl, add gluten free pie crust mix, cold vegan butter and shortening. Using a pastry cutter, combine until butter pieces are less than pea-size. Pour in 6 tablespoons cold water. Continue to blend until dough comes together (add additional tablespoons of water as needed).
Pat dough into 2 round discs and wrap individually in plastic wrap. Refrigerate at least an hour or until ready to use.
To make filling, start by preparing peaches. Peel, remove pit and dice peaches into small pieces. In medium bowl, mix together peaches, sugar, cornstarch, cinnamon and vanilla. Stir until peaches are evenly coated. Set aside to let macerate while dough chills.
Preheat oven to 375 degrees. Line two baking sheets with parchment paper. On counter surface, lay out a large piece of plastic wrap. Place chilled pie dough in center and top with another large piece of plastic wrap (keeps dough from sticking to rolling pin). Roll dough to 1/8" thick. Using knife or pizza cutter, cut dough into 4 or 5-inch squares.
Place heaping tablespoon of filling into center of each pie dough square. Carefully fold in half and gently seal with fork (if dough cracks, just pinch back together). Using pastry brush, brush tops of pies with creamer and sprinkle with sugar. Use small knife to cut 1/2-inch cut into top layer of each pie for steam to escape.
Bake hand pies in oven for 24-26 minutes or until golden brown. Allow to cool for 10 minutes on cooling rack. Serve warm.
Who wants to give 
Bob's Red Mill
 Gluten Free Pie Crust a try (if you haven't already)? One winner will receive a 2-pack of the pie crust mix. Enter in the box below and leave a comment. Be sure to tell me "
what is your idea of the perfect summer pie?
" You can receive extra entries by visiting Bob's Red Mill on 
facebook
, tweeting about the giveaway or sharing on 
instagram
. This giveaway ends on 
Wednesday, July 22
. I'll announce the winner on Thursday morning. Good luck, gluten free bakers!