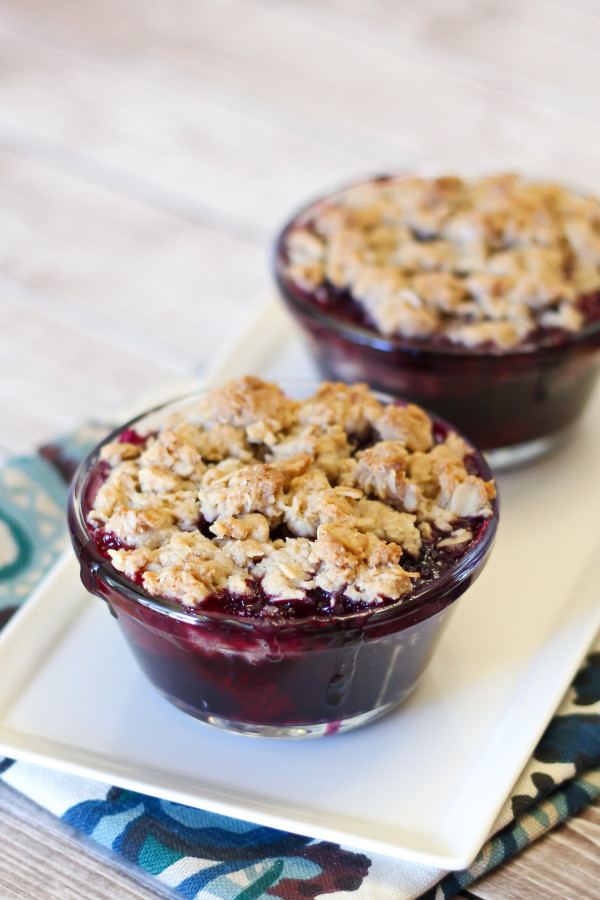 Whenever I think of summer dessert, fruit crisps always come to mind! Bursting with fresh fruit and topped with a crisp, sugary oat crumb topping. You just can't deny their goodness. They are also one of those desserts that is best served warm with a giant scoop of coconut milk ice cream right on top. Oh yeah, now we are talking my love language
I'm happy to share with you this recipe for individual berry crisps, but also to introduce to the newest gluten free flour blend in town! The Good Scone Gluten Free Baking Co. was created by the talented baker, Tricia Fagest. She decided to make it her mission to create an allergen-free product that tasted like the real thing. She nailed it! Their packaging is perfect and I love that it is free of the top 8 allergens. No dairy in a gluten free flour blend is good in my book! They also have a chocolate cake mix and a vanilla cake mix, which makes baking those special celebration desserts even easier.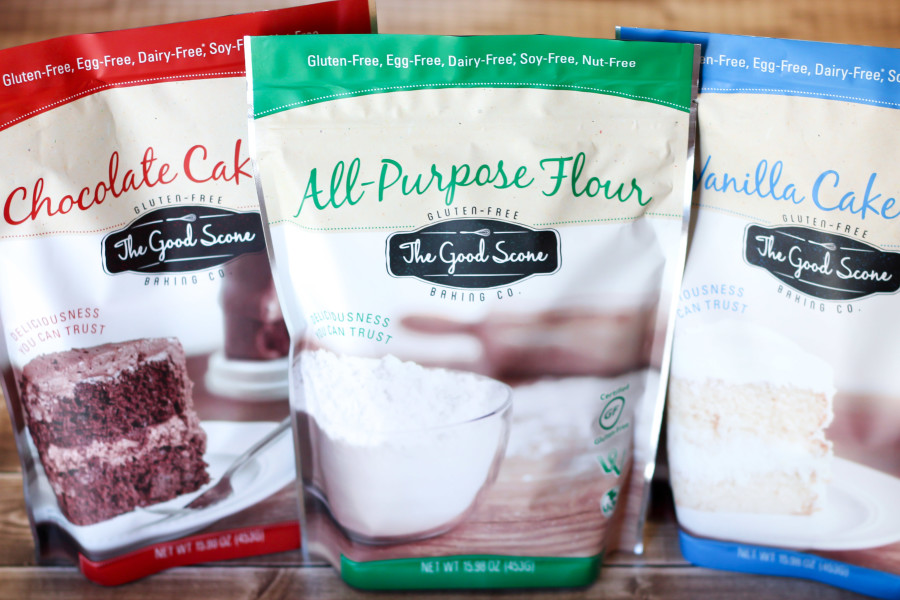 I was so excited when Tricia asked me to create a recipe for them and try out their cake mixes. It was my pleasure! I wanted to try out their gluten free all-purpose flour first, giving it a try in a new recipe. It worked like a charm. Very similar texture in my personal flour blend. These little berry crisps baked up beautifully and that crumb topping is just what you long for in a crisp. A berrylicious summer dessert that is sure to please those with and without food allergies. Individual berry crisps for everyone, I say!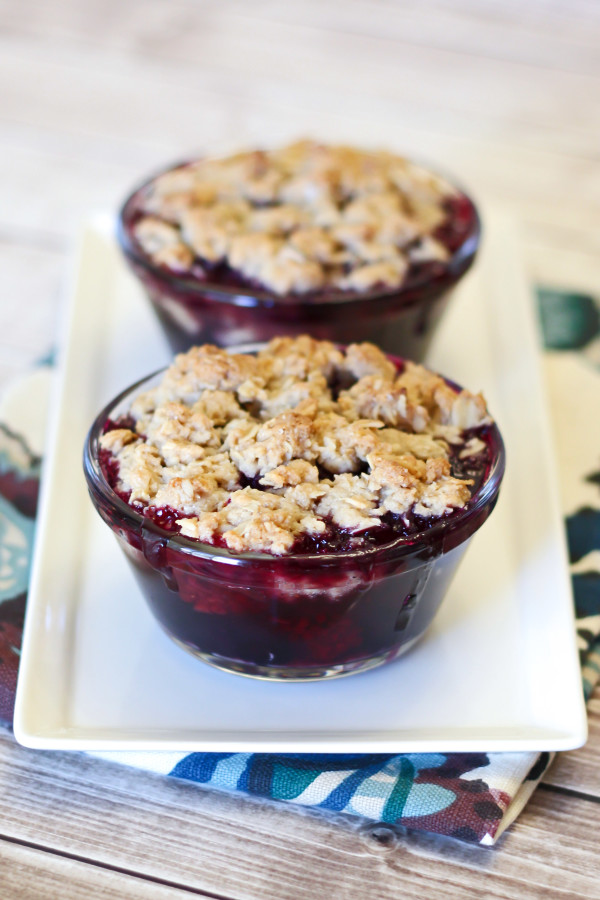 gluten free vegan individual berry crisps and the good scone giveaway
AUTHOR:
Sarah Bakes Gluten Free
INGREDIENTS
berry filling
1 1/2 cups blackberries, fresh or frozen
1 1/2 cups raspberries, fresh or frozen
1 1/2 cups blueberries, fresh or frozen
1/4 cup cane sugar
1/4 cup water
2 tablespoons cornstarch or tapioca starch
crumb topping
1 cup The Good Scone gluten free all-purpose flour
3/4 cup gluten free rolled oats
1/4 cup brown sugar
3 tablespoons cane sugar
1/4 teaspoon ground cinnamon
1/4 teaspoon sea salt
5 tablespoons coconut oil, solid
2 tablespoons So Deliciousunsweetened coconut milk
2 tablespoon pure maple syrup
INSTRUCTIONS
Preheat oven to 375 degrees. Prepare 6 baking ramekins by spraying lightly with cooking spray.
In medium bowl, add blackberries, raspberries, blueberries, sugar, water and cornstarch. Mix gently until evenly coated. Set aside.
For crumb topping, stir together flour, oats, brown sugar, sugar, cinnamon and salt. Add coconut oil and blend with fork until ingredients are well mixed. Pour in maple syrup and coconut milk. Stir until just combined.
Divide berry filling into 6 oven-safe ramekins*, be sure to add juices too. Top with even layer of crumb mixture.
Place ramekins on large baking sheet. Bake for 30-35 minutes or until berries are bubbly and crumble is golden brown. Allow to cool in ramekins. Serve warm.
NOTES
*You can also bake this berry crisp in an 8x8-inch baking dish for 40-45 minutes, until bubbly and golden brown.
Ready for a giveaway from
The Good Scone
? They'll be sending one of you a package of their gluten free all-purpose flour, as well as their chocolate and vanilla cake mixes. Enter in the widget below and be sure to tell me "
what is your all time favorite summer dessert?
" The last day to enter is 
Tuesday, June 9
. I'll announce the winner on Wednesday. Find out what The Good Scone is up to on
instagram
,
facebook
and
twitter
. You can also find all of their products on their
website
to stock up for your summer baking!