gluten free vegan individual berry crisps and the good scone giveaway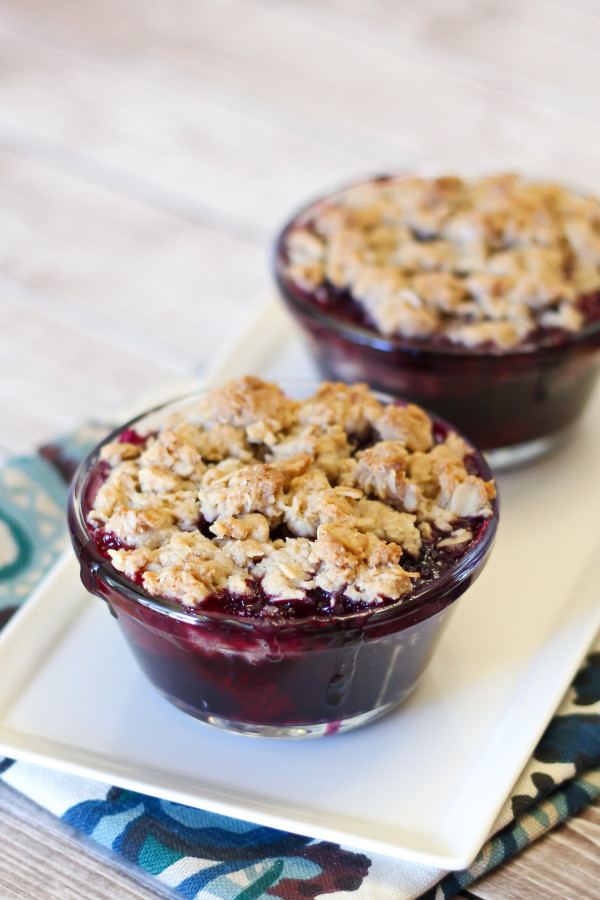 AUTHOR:
Sarah Bakes Gluten Free
1 1/2 cups blackberries, fresh or frozen
1 1/2 cups raspberries, fresh or frozen
1 1/2 cups blueberries, fresh or frozen
1/4 cup cane sugar
1/4 cup water
2 tablespoons cornstarch or tapioca starch
1 cup The Good Scone gluten free all-purpose flour
3/4 cup gluten free rolled oats
1/4 cup brown sugar
3 tablespoons cane sugar
1/4 teaspoon ground cinnamon
1/4 teaspoon sea salt
5 tablespoons coconut oil, solid
2 tablespoons So Deliciousunsweetened coconut milk
2 tablespoon pure maple syrup
Preheat oven to 375 degrees. Prepare 6 baking ramekins by spraying lightly with cooking spray.
In medium bowl, add blackberries, raspberries, blueberries, sugar, water and cornstarch. Mix gently until evenly coated. Set aside.
For crumb topping, stir together flour, oats, brown sugar, sugar, cinnamon and salt. Add coconut oil and blend with fork until ingredients are well mixed. Pour in maple syrup and coconut milk. Stir until just combined.
Divide berry filling into 6 oven-safe ramekins*, be sure to add juices too. Top with even layer of crumb mixture.
Place ramekins on large baking sheet. Bake for 30-35 minutes or until berries are bubbly and crumble is golden brown. Allow to cool in ramekins. Serve warm.
*You can also bake this berry crisp in an 8x8-inch baking dish for 40-45 minutes, until bubbly and golden brown.
Recipe by
Sarah Bakes Gluten Free
at https://www.sarahbakesgfree.com/2015/06/gluten-free-vegan-individual-berry.html