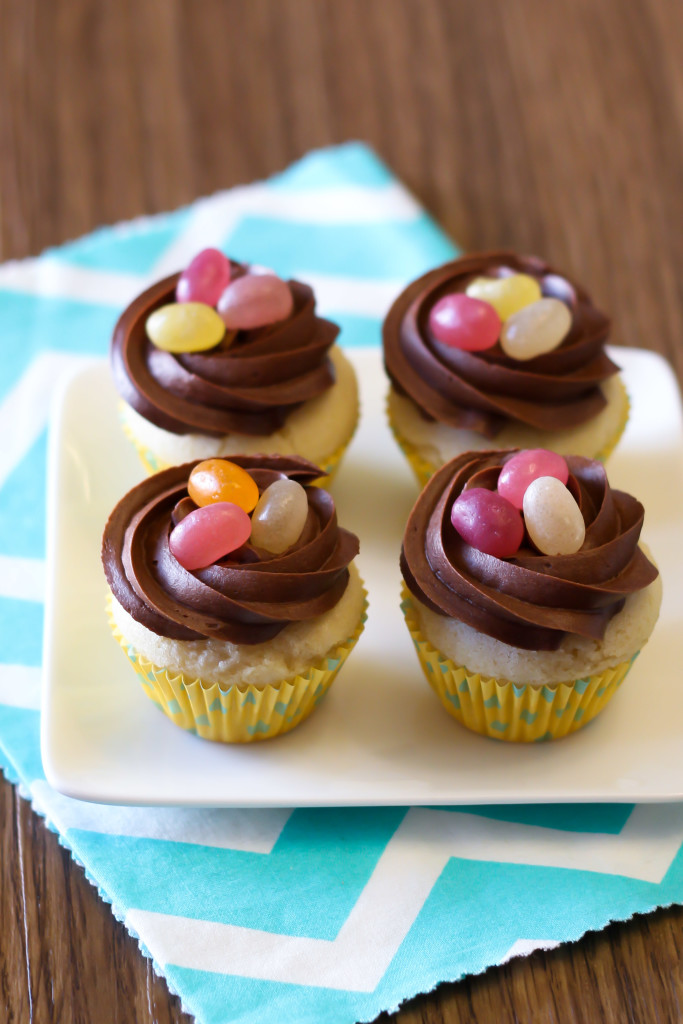 Cuteness. That's all there is to say about these mini Easter cupcakes. Tiny vanilla cupcakes, topped with tiny chocolate fudge frosting nests and tiny jellybean eggs. Tiny tastiness all around!
Thinking of new holiday treats. It's what's on my mind as each holiday approaches. What colorful, tasty desserts can I come up that my kids will love? Well, when candy is involved, they get the most excited. Candy and cupcakes? A double win. The mini size cupcakes is the perfect size for their little bodies. That chocolate fudge frosting…oh so good. I used organic jellybeans for the eggs from Surf Sweets (found them at Costco!) so there are no artificial colors or sweeteners.
Your kids will go hippity-hop over these gluten, egg and dairy free Easter chocolate nest cupcakes!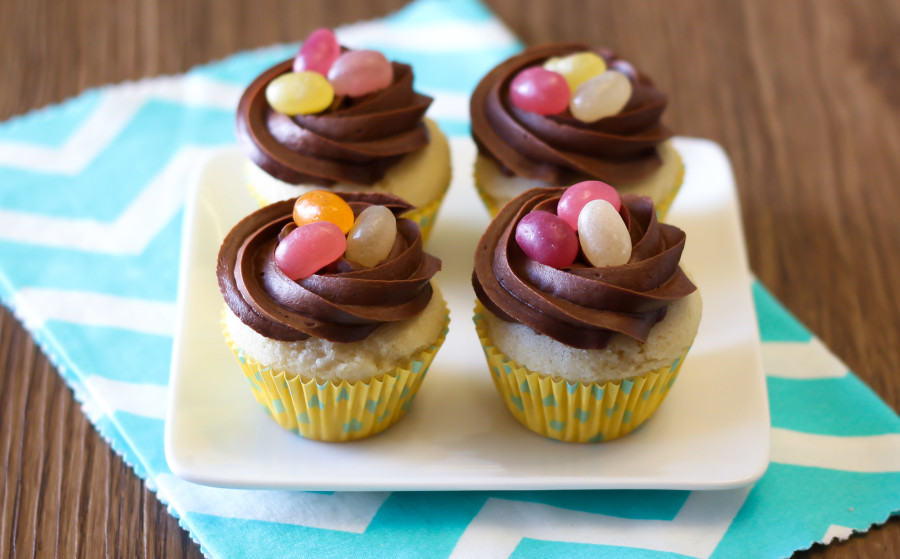 gluten free vegan mini easter chocolate nest cupcakes
AUTHOR:
Sarah Bakes Gluten Free
RECIPE TYPE:
cupcakes & cakes
INGREDIENTS
vanilla cupcakes
1 3/4 cups Sarah's gluten free flour blend
1 teaspoon baking powder
1/2 teaspoon baking soda
1/2 teaspoon salt
1/2 cup So Delicious unsweetened coconut milk
1/2 cup water
1 tablespoon white vinegar
1 cup organic cane sugar
1/3 cup sunflower seed oil
1 tablespoon pure vanilla extract
chocolate fudge frosting
1/2 cup dairy free chocolate chips
3 tablespoons vegan butter
6 tablespoons So Delicious unsweetened coconut milk
3 cups powdered sugar
1/2 cup cocoa powder
1 teaspoon pure vanilla extract
organic jellybeans (such as Surf Sweets)
INSTRUCTIONS
Preheat oven to 350 degrees. Line mini cupcake pans with paper cupcake liners.
Sift together flour blend, baking powder, baking soda, and salt. Set aside.
In large mixing bowl, stir together coconut milk, water and vinegar, until slightly curdled. Add sugar, oil, and vanilla extract. Slowly whisk in flour mixture. Mix for 1 minute.
Pour batter into prepared cupcake pan. Bake for 10-12 minutes, or until toothpick inserted in center of cupcake comes out clean. Place mini cupcakes on cooling rack and cool completely.
To make chocolate fudge frosting, place chocolate chips, dairy free butter and coconut milk in microwave-safe bowl. Microwave in 20 second intervals, stirring in between (can also be done on stove over low heat). Stir until chocolate chips are completely melted.
Add chocolate mixture to bowl of large stand mixer. Add sifted powdered sugar, cocoa powder and vanilla. Beat for 2 minutes, until creamy and smooth. Add an additional 1-2 tablespoons coconut milk as needed.
Place frosting in piping bag with star tip. Start in center and work your way out with frosting, creating a nest. Place 3 jellybeans in center of nest. Cupcakes best enjoyed within 1-2 days.