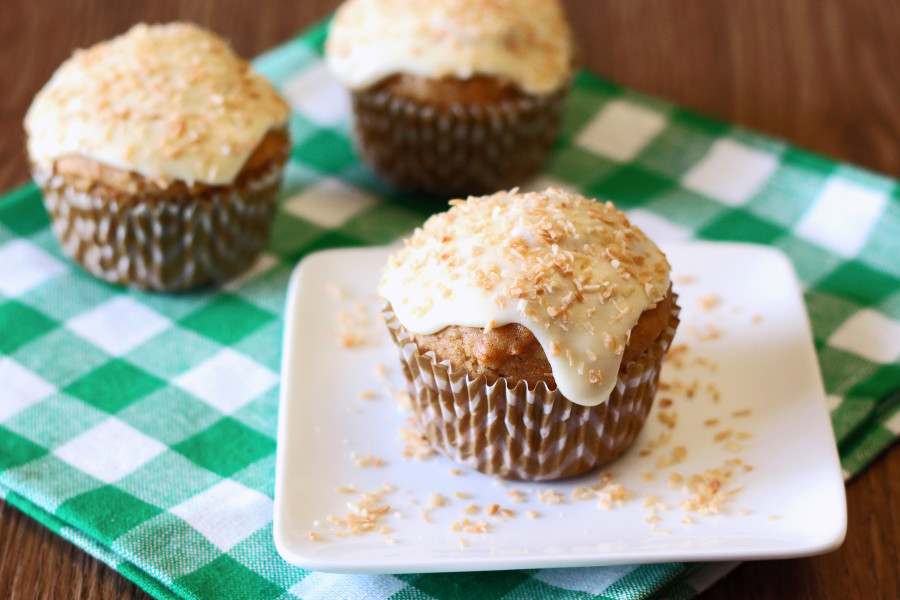 I love making muffins. They just make my heart happy. I don't really have an all-time favorite muffin because I love them all. Chocolate zucchini, pumpkin spice, banana chocolate chip or lemon blueberry. Some say they are just a cupcake that you get to eat for breakfast. I'm good with that.
Working with all of the Bob's Red Mill baking products has been such a treat! I've been getting packages in the mail with some of their goodies, just waiting to be used in a new recipe. I recently received a few bags of their unsweetened shredded coconut. Mmmmmm. I know some people can't stand the texture. Yeah, I'm not one of them. I love all things coconut!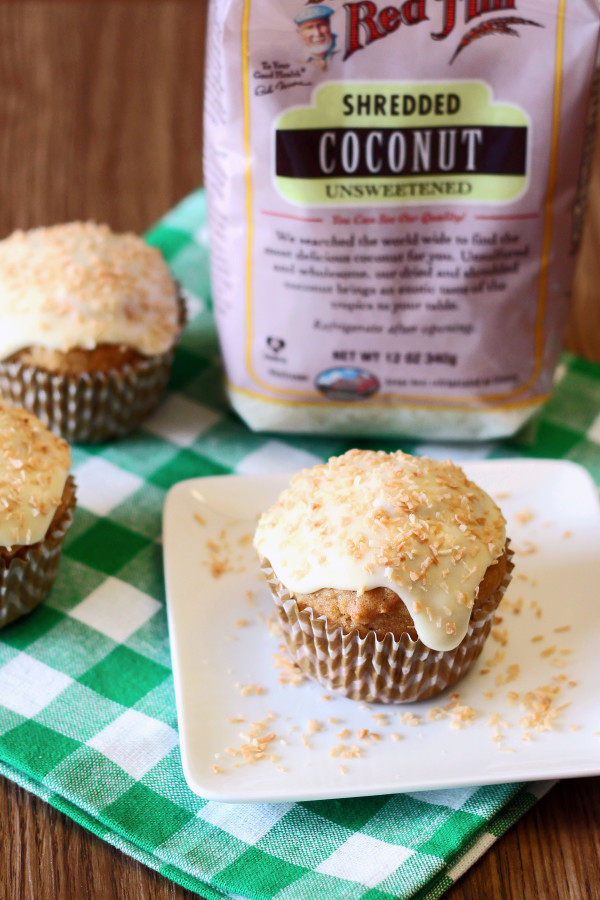 I'd like you all to say good morning to the carrot coconut morning glory muffin! It's beautiful, isn't it? A gluten free vegan muffin, filled with grated carrots, shredded coconut, cinnamon and walnuts. They are also topped with a simple orange glaze and a sprinkle of toasted coconut. Glorious frosted muffins. These will surely brighten your day!

gluten free vegan carrot coconut morning glory muffins
AUTHOR:
Sarah Bakes Gluten Free
INGREDIENTS
carrot coconut muffins
1 3/4 cups Sarah's gluten free flour blend
1 teaspoon ground cinnamon
1 teaspoon baking powder
1/2 teaspoon baking soda
1/2 teaspoon salt
1/2 cup So Delicious unsweetened coconut or almond milk
1/3 cup canola or sunflower seed oil
1/2 cup organic brown sugar
1/4 cup pure maple syrup
1/4 cup unsweetened applesauce
1/4 cup orange juice
1 teaspoon pure vanilla extract
1 1/2 cups finely grated carrots
1/2 cup Bob's Red Mill unsweetened shredded coconut
1/2 cup chopped walnuts (optional)
orange glaze
3 tablespoons Bob's Red Mill unsweetened shredded coconut, toasted
1 1/2 cups powdered sugar
2 tablespoons orange juice
1 tablespoons Earth Balance vegan butter, melted
1 teaspoon pure vanilla extract
INSTRUCTIONS
Preheat oven to 375 degrees. Line muffin tin with paper cupcake liners.
Sift together flour blend, cinnamon, baking powder, baking soda, and salt. Set aside.
In large mixing bowl, stir together coconut milk, oil, brown sugar, maple syrup, applesauce, orange juice and vanilla extract. Mix in shredded carrots.
Slowly add flour mixture and stir until combined. Fold in coconut and walnuts.
Scoop batter into prepared muffin tin. Bake for 15-17 minutes, or until toothpick inserted in center of muffin comes out clean.
Place muffins on cooling rack and cool completely.
While muffins are cooling, toast coconut. Place 3 tablespoons coconut in even layer on cookie sheet. Bake at 375 degrees for 5-7 minutes, until just golden brown. Cool and set aside.
To make orange glaze, whisk together powdered sugar with orange juice, melted butter and vanilla. Mix until smooth.
Frost cooled cupcakes with glaze and top with toasted coconut. Best enjoyed within 1-2 days.
A big thank you to Bob's Red Mill for sponsoring this post! For more delicious recipes and a coupon for $1.00 off any product, visit bobsredmill.com.