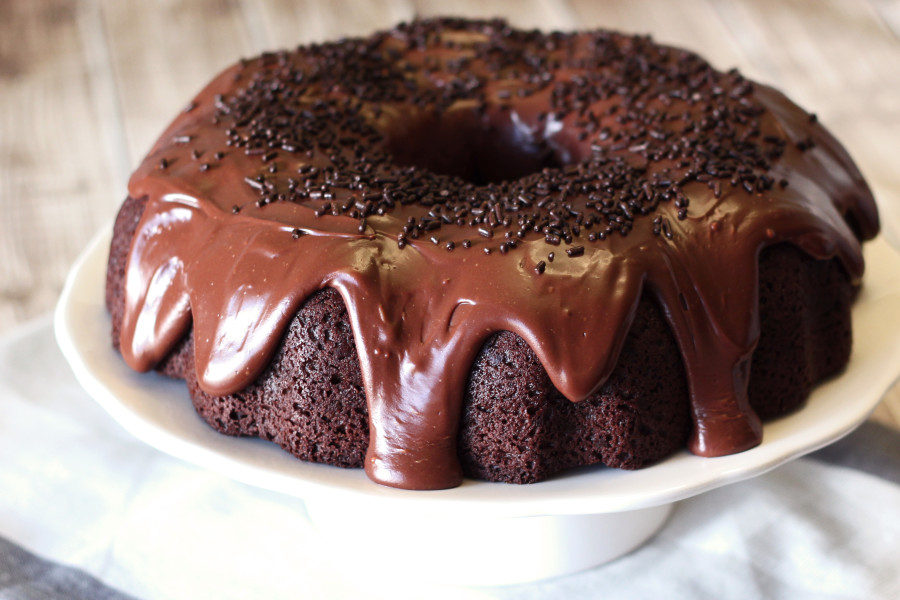 It's good to have a go-to chocolate cake recipe. A chocolate cake that everyone will love, that everyone with food allergies can enjoy. Let me introduce you to my go-to chocolate cake recipe. It's gluten, dairy and egg free. It's also pretty much the easiest cake recipe too. I've made it more times than I can count, I don't even need to look at a recipe anymore. It's one I will continue to make time and time again!
Now let's move on to that chocolate ganache glaze. The moist, chocolatey cake as it's canvas. It's poured down the side, making this chocolate bundt cake even more beautiful. Double chocolate cake studded with mini chocolate chips, covered in a creamy chocolate ganache glaze. Hello and get in my belly!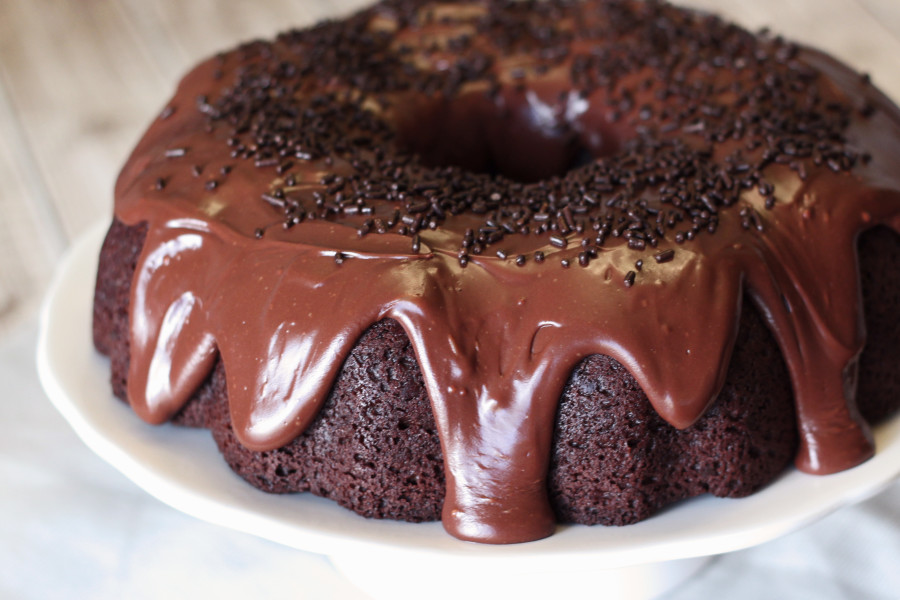 gluten free vegan double chocolate bundt cake
AUTHOR:
Sarah Bakes Gluten Free
RECIPE TYPE:
cupcakes & cakes
INGREDIENTS
3/4 cup good quality cocoa powder
1 1/2 teaspoon baking powder
3/4 teaspoon baking soda
1 teaspoon sea salt
3/4 cup So Delicious Dairy Free unsweetened coconut or almond milk
3/4 cup water
2 tablespoon white vinegar
1 cup cane sugar
1/3 cup brown sugar
1/2 cup, plus 1 tablespoon sunflower seed or canola oil
2 teaspoons pure vanilla extract
1 cup dairy free mini chocolate chips
chocolate ganache glaze
1 cup dairy free semi-sweet chocolate chips
4-6 tablespoons So Delicious Dairy Free unsweetened coconut or almond milk
3/4 cup powdered sugar
1/2 teaspoon pure vanilla extract
INSTRUCTIONS
Preheat oven to 350 degrees. Prepare bundt cake pan by spraying with nonstick cooking spray.
Sift together flour blend, cocoa powder, baking powder, baking soda and salt. Set aside.
In large mixing bowl, stir together coconut milk, water and vinegar, until curdled. Add sugar, brown sugar, oil, and vanilla extract.
Slowly whisk in flour mixture until combined. Stir in 1 cup mini chocolate chips. Pour cake batter into prepared bundt cake pan.
Bake for 40-45 minutes, or until toothpick inserted in cake comes out clean. Cool cake in pan for 15 minutes. Invert cake onto cooling rack and cool completely.
To make chocolate ganache glaze, place chocolate chips and 4 tablespoons coconut milk in microwave-safe bowl. Microwave on low for 30 seconds. Stir and microwave an additional 15 seconds.
Whisk in powdered sugar and vanilla. Add an additional 1-2 tablespoons coconut milk. Pour over over cooled cake, letting it run down sides of cake. Top with chocolate sprinkles (optional). Slice and serve.