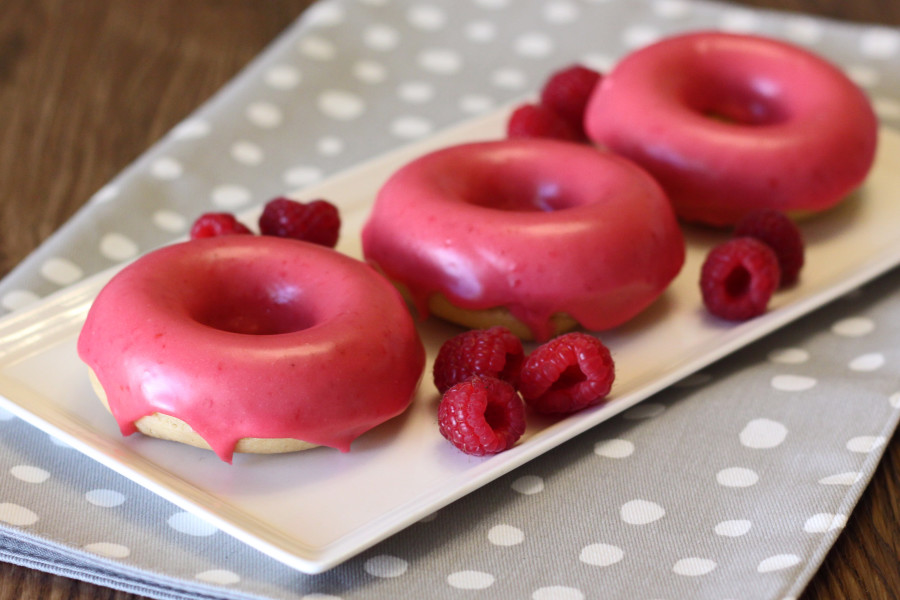 Today, I'm sharing my recipe for these baked raspberry almond donuts over on Go Dairy Free, as part of their Dairy Free Recipe Potluck! For the next week, they'll be posting amazing dairy free recipes from different bloggers. There will be a final potluck to start the 21-Day Dairy Free Challenge, put on by So Delicious. Be sure to sign up today and have a chance to win some fabulous prizes!
My kids get so excited when their mama makes baked donuts in the morning! Usually for special occasions, but sometimes because I love them so much. For my daughters 9th birthday, I baked up a batch of these raspberry almond donuts. They're pink! Her favorite. They are also baked donuts and are low in fat. The addition of pure almond extract is perfect paired with the fresh raspberry glaze. I think these gluten free vegan baked raspberry almond donuts make any morning just a bit brighter and even more delicious!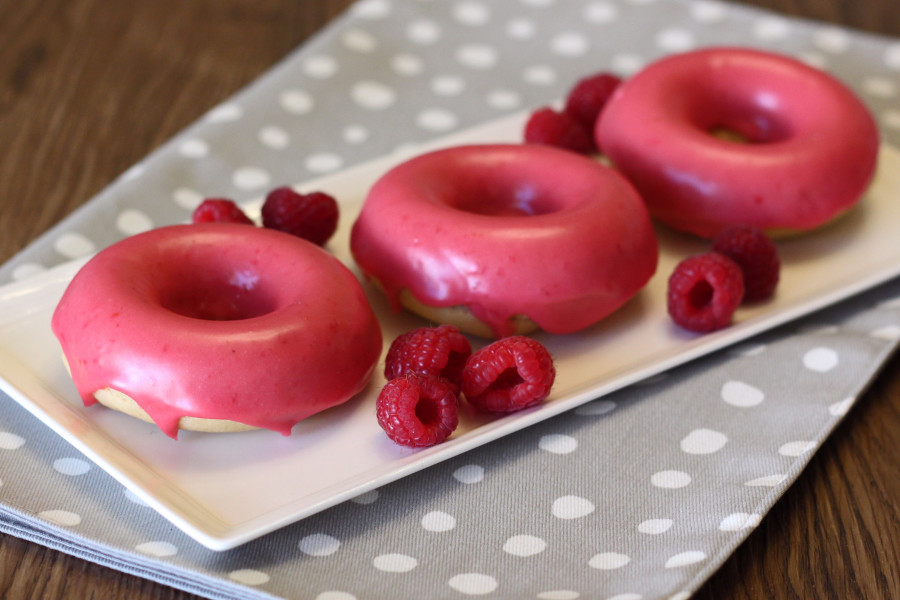 gluten free vegan baked raspberry almond donuts
AUTHOR:
Sarah Bakes Gluten Free
INGREDIENTS
almond donuts
1 1/2 cups Sarah's gluten free flour blend
2 teaspoons baking powder
1/4 teaspoon baking soda
1/4 teaspoon salt
3/4 cup, plus 2 tablespoons So Delicious unsweetened almond or coconut milk
1 teaspoon apple cider vinegar
1/2 cup cane sugar
3 tablespoons sunflower seed or canola oil
1/2 teaspoon pure vanilla extract
1/2 teaspoon pure almond extract*
raspberry glaze
1/2 cup fresh or frozen (thawed) raspberries
1 1/2 cups powdered sugar
1/4 teaspoon pure vanilla extract
1/4 teaspoon pure almond extract*
INSTRUCTIONS
Preheat oven to 375 degrees. Spray donut pan with nonstick cooking spray.
Sift together flour, baking powder, baking soda and salt. In mixing bowl, mix together coconut milk and vinegar, stirring until curdled.
Add sugar, oil, vanilla and almond extract. Stir in flour mixture until just combined.
Spoon batter into ziploc bag (or piping bag) and cut tip. Pipe batter into prepared donut pan.
Bake donuts for 16-18 minutes, until golden brown and baked through. Turn out onto cooling rack. Repeat with remaining dough.
To make raspberry glaze, place raspberries in fine mesh sieve. Press raspberries through sieve, discarding seeds.
Add powdered sugar to pressed raspberry puree. Whisk until smooth. Add vanilla and almond extract, stirring until combined.
When donuts are mostly cool, dip tops into glaze to coat and let set for 10-15 minutes.
Donuts are best served right away or same day. If not serving donuts right away, wait to glaze until ready to enjoy.
NOTES
*For almond or nut allergy, feel free to use additional vanilla extract in place of almond extract.