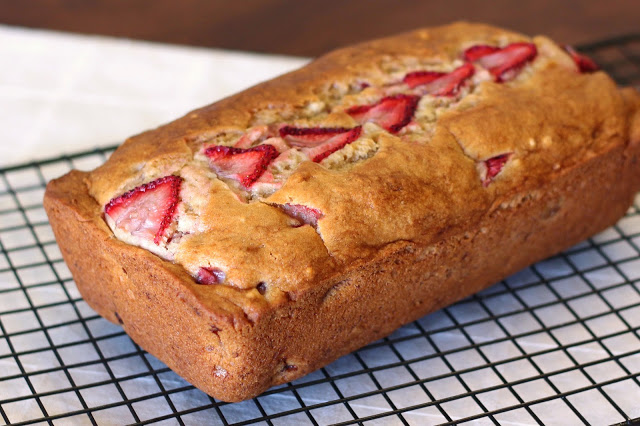 As much as I hate baking when it's 110 degrees outside, sometime I just have to suffer the heat and make treats for my family. My husband in particular, is always requesting homemade banana bread. It's his weakness. He'd choose banana bread over chocolate cake any day.
During the summer, I always have strawberries in the fridge. They're a great snack and my kids request them with breakfast, lunch and dinner. I don't bake with strawberries much, but I had the idea to dice a few up and put them in a loaf of banana bread. Why I've never done this before, I do not know. I think of it as a "summery banana bread." So moist and so yum. If you have ripe strawberries and ripe bananas…well, you know what to do.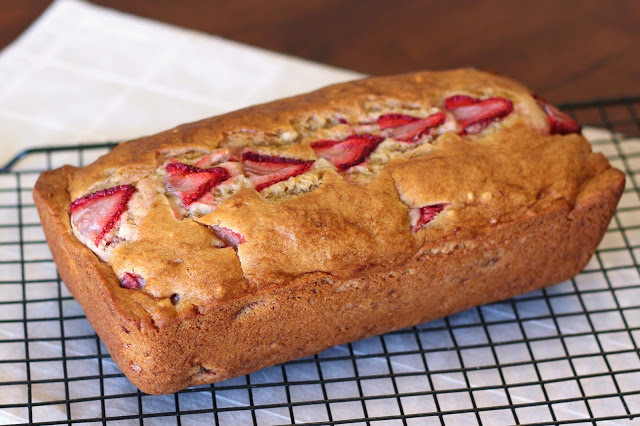 gluten free vegan strawberry banana bread
AUTHOR:
Sarah Bakes Gluten Free
INGREDIENTS
1 1/2 teaspoons baking powder
1/2 teaspoon baking soda
1/2 teaspoon salt
1/2 cup unsweetened almond or coconut milk
1 tablespoon apple cider vinegar
2 ripe bananas, mashed
1/2 cup cane sugar
1/4 cup brown sugar
1/3 cup sunflower seed or canola oil
3 tablespoons pure maple syrup
1 1/2 teaspoons pure vanilla extract
1 cup diced fresh strawberries
additional sliced strawberries for topping
INSTRUCTIONS
Preheat oven to 350 degrees. Prepare loaf pan by spraying with cooking spray or lining with parchment paper.
In large mixing bowl, sift together flour, baking powder, baking soda and salt. Set aside.
Mix together coconut milk and vinegar, until curdled. Add mashed bananas, sugar, brown sugar, oil, maple syrup and vanilla. Add to flour mixture and stir just to combine. Fold in diced strawberries.
Pour batter into prepared loaf pan. Top with single row of sliced strawberries.
Bake bread for 55-60 minutes or until toothpick inserted in center comes out clean. Allow to cool in pan for 10 minutes.
Remove from pan and continue to cool on cooling rack. Slice and serve.