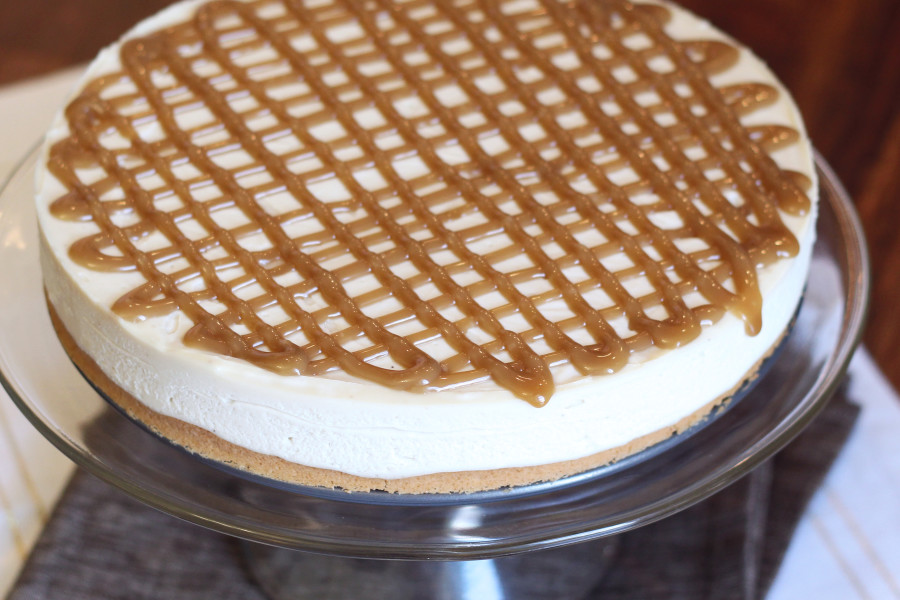 Salted caramel. Divine. Luxurious. Heavenly. The list goes on and on. I think I have to add "one of the best creations ever." To put something like sweet, creamy caramel and sea salt together. It's pure genius. Most people must agree because you see the combination in chocolate bars, ice cream, desserts, coffee drinks. The possibilities of incorporating this magic is endless!
See that gooey salted caramel making it's way over the edge of that dairy free cheesecake? It's dairy free too. Yep. It's also incredibly easy to make and will change your life. For the better. Rich coconut cream, brown sugar, vanilla and a touch of sea salt. As you cook the coconut cream and brown sugar, the caramel gets nice and thick. Pour it over ice cream or use as a dip for fresh fruit.
Now let's get to this cheesecake. I've made vegan cheesecake many times, with the help of cashews (still amazed), in all different flavors. This is a very traditional cheesecake recipe. The crust tastes like a graham cracker crust and the filling tastes like the creamiest cheesecake. The combination of the crust, cheesecake and caramel is oh so decadent. I brought this to a birthday celebration and everyone was amazed that it was gluten, dairy and egg free. I'm certain you'll be amazed and quite in love too!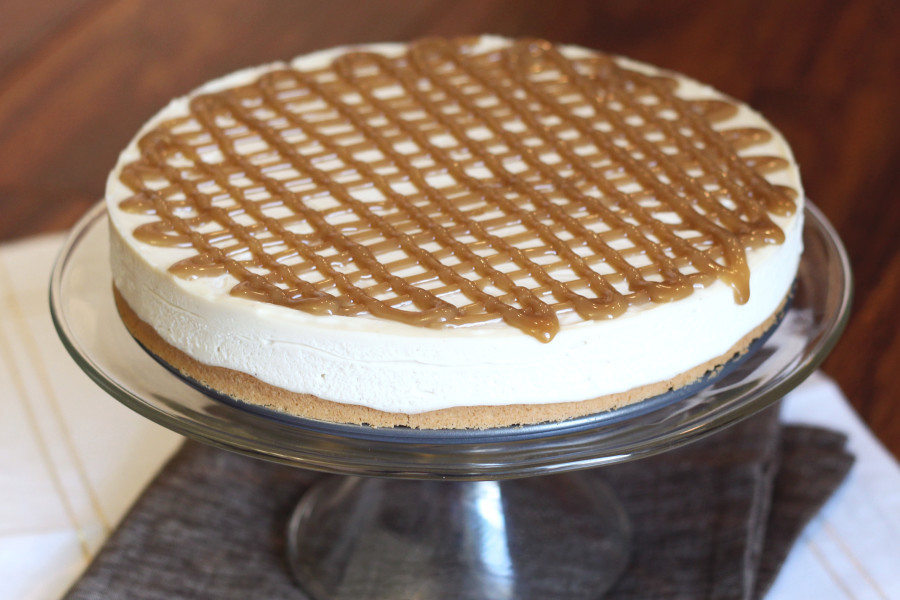 gluten free vegan salted caramel cheesecake
AUTHOR:
Sarah Bakes Gluten Free
RECIPE TYPE:
pies & tarts
INGREDIENTS
crust
cheesecake filling
3 1/2 cups raw cashews, soaked overnight
3/4 cup So Delicious culinary coconut milk, full-fat*
3/4 cup cane sugar
1/2 cup coconut oil, melted
1/4 cup lemon juice
1 teaspoon pure vanilla extract
sea salt caramel sauce
11 oz. container So Delicious culinary coconut milk, refrigerated overnight*
3/4 cup brown sugar
1 teaspoon pure vanilla extract
1/2 teaspoon sea salt
INSTRUCTIONS
Preheat oven to 350 degrees. Prepare 9-inch springform pan by lightly spraying with cooking spray.
Sift together flour, baking powder and salt. In large mixing bowl of standing mixer, cream together vegan butter and sugar for 1 minute. Add coconut milk, maple syrup and vanilla.
While mixer is on low, slowly add flour mixture. Continue to beat on medium speed for 1-2 minutes, until dough comes together. Pat dough into bottom of prepared pan.
Bake 13-15 minutes or until golden brown. Place pan on cooling rack to allow crust to cool completely.
When crust is cooled, make cheesecake filling. Place soaked cashews (soaked in water overnight and drained) in high-powered blender or food processor.
Add coconut milk, sugar, melted coconut oil and lemon juice. Blend on high 1-2 minutes, adding an additional tablespoon of coconut milk if needed. Add vanilla and continue to blend until smooth and creamy.
Pour filling over crust smooth out evenly. Cover top of cheesecake with plastic wrap and place in freezer, 1-2 hours or until set. Transfer cheesecake to refrigerator until ready to serve.
To make caramel sauce, start by removing coconut milk from refrigerator. Cut open top of container (you won't be able to squeeze it out) and scoop out 1 cup only coconut cream.
Place coconut cream in saucepan, along with brown sugar. Cook over medium-low heat and bring to low boil. Continue to boil for 25-30 minutes, stirring to keep from burning.
When thickened, remove from heat and stir in vanilla and salt. Pour into glass jar to cool. Caramel can be stored in refrigerator for 3-4 weeks.
Before serving cheesecake, warm caramel sauce (if chilled) in microwave on low for 30 seconds. Remove cheesecake from refrigerator and drizzle caramel over top. Slice and serve chilled.
Cover cheesecake and store in refrigerator, along with additional caramel sauce.
NOTES
*If you cannot find So Delicious culinary coconut milk, simply use full-fat canned coconut milk.