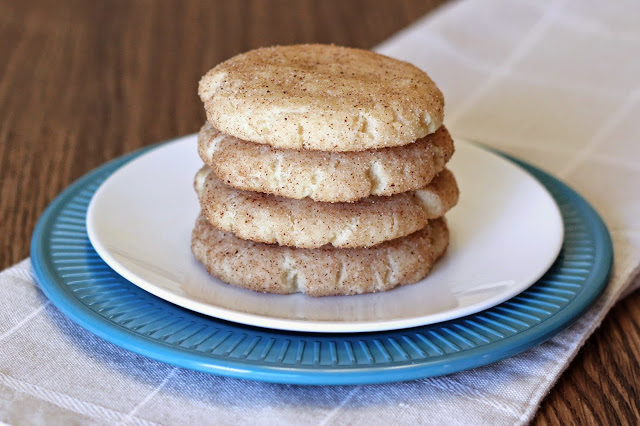 There are some recipes that I have tried over and over (and over) since going gluten free. Baked treats that were too important to not get just right. One of those recipes…snickerdoodles. I can't tell you how many batches I have made that just weren't what I was going for. Some were too much like a biscuit, others had way to much oil, and some were too cakey. Blah. Where oh where was my dream snickerdoodle?
Hip-hip-hooray! I FINALLY have a gluten, egg, and dairy free snickerdoodle recipe that I'm in love with! Crispy on the outside from the sugar, chewy and soft in the center and the perfect thickness. Cinnamony-sugary perfection. Since these are one of the family favorites, it was totally worth all the trial and errors. I have a feeling my husband will be requesting many batches of snickerdoodles in the near future!
gluten free vegan snickerdoodles
makes 24 cookies
2 cups and 2 tablespoons Sarah's gluten free flour blend
1 teaspoon baking soda
1/2 teaspoon baking powder
1/2 teaspoon sea salt
1 1/4 cups cane sugar
1/2 cup coconut oil, softened
1/4 cup So Delicious unsweetened coconut milk, room temperature
3 tablespoons pure maple syrup, room temperature
1 teaspoon pure vanilla extract
3 tablespoons cane sugar
1 teaspoon cinnamon
Preheat oven to 350 degrees. Line baking sheets with parchment paper. In medium bowl, sift together flour blend, baking powder, baking soda and salt. Set aside. In large bowl of standing mixer, cream together 1 1/4 cups sugar and coconut oil, 1-2 minutes. Add coconut milk, maple syrup, and vanilla. Mix until blended. Add flour mixture and beat until combined.
In shallow dish, mix together 3 tablespoons sugar and cinnamon. Roll 2-tablespoon size scoops of cookie dough into balls. Roll in cinnamon-sugar mixture and place onto prepared baking sheet. Slightly flatten with fingers. Bake for 9-10 minutes. Do not over-bake (cookies will be soft to the touch). Place cookies on cooling rack to cool completely. Store in air-tight container.