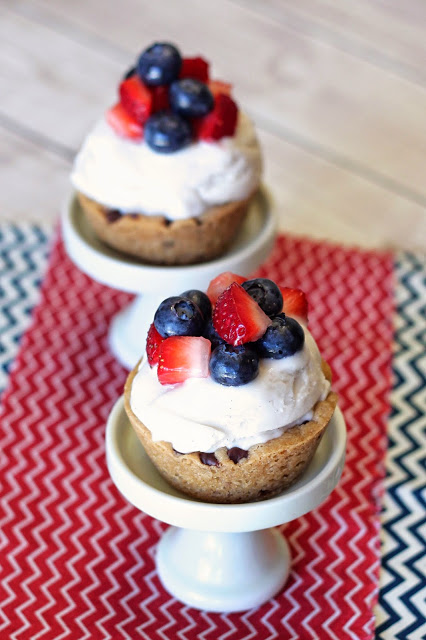 Celebrate summer with these ice cream cookie cups! Aren't they just adorable? Gluten free vegan chocolate chip cookie dough, baked into the shape of a little cup. Perfect for filling with cold and creamy So Delicious vanilla coconut milk ice cream and topping with fresh strawberries and blueberries. Doesn't get more summery than that!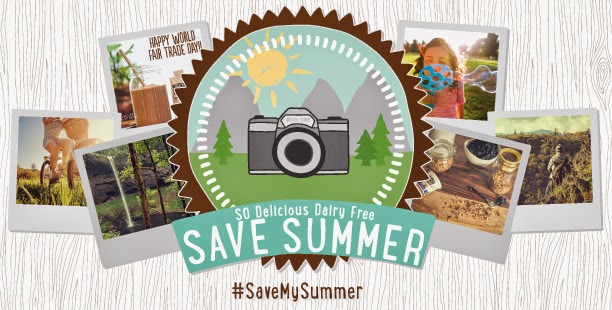 With the
So Delicious
"Save Summer" campaign, they are sharing a new photo theme each week on
instagram
. Earlier this month I shared my
strawberry shortcake recipe
and I'm super excited about my recipe for the newest them…celebrate! Show how you "celebrate" in your photos on
instagram
and be entered to win fun prizes from
So Delicious
. Be sure to tag your photos with #savemysummer.
These gluten free vegan ice cream cookie cups would be a great addition to any summer celebration. Fourth of July is coming up and it's going to be hot, hot, hot. If you're throwing a patriotic bash for your family and friends, be sure to include cold treats. Why not an ice cream bar with these cookie cups? Serve with your favorite flavors of
So Delicious
dairy free ice cream and loads of toppings. My favorite is fresh fruit, but I'm sure the kids would enjoy sprinkles and mini chocolate chips!
gluten free vegan ice cream cookie cups
makes 22 cookie cups
cookie cups
2 1/3 cups Sarah's gluten free flour blend*
1 teaspoon baking powder
1/2 teaspoon baking soda
1/2 teaspoon salt
3/4 cups brown sugar
1/2 cup cane sugar
1/3 cup coconut oil, soft
1/4 cup So Delicious unsweetened coconut milk
2 tablespoons pure maple syrup
1 teaspoon vanilla extract
3/4 cup dairy free mini chocolate chips

toppings
2 containers So Delicious vanilla bean coconut milk ice cream
1 cup diced fresh strawberries
1 cup fresh blueberries
Preheat oven to 350 degrees. Prepare muffin tin pans by spraying with nonstick cooking spray. In medium bowl, sift together flour blend, baking powder, baking soda and salt. Set aside. In large mixing bowl, cream together brown sugar, sugar and coconut oil. Add coconut milk, maple syrup, and vanilla. Mix until blended. Add flour mixture and chocolate chips. Stir until just combined.
Roll heaping-tablespoon size scoops of cookie dough and place into prepared muffin cups. Press dough into bottom of cup and up sides of cup. Bake for 10-12, until golden brown. Place pan on cooling rack to cool. Center of cups will indent slightly while cooling. Use butter knife to carefully remove cooled cookies from pan. To serve cookie cups, fill with scoop of vanilla ice cream. Top with diced strawberries and blueberries.