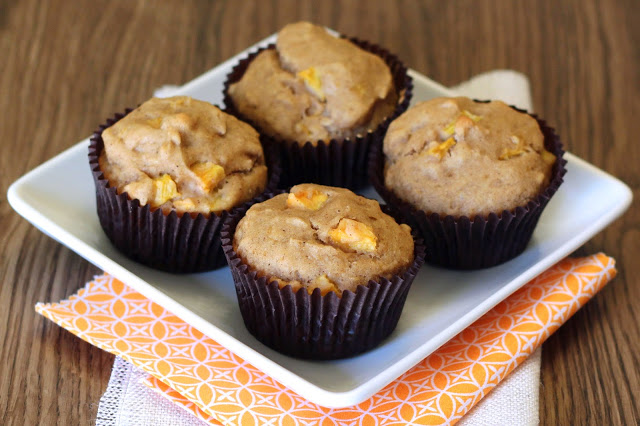 Summertime brings the best fruits around! Watermelon, nectarines, strawberries, cherries and peaches. During these hot months, my fridge is always stocked with plenty of fresh fruit. Cold fruit. The most satisfying and refreshing snack.
Ripe peaches are like candy. They are so, so sweet. I like to let them sit on the counter until they reach their peak ripeness before I use them in my gluten free baking. I had a few ripe peaches after making a peach crisp and wanted to use them for a morning snack. Ripe bananas too? Banana peach muffins sounded delightful!
The touch of cinnamon makes these muffins taste just like a peach cobbler. The coconut sugar gives them just the right amount of sweetness alongside those fresh peaches. This gluten, egg, dairy, and refined-sugar breakfast treat is totally kid and mom-approved. The new official summertime muffin in this house!
gluten free vegan banana peach muffins
makes 14 muffins
1 3/4 cups Sarah's gluten free flour blend
1 teaspoon ground cinnamon
1 teaspoon baking powder
1/2 teaspoon baking soda
1/2 teaspoon salt
1/2 cup So Delicious unsweetened coconut milk, room temperature
2 teaspoons white vinegar
2 ripe bananas, mashed
1/2 cup coconut sugar or brown sugar
1/4 cup coconut oil, melted
3 tablespoons pure maple syrup
1 teaspoon pure vanilla extract
1 1/2 cups peeled and diced fresh peaches
Preheat oven to 350 degrees. Prepare muffin tins by spraying with cooking spray or lining with paper liners. In large mixing bowl, sift together flour, cinnamon, baking powder, baking soda and salt. Set aside. Mix together coconut milk and vinegar, until curdled. Stir in mashed banana, coconut sugar, coconut oil, maple syrup and vanilla. Add to flour mixture and stir just to combine. Fold in peaches.
Divide batter into prepared muffin tins. Bake for 16-18 minutes or until toothpick inserted in center comes out clean. Remove from pan and place on cooling rack. Allow to cool completely. Store in airtight container.