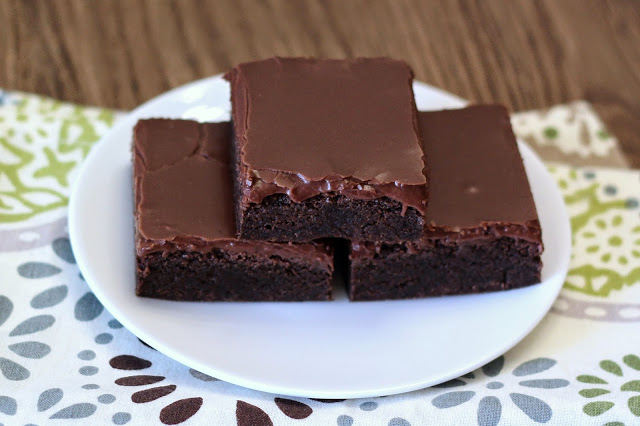 Is it a brownie? Is it a cookie? Well, it's a little bit of both. Soft, gooey chocolate cookies, baked in the form of bars. Oh, and don't forget that dairy free chocolate frosting. That frosting that I couldn't stop "taste-testing." I've never made frosting with coconut oil before and I'm so glad I tried it. Creamy. Decadent.
With summer coming, I'm sure there are lots of barbecues, picnics and parties coming your way. Bar cookies are a great dessert to bring. Mix, bake, frost, slice. These frosted chocolate cookie bars would be adorable with sprinkles on top. Maybe a scoop of dairy free ice cream too. Bring a plate of these to your next summertime celebration and they'll be a hit for sure!
gluten free vegan frosted chocolate cookie bars
makes 24 cookies
chocolate cookies
1/3 cup cocoa powder
1 teaspoon baking powder
1/2 teaspoon baking soda
1/2 teaspoon sea salt
3/4 cup brown sugar
1/2 cup cane sugar
1/2 cup coconut oil, softened
1/4 cup So Delicious unsweetened coconut milk, room temperature
2 tablespoons pure maple syrup, room temperature
2 teaspoons pure vanilla extract
chocolate frosting
2 cups powdered sugar
1/4 cup cocoa powder
2 tablespoons coconut oil, softened
1/2 teaspoon pure vanilla extract
3-4 tablespoons So Delicious unsweetened coconut milk, room temperature
Preheat oven to 325 degrees. Prepare 9×13-inch baking pan by lining with parchment paper or spraying with nonstick cooking spray. In medium bowl, sift together flour blend, cocoa powder, baking powder, baking soda and salt. Set aside. In large mixing bowl, cream together brown sugar, sugar and coconut oil. Add coconut milk, maple syrup, and vanilla. Mix until blended. Add flour mixture and stir until combined.
Press cookie dough into bottom of pan. Bake for 25-27 minutes or until set. Be careful to not over bake. Place pan on cooling rack to cool completely. While cookies are cooling, prepare frosting. Cream together coconut oil, powdered sugar and cocoa powder. Add 2 tablespoons coconut milk. Continue to cream frosting. Add an additional tablespoon coconut milk if needed. Spread frosting over cooled cookies. To serve, cut into bars. Store in air-tight container.