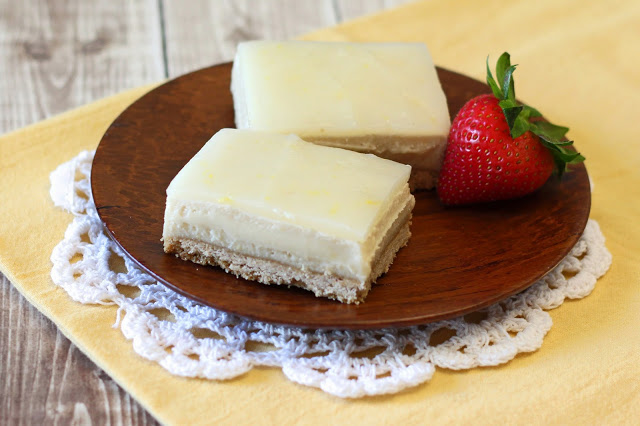 My husband and daughter both share a love for cheesecake. Not just any cheesecake though, mom's dairy free cheesecake made with cashews. Yes, it gets requested at pretty much every holiday or celebration. They can both have dairy, yet they love these creamy dairy free cheesecakes!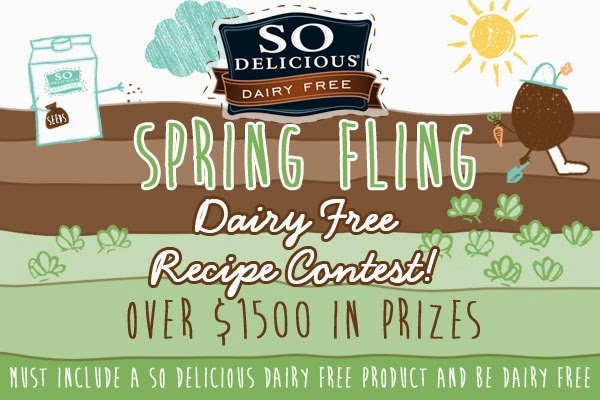 This dreamy, creamy lemon cheesecake is another one of my entries into the
Spring Fling Dairy Free Recipe Contest
, put on by
Go Dairy Free
and
So Delicious
. I think it's a superb spring treat, full of cheerfulness in every bite! The gluten free crust is light and the cheesecake filling is lemony and slightly sweet. I made a lemon glaze that is very similar to a lemon curd, but without the dairy or eggs. A zesty compliment to the decadent cheesecake. I'm smitten. Lemon desserts…always capture my heart.
gluten free vegan lemon cheesecake bars
serves 9
crust
1/2 cup certified gluten free oats
1/2 cup raw walnuts or pecans
1/4 cup Sarah's gluten free flour blend
2 tablespoons coconut oil, melted
2 tablespoons pure maple syrup or honey
lemon cheesecake filling
2 cups raw cashews, soaked for 1 hour in warm water
1/3 cup So Delicious unsweetened coconut milk
1/3 cup coconut oil, melted
1/3 cup organic cane sugar
2 tablespoons lemon juice
2 teaspoons lemon zest
1 teaspoon pure vanilla extract
1/4 teaspoon salt
lemon glaze
1/4 cup organic cane sugar
2 tablespoons cornstarch
1/2 cup So Delicious unsweetened coconut milk
1/4 cup lemon juice
1 teaspoon lemon zest
1/2 teaspoon vanilla
Preheat oven to 350 degrees. Prepare 8×8-inch square baking pan by lining with parchment paper. To make crust, place oats and walnuts in food processor or high-powered blender. Grind on high for 1 minute. Add flour, coconut oil and pure maple syrup. Continue to blend until dough comes together. Press crust into prepared baking pan. Bake for 18-20 minutes. Allow to cool completely in the pan, while you make filling.
Soak raw cashews in warm water for about an hour. Drain. Add soaked cashews, coconut milk and coconut oil and sugar to food processor or high-powered blender (I used my Blendtec). Blend on high for 1-2 minutes. Add lemon juice, lemon zest, vanilla and salt. Continue to blend on high until smooth and creamy. Pour cheesecake mixture into pan, over cooled crust. Cover and carefully place in freezer for 2-3 hours to become firm.
While cheesecake is in the freezer, make the lemon glaze. Combine sugar and cornstarch in medium saucepan. Over medium heat, whisk in coconut milk and lemon juice. While stirring constantly, cook until bubbly and thick, about 5 minutes. Remove from heat and whisk in lemon zest and vanilla. Pour into bowl, cover with plastic wrap touching pudding and place in refrigerator until needed.
Remove cheesecake from freezer when firm. Spread cooled lemon glaze over cheesecake. Place back in refrigerator to set. To serve, remove from pan using parchment paper. Slice into bars and serve chilled. Store cheesecake in refrigerator.