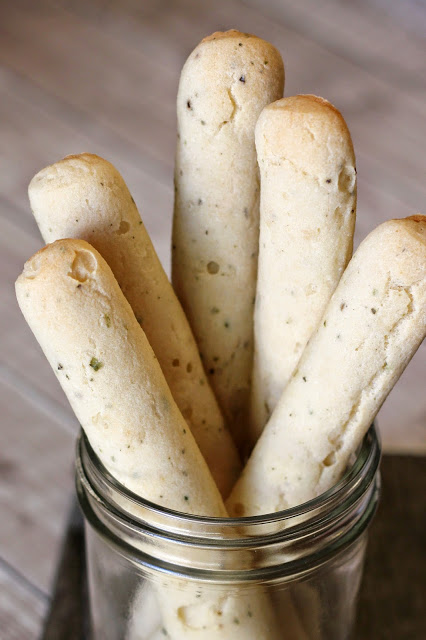 Who wants hot, soft breadsticks with their bowl of hearty soup or alongside a plate of spaghetti? I know I sure do! It's pretty much impossible to just go to the store and buy gluten, egg, and dairy free breadsticks. Let alone, ones that are actually freshly baked. Let me introduce you to the easiest, quickest gluten free breadsticks EVER!
I've taken my super simple, yeast free
pizza crust
and turned it into breadsticks. This is a one bowl recipe (my favorite kind) and the secret ingredients are the sparkling water and honey. If you are a strict vegan, you can use maple syrup in place of the honey. This bread has an amazing texture for being gluten free. Chewy and soft on the inside. Tears apart beautifully and is perfect for dipping in a bowl of delicious vegetable soup. Mmmmm.
No kneading. No rising. No gluten. Now you have no excuse not to serve warm garlic herb breadsticks with your next meal. Your family and friends will surely give you a round of applause and say, "another breadstick, please!"
gluten free vegan garlic herb breadsticks
makes 10 -12 breadsticks
2 teaspoons baking powder
1 teaspoon garlic powder
1/2 teaspoon dried basil
1/2 teaspoon dried oregano
1/2 teaspoon sea salt
1 1/2 cups plain sparkling water
2 tablespoons pure maple syrup or honey
2 tablespoons olive oil
Preheat oven to 425 degrees. Prepare large baking sheet by lining with parchment paper. In large mixing bowl, whisk together flour blend, baking powder, garlic powder, herbs and salt. Pour in sparkling water, honey, and olive oil. Mix until just combined.
Scoop dough into large piping bag or ziploc bag, fitted with large round tip. Pipe breadsticks onto prepared baking sheet. Bake for 18-20 minutes or until golden brown. Serve warm. Store leftover breadsticks in air-tight container. To reheat, place in 350 degree oven for 5 minutes.