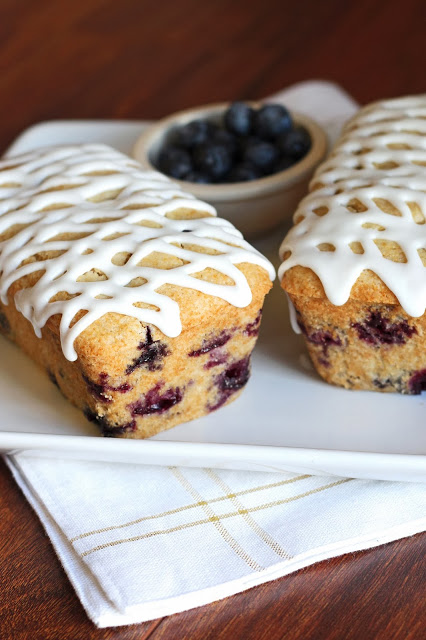 I've got another yummy treat for the recipe contest, put on by Go Dairy Free and So Delicious! I already entered my recipe for gluten free vegan cinnamon roll sugar cookies. Have any of you tried them yet? They are simply irresistible, just like these crazy good lemon blueberry cakes. You can check out all of the recipe entered into the contest over at the So Delicious Dairy Free Recipes board on pinterest!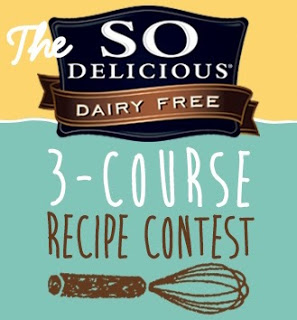 For this recipe, I went with one of my favorite baking ingredients…lemon. Most of you know I'm pretty much obsessed with anything lemon. I can't get enough. These little gluten free vegan mini lemon blueberry cakes capture the beautiful flavor of fresh lemon. Those gorgeous blueberries are undoubtedly the perfect compliment. With each slice you'll get a little of that simple lemon glaze too. Ok. I can't talk about these cake anymore. It's too much for me. Too much goodness. Just believe me when I say, "you HAVE to make these mini lemon blueberry cakes!"
gluten free vegan mini lemon blueberry cakes
makes 4 mini cakes
lemon blueberry cakes
3 1/2 cups Sarah's gluten free flour blend
2 teaspoons baking powder
1 teaspoon baking soda
1/2 teaspoon salt
1 1/2 cups So Delicious unsweetened vanilla coconut milk
3 tablespoons fresh lemon juice
1 1/2 cups organic cane sugar
1/2 cup unsweetened applesauce
1/3 cup canola or sunflower seed oil
2 teaspoons lemon zest
1 1/2 teaspoons pure vanilla extract
1 1/2 teaspoons pure lemon oil or extract
1 1/2 cups fresh or frozen blueberries*
lemon glaze
2 cups powdered sugar
2 tablespoons So Delicious french vanilla coconut milk coffee creamer
2 tablespoons fresh lemon juice
Preheat oven to 350 degrees. Prepare mini loaf pan by spraying with cooking spray or lining with parchment paper. Coat blueberries with 1 tablespoon of flour and set aside. In large mixing bowl, sift together flour, baking powder, baking soda and salt. In separate bowl, mix together coconut milk and lemon juice. Let sit for 5 minutes to curdle. Add sugar, applesauce, oil, lemon zest, vanilla and lemon extract. Pour over flour mixture and stir to combine. Fold in blueberries.
Pour batter into prepared mini loaf pans. Bake for 28-30 minutes or until toothpick inserted in center comes out clean. Allow to cool in pan for 10 minutes before removing from pan. Continue to cool on cooling rack. To make glaze, mix together powdered sugar, coconut creamer and lemon juice. Drizzle over cooled lemon cakes. Best served within 1-2 days.
*If using frozen blueberries, you may have to increase the baking time by 4-5 minutes.