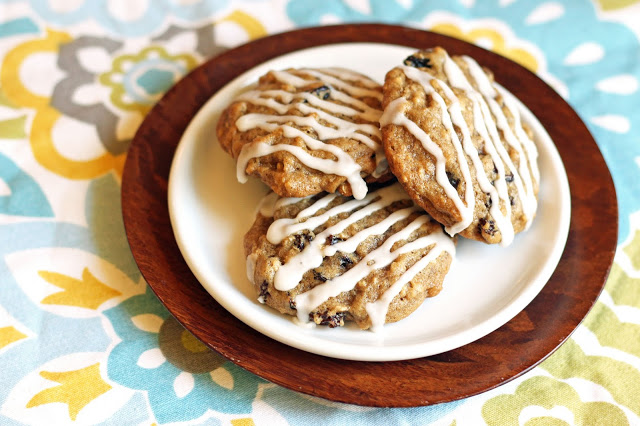 I know not everyone loves oatmeal cookies (including my husband), but they are one of my favorites. I am crazy about how the oatmeal makes the cookie chewy and gives them such great texture. I'm also a fan of raisins in my oatmeal cookies. Yes, I know chocolate chips are a great compliment too, but there is something nostalgic about the classic oatmeal raisin cookie.
The simplicity of these cookies is a beautiful thing. I made them gluten, dairy and egg free, adding applesauce to make them extra moist. I only used 3 tablespoons of coconut oil in the whole batch too. I'm pretty obsessed with coconut oil right now, especially in my cookie recipes. It's a healthy fat and adds great flavor. These cookies are delightful right out of the oven, but I took their goodness a step further. Simply drizzle with a little vanilla glaze and you've got one outstanding cookie, if you ask me!
gluten free vegan glazed oatmeal raisin cookies
makes 24 cookies
1 3/4 cups Sarah's gluten free flour blend
1 teaspoon baking soda
1/2 teaspoon sea salt
1/2 cup unsweetened applesauce
1/2 cup organic sugar
1/2 cup organic brown sugar
3 tablespoons coconut oil, melted
3 tablespoons pure maple syrup
2 tablespoons So Delicious unsweetened coconut milk
1 teaspoon pure vanilla extract
1/2 cup certified gluten free quick-cooking oats
3/4 cups raisins
vanilla glaze
1 1/2 cups organic powdered sugar, sifted
3 tablespoons So Delicious unsweetened coconut milk
1/2 teaspoon pure vanilla extract
Preheat oven to 350 degrees. Line baking sheets with parchment paper. In medium bowl, sift together flour blend, baking soda and salt. Set aside. In large mixing bowl, mix together the applesauce, sugar, brown sugar, coconut oil, maple syrup, coconut milk and vanilla. Beat until smooth. Add the flour mixture, oats, and raisins. Stir until combined. Cover dough and refrigerate for 30 minutes to an hour.
Drop heaping-tablespoon scoops of cookie dough onto prepared baking sheet. Slightly flatten with with fingers. Bake for 9-10 minutes or until just golden brown. Place cookies on cooling rack to cool completely.
To make the vanilla glaze, mix together the powdered sugar, coconut milk and vanilla. Whisk to combine. Pour glaze into ziploc bag, seal and snip the tip. Drizzle over cooled cookies. Let sit to allow glaze to harden. Store in air-tight container.