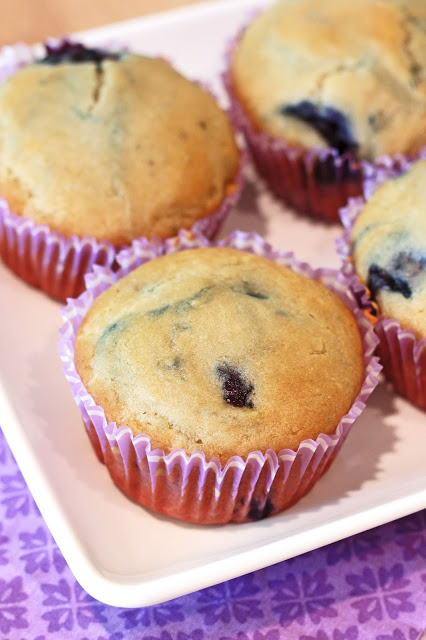 I'm a through and through muffin girl. I would make muffins every morning if I could ('m sure my family would be ok with that). Maybe I like them so much because they are a breakfast version of a cupcake. Or maybe it's because there are endless flavor combinations. I think it's simply because they are a delicious hand-held morning treat. What do you love most about the glorious muffin?
I have had many requests for gluten free blueberry muffins lately. Which is funny because I've been testing out recipes for blueberry muffins. Well, the wait is over! My recipe for this classic muffin is gluten, egg, and dairy free…and scrumptious too. I'm loving how they turned out, so moist and tender. The perfect amount of sweetness and juicy blueberries in every bite. Sounds good to me!
gluten free vegan blueberry muffins
makes 12 muffins
1 cup fresh or frozen blueberries*
1 3/4 cups Sarah's gluten free flour blend
1 teaspoon baking powder
1/2 teaspoon baking soda
1/2 teaspoon salt
1/2 cup So Delicious unsweetened coconut milk
1/2 cup water
1 tablespoon white or apple cider vinegar
1/2 cup organic sugar
1/4 cup coconut oil, melted
3 tablespoons pure maple syrup or honey
2 teaspoons pure vanilla extract
Preheat oven to 350 degrees. Line muffin tin with paper cupcake liners or spray with non-stick cooking spray. In small bowl, coat blueberries with 1 tablespoon of the flour blend. Set aside. Sift together flour blend, baking powder, baking soda, and salt. Set aside. In large mixing bowl, combine coconut milk, water and apple cider vinegar. Allow to sit for a 5 minutes. Stir in the sugar, coconut oil, pure maple syrup, and vanilla extract. While mixing, slowly add the flour mixture. Stir until just combined. Gently fold in the flour-coated blueberries. Scoop batter into prepared muffin tin. Bake for 17-19 minutes or until golden brown. Remove from pan and allow to cool on cooling rack. Store in air-tight container.
*I used frozen blueberries this time, making the bake time 17-19 minutes. If using fresh blueberries, check muffins after 15 minutes.