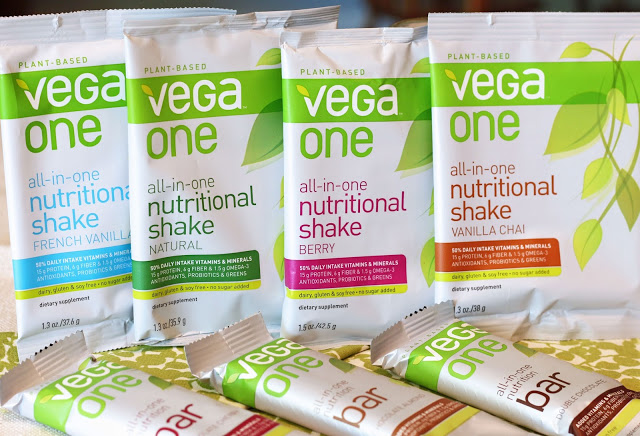 It's time to introduce all of you to a fabulous brand that I have recently fallen in love with…Vega! I've been on the hunt for a gluten/dairy/soy/sugar free protein powder that not only tastes amazing, but gives my body the proper nutrients that it needs. I was overjoyed when I found the Vega One all-in-one nutritional shakes! Seriously. So good. I love that their nutrition shake is plant-based and made from whole foods. It's packed with…
50% daily intake of vitamins and minerals
15 grams of protein
6 grams of fiber
1.5 grams of Omega-3
antioxidants
probiotics
greens (yay for greens!)
That list is pretty impressive! The kind folks at Vega sent me a package with samples of all of their shake flavors, as well as their all-in-one nutrition bar. It's basically their Vega One shake…in a bar. Truly one of a kind. 15 grams of protein, full serving of greens, and 1 billion dairy free probiotics. I was immediately drawn to the double chocolate. Pretty amazing and pretty tasty, if you ask me. I was also very eager to try the Vanilla Chai shake, since chai tea is one of my favorite drinks. Oh my, delicious! How will I ever choose a favorite?
After my first taste of a Vega One shake, I was hooked. I was amazed not only at the quality of ingredients, but the flavor was super tasty! I went and bought a big container of the French Vanilla nutritional shake and now have it every morning for breakfast. Sometimes I drink it on it's own, simply mixed with water, and sometimes I change it up by adding it to my favorite smoothie recipe. A little spinach, fresh fruit, some coconut milk. Here is my Vega One green smoothie. Power-packed and my fuel for the day!
vega one green smoothie
serves 1
1 scoop Vega One protein powder
1/2 frozen banana
2 handfulls organic spinach
1 small organic apple, cored and sliced
1/2 cup unsweetened lite coconut milk
1/2 cup water

Add all ingredients to a high-powered blender. Blend on high until smooth, about 1-2 minutes. Add additional water if needed. Pour into drinking glass and enjoy!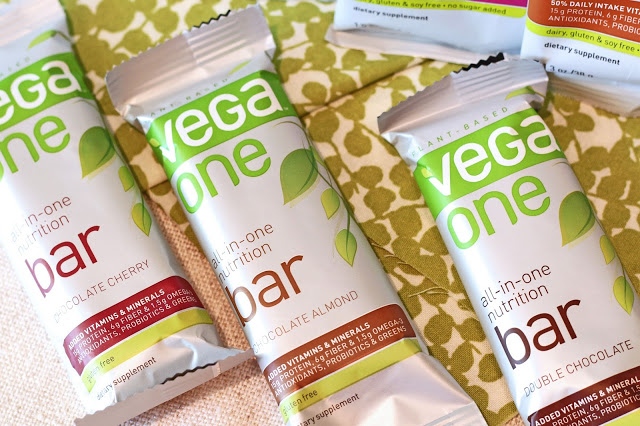 You can purchase Vega products at Whole Foods, Sprouts, and on the Vega website as well. You will find that they also have other fantastic products, such as supplements and a Vega Sport line. I'm so impressed with this amazing company! Be sure to check out Vega on facebook, pinterest and twitter too. When you give Vega products a try…your body with thank you!