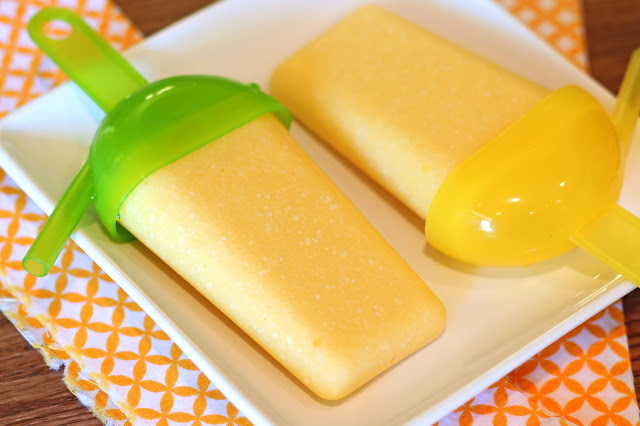 It's popsicle season! When the warm weather comes, our freezer is always stocked with fruity popsicles. Cool, refreshing. It's the perfect quick and satisfying dessert for summertime. My kids can't get enough of them!
I love to make my own popsicles. Not only is it way cheaper, but you can add your favorite ingredients and avoid all of the unnecessary ones (like high-fructose corn syrup and artificial colors). I also like to control the amount of sugar added. Sometimes you don't even need to add any when you are using fresh fruit. These dairy free mango coconut popsicles are made with mango, unsweetened coconut milk, shredded coconut and a touch of honey. I love the little flecks of coconut in every bite. These popsicles are quite the simple, guilt-free summer treat. Tropical and so tasty!
dairy free mango coconut popsicles
makes 4-6
1 1/2 cups fresh or frozen mango chunks
1 1/2 cups So Delicious unsweetened coconut milk
1/4 cup unsweetened finely shredded coconut
1 tablespoon honey or pure maple syrup
Add ingredients to high-powered blender and blend on high until no pieces of mango remain, about 1-2 minutes. Pour mixture into popsicle molds. Freeze. For easy removal, run popsicle mold under warm.