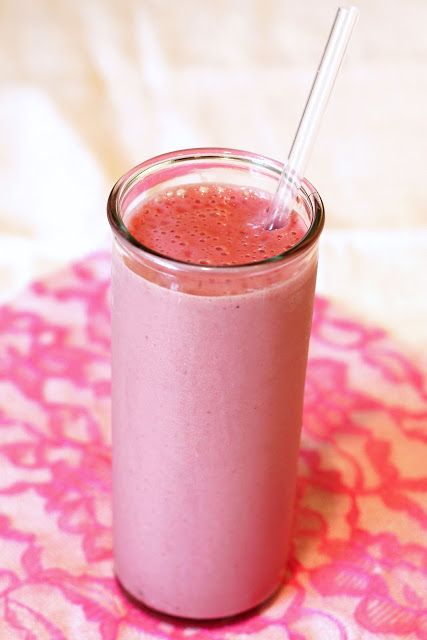 I've been on this total smoothie kick lately. Every morning, I make myself a variation of a protein smoothie for my breakfast. I start with a good gluten free vegan vanilla protein powder. The two brands that I really love…Vega One and PlantFusion. They are both super fine (not grainy) and packed full of nutrients that I need to start my day. I like to use a vanilla protein powder because I can add just about any fruit/vegetable combination. like to mix it up with different fruits and vegetables. Spinach, carrots, kale, apple, cucumber, strawberries, blueberries, banana. The combinations are endless!
I recently picked up a bunch of pre-roasted, ready-to-eat beets from Costco. They have been a fabulous addition to my salads. Body cleansing and hello, full of vitamins! I've seen them juiced before so I thought why not add them to my smoothies? I'm so glad I did! They add such a depth of flavor and give the smoothie a super boost. I'm hooked.
Here's a tip for freezing bananas for your smoothies…I just take my ripe bananas, peel them, cut in half and place in a freezer ziploc bag. That way I always have them on hand, ready to pop into the blender. The banana give this strawberry beet protein smoothie it's creaminess, along with the So Delicious unsweetened coconut milk. This smoothie is colorful, refreshing and a great power boost for your day!
strawberry beet protein smoothie
serves 1-2
1 cup frozen strawberries
2 roasted beets, peeled and cooled
1 frozen banana
1 scoop gluten free vegan vanilla protein powder
1/2 cup So Delicious unsweetened coconut milk
1/2 cup water
Place all the ingredients in high-powered blender. Cover and blend on high for 2 minutes, until smooth and creamy. Pour into glasses and serve.