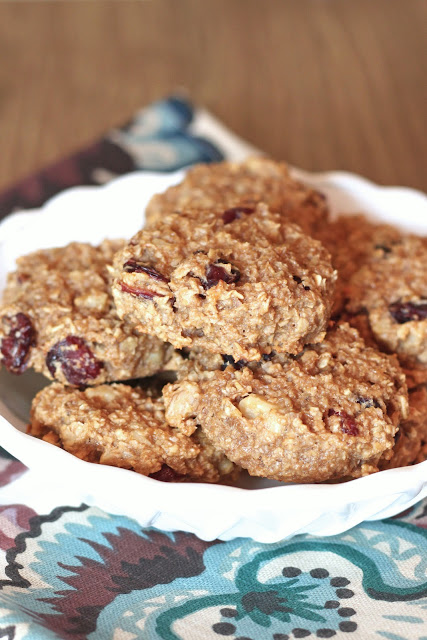 I'm a firm believer that any time is a good time to enjoy dessert. A slice of warm apple pie, a frosted pumpkin spice scone or even a nice serving of chocolate cake. Yes, I have had my fare share of pieces of cake for breakfast. It's just so good when paired with a hot cup of coffee. Don't you agree?
My kids could not have been more excited when I told them that they could have these cookies for breakfast! These are not your typical cookies though. They are low in sugar and basically oatmeal on-the-go. But they don't have to know that. They just like to think they are eating a big, fat oatmeal cookie for breakfast, which is totally awesome!
The base of these gluten free vegan breakfast cookies is oats, some of which have been ground, and mashed bananas. There is a small amount of coconut oil added and coconut sugar for sweetness. I added dried cranberries and walnuts, but any combo of dried fruit and nuts would be lovely in these cookies. Mix it up to your liking. These cookies are wonderful right out of the oven. Soft, moist, full of flavor and texture. They are also perfect individually wrapped, ready to go throughout your week. Plan ahead and make up a batch of these breakfast cookies…they will help to make your mornings a little less crazy!
gluten free vegan breakfast cookies
makes 18 cookies
3 cups certified gluten free quick-cooking oats
1 teaspoon baking powder
1/2 teaspoon sea salt
3 ripe bananas, mashed
1/4 cup So Delicious unsweetened coconut milk
1/4 cup coconut sugar*
2 tablespoons pure maple syrup
2 tablespoons coconut oil, melted
1 teaspoon pure vanilla extract
1/2 cup dried cranberries or raisins
1/2 cup walnuts or pecans, chopped
Preheat oven to 350 degrees. Line baking sheets with parchment paper. Place 2 cups of the oats in food processor or high-speed blender. Pulse until oats are a course meal (not flour). Sift together the grounded oats, the remaining 1 cup whole oats, baking powder and salt. Set aside.
In large mixing bowl, smash bananas with potato masher or fork, until no large pieces remain. Mix in the coconut sugar, maple syrup, melted coconut oil and vanilla extract. Add the oat mixture and stir until blended. Fold in the cranberries and walnuts. Allow the cookie dough to sit for 10-15 minutes to thicken.
Scoop the cookie dough onto the prepared baking sheet using a cookie scoop or ice cream scoop. Slightly flatten the cookies with fingers (the cookies won't spread much). Bake in the oven for 16-18 or until golden brown. Remove from baking pan and place on cooling rack. Cool completely. Store in air-tight container.
*If you don't have coconut sugar, you can also organic brown sugar.