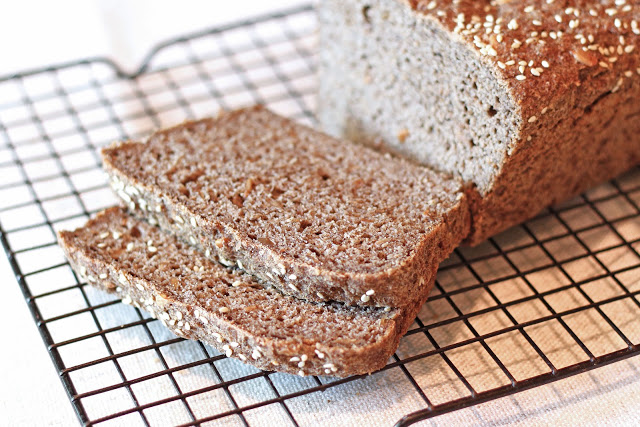 May is celiac awareness month, which always makes me think of the day that my husband was diagnosed. It was not easy news to hear…but we are so thankful that we did! It changed our lives drastically. Total kitchen makeover. Our eating, cooking, baking had all changed in an instant. A life changer for sure. You can read more about our journey here. One thing Kevin and I were certain we would never eat again…a good slice of warm, soft bread. Boy, was I wrong!
I found this glorious bread recipe on The Whole Life Nutrition Kitchen and it was love at first sight. It looked so hearty and healthy. No eggs or dairy either! I knew I had to give it a try. I did change the flours up a bit, using what I had on hand. I came up with a combination of sorghum, oat, and buckwheat flour. There is also no xanthan gum in this recipe. You actually use ground chia seeds and psyllium husks. They both get thick and gooey, working their magic in keeping this beautiful bread nice and tender.
The biggest test for me…what was the bread like the next day? I was expecting it to be dry and crumbly, like most gluten free bread. You have to heat them up to get them soft again. Not this bread! It was still so moist the next day. I was shocked. And even more in love. My new favorite gluten free bread has arrived!
gluten free vegan multigrain bread
makes 12 slices
2 1/2 cups warm water
2 1/4 teaspoons active dry yeast
1 teaspoon organic cane sugar
1 1/4 cup sorghum flour
1 cup certified gluten free oat flour*
1/2 cup buckwheat flour
1/2 cup arrowroot starch or tapioca starch
1 1/2 teaspoons sea salt
2 tablespoons extra virgin olive oil
2 tablespoons pure maple syrup
1/3 cup ground chia seeds
1/3 cup whole psyllium husks
1/2 cup sunflower seeds
topping
1 tablespoon extra virgin olive oil
1 tablespoon sesame seeds
Prepare 9×5 loaf pan by spraying with non-stick cooking spray or lining with parchment paper. Set aside. In medium bowl, whisk together the warm water, yeast and teaspoon of sugar. Let sit for 5 minutes to proof and become foamy. While the yeast is activating, sift together the sorghum flour, oat flour, buckwheat flour, arrowroot starch, and salt.
When the yeast is ready, add the olive oil, maple syrup, ground chia seeds, and psyllium husks to the yeast mixture. Stir and let sit 2-3 minutes. It will start to thicken up very quickly. Pour the wet ingredients into bowl of electric stand mixer. Add the flour mixture and start mixing on low. When the flour is completely incorporated, mix on medium-speed for 2 minutes. Add the sunflower seeds at the end of mixing time.
Scoop bread dough into prepared loaf pan. Smooth out the dough with a rubber spatula or wet fingers. Cover with damp cloth and let rise for about an hour or until the dough has doubled in size. After the dough has risen, preheat the oven to 400 degrees. Place a water bath on the lower rack in the oven (I filled an 8×8-inch pan halfway with water). Lightly brush with a tablespoon of olive oil and sesame seeds. Place in oven on middle rack and bake for 45 minutes.
Remove bread from oven and place on cooling rack. Let cool for 10 minutes before removing the bread from pan. Allow bread to cool for about an hour before cutting (it will be too gummy if you cut it too soon). Once cooled, slice and serve. Store in ziploc bag or air-tight container.
*To make oat flour, just place 1 cup gluten free oats in a blender/food processor and blend for a couple minutes until you have oat flour.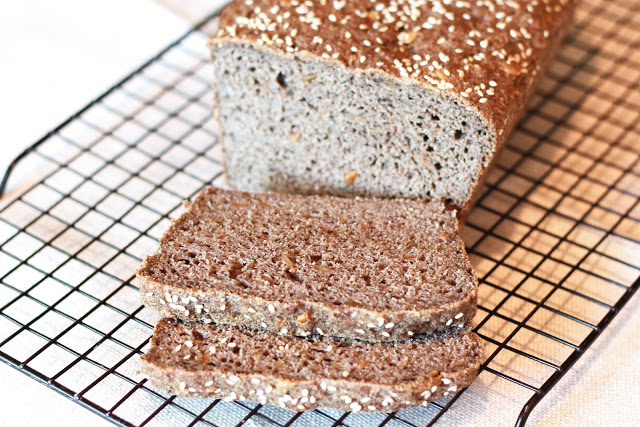 Recipe adapted from The Whole Life Nutrition Kitchen