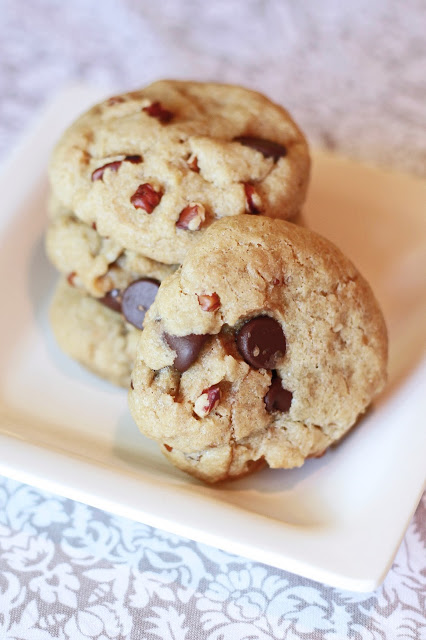 Everybody needs a good go-to cookie recipe. Do you have one that you seem to make make over and over again? A cookie recipe that is just good every. single. time. I used to have my favorite chocolate chip cookie recipe that I loooooved. Chewy and so gooey. However, some changes needed to be made since the recipe called for eggs and butter. Instead of changing out ingredients…I decided to start from scratch!
A few tests later…these gluten free vegan chocolate chip pecan cookies were born! And they are pretty much awesome. You can mix up a batch of this cookie dough in no time and even eat the dough since there are no eggs! Oh cookie dough. Sweet, sweet cookie dough. I added pecans to these cookies for extra texture, but they could easily be left out or swapped out for walnuts. Huge bonus…they don't fall apart like so many gluten free cookies! These chocolate chip cookies hold their shape and come out of the oven soft and oozing with melted chocolate chips. Have I convinced you to make these yet?
gluten free vegan chocolate chip pecan cookies
makes 3 dozen cookies
1 teaspoon baking soda
1/2 teaspoon sea salt
1/2 cup organic cane sugar
1/2 cup organic brown sugar
3 tablespoons coconut oil, softened
1/4 cup So Delicious unsweetened coconut milk
1/4 cup pure maple syrup
2 teaspoons pure vanilla extract
1 cup dairy free chocolate chips
1/2 cup toasted pecans, chopped (optional)
Preheat oven to 350 degrees. Line baking sheets with parchment paper. In medium bowl, sift together flour blend, baking soda and salt. Set aside. In large mixing bowl, beat together the sugar, brown sugar, coconut oil, coconut milk, maple syrup, and vanilla. Beat until smooth. Add the flour mixture, chocolate chips, and pecans. Stir until combined. Drop heaping-tablespoon scoops of cookie dough onto prepared baking sheet. Slightly flatten with bottom of glass jar or fingers (cookies won't spread a whole lot). Bake for 9-10 minutes or until just golden brown. Place cookies on cooling rack to cool completely. Store in air-tight container.