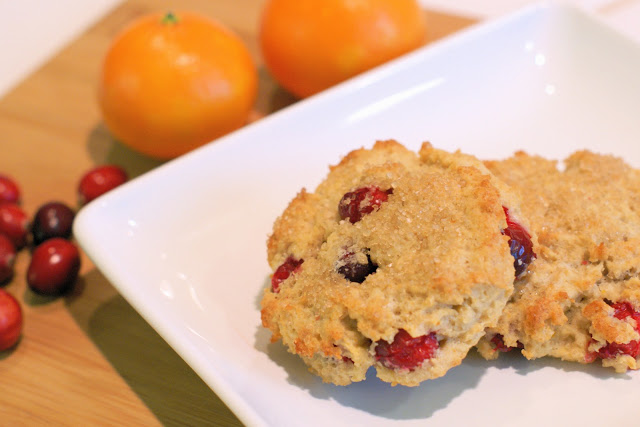 My kids love clementines…or should I say, little cuties! This is the time of year when they are perfectly in season. I buy the big boxes of them and we go through them so quickly. Juicy, sweet, and full of vitamin C. I love clementines because they are a healthy snack to take with us on the go. The one snack you don't mind if your kids eat 5 of in one day. Kaden is very into peeling them on his own. We all know that when you're 3, it's all about doing it "all by myself!"
I was craving scones and I wanted to use the fresh cranberries that I had in the fridge. What goes better with cranberries than the fragrant citrus from oranges? I didn't have any oranges, but I did have clementines! So the clementine cranberry scone was born. I added a little amaranth flakes, some clementine zest and topped with raw sugar…gives the tops that nice crunch! These drop-scones are dairy and egg free too. Bursting with flavor from the bright, tangy cranberries. A lovely breakfast treat, indeed.
gluten free clementine cranberry scones
makes 8 scones
1/2 cup amaranth flakes
2 teaspoons baking powder
1/4 teaspoon salt
1/2 teaspoon clementine zest
1/4 cup organic non-hydrogenated shortening
1/2 cup fresh cranberries
1/3 cup coconut milk
2 tablespoons honey
2 tablespoons clementine juice
2 tablespoons raw turbinado sugar (optional)
Preheat oven to 450 degrees. Line baking sheet with parchment paper. In mixing bowl, sift together the flour, amaranth flakes, baking powder, salt, and clementine zest. Add shortening and cut into flour until becomes course meal. Add cranberries and stir to coat. Gently mix in the coconut milk, honey, and clementine juice. Once combined, place 1/4 cup scoops of dough onto baking sheet. Pat down to flatten slightly. Sprinkle on the raw sugar on each scone. Bake for 10-12 minutes, or until golden brown. Place on cooling rack to cool slightly. Best served warm.