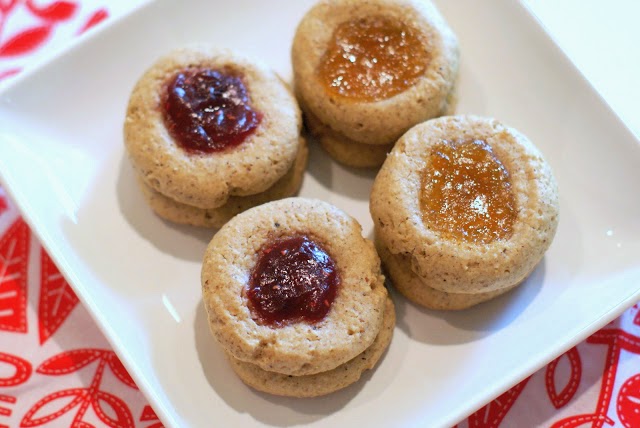 Can I just say that I love this time of year? We just finished getting out all of our Christmas decorations, making our home quite festive. Oh so merry and bright! Christmas time is a joyous time, full of giving, candy canes, and lots of time baking in the kitchen. With this chilly weather, it is the perfect time to cuddle with a big soft blanket and watch the fabulous "Elf."
While the Christmas music was playing, I baked up a batch of these yummy thumbprint cookies. They make me think of my grandma. She would make cookies very similar to these. My mom makes them too during the holidays. These are a little different, as they are gluten free and vegan. They also have this amazing "graham cracker" flavor, but our delicately soft. I used both raspberry and apricot jam for the center, but you could use any jam you like. Blackberry or strawberry would be wonderful too! I also love that these cookies are not overly sweet. They are my new favorite to enjoy with a warm cup of chai tea.
gluten free vegan thumbprint cookies
makes 30-32 cookies
1 cup certified gluten free rolled oats
1 1/2 cups Sarah's gluten free flour blend
3/4 cup walnut or almond meal
1 1/2 teaspoons baking powder
1/2 teaspoon salt
1/3 cup sunflower seed or canola oil
1/2 cup pure maple syrup
1 1/2 teaspoons pure vanilla extract
1/2 cup naturally sweetened fruit spread/jam
In food processor, grind oats until resemble course meal. Add the flour, walnut meal, baking powder, and salt. Pulse until dry ingredients are combined. Pour in oil, pure maple syrup and vanilla. Blend until dough starts to collect itself. Should only take about 20-30 seconds to come together. Wrap dough and refrigerate 1-2 hours.
Preheat oven to 350 degrees. Line baking sheets with parchment paper. Roll cookie dough into 1-tablespoon size balls and place on cookie sheet. Fill a small bowl with water and dip small spoon into water. Tap off excess and use to make depression into cookie for jam (I also used my thumb to flatten cookie out a bit more). Place about 1/2 teaspoon of jam into depressions on cookies. Bake cookies for 8-9 minutes or until edges are golden brown. Allow to cool on cookie sheet for 2-3 minutes. Remove and place on cooling rack to cool completely. Store in airtight container.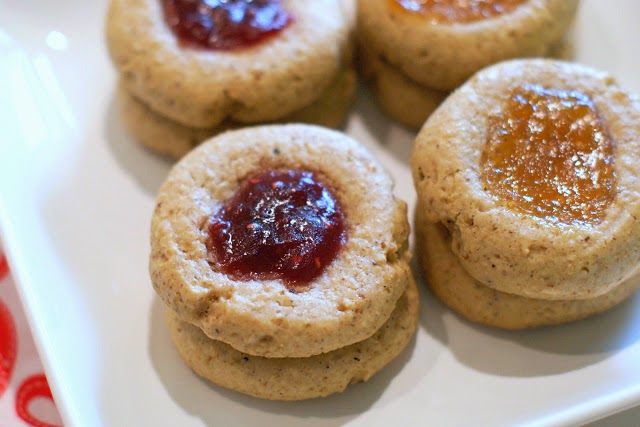 Recipe adapted from Altered Plates