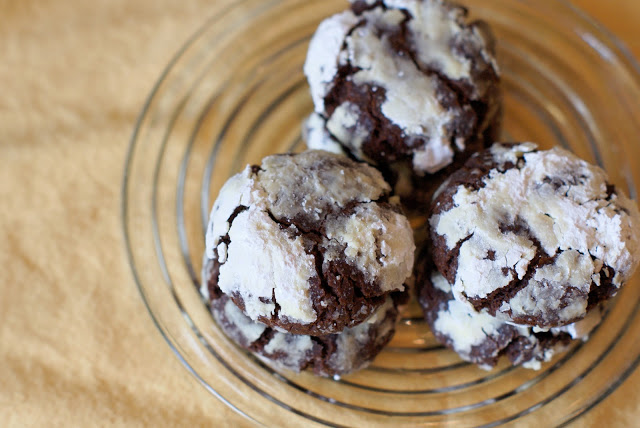 I've been on this kick of making my gluten free treats dairy free and egg free. Vegan all the way! I know that my body disagrees with both dairy and eggs. I've had two food allergy tests done to prove it. I was really good for over a year, then brought them back in to see how my body would do. I didn't notice too much a difference with the eggs. The dairy…that's another story. Dairy just does not agree with my tummy. At all. No cheese, no butter, no ice cream. Seriously depressing.
Well, I am not about to let eggs and dairy get this baker down! I've made some delicious vegan treats that even those carnivores will love. These gluten free vegan chocolate crinkles taste just like the ones I remember eating in my mom's kitchen as a kid. They were one of my favorite cookies! Soft, chocolatey and coated with delicate powdered sugar. In my recipe, I've replaced the eggs with pumpkin puree (who knew?) and it works beautifully. The intense chocolate masks the pumpkin…pretty tricky. The coconut oil once again worked it's magic replacing the butter. Vegan or not, these insane cookies are what you're missing in your life!
gluten free vegan chocolate crinkles
makes 2 dozen cookies
1 1/3 cup Sarah's gluten free flour blend
1/3 cup cocoa powder
1 teaspoon baking powder
1/4 teaspoon salt
1 1/3 cups dairy free chocolate chips
1/3 cup coconut oil
1/2 cup pumpkin puree
2/3 cup sugar
2 teaspoons vanilla
2 teaspoons instant coffee or espresso powder (optional)
1 cup powdered sugar for coating
In medium bowl, sift together flour, cocoa powder, baking powder and salt. Set aside. In large microwave-safe bowl, add chocolate chips and coconut oil. Microwave on high for 30 seconds. Stir and melt for another 20 seconds, as needed. Mix in the pumpkin puree, sugar, vanilla, and instant coffee. Stir in the flour mixture. Cover and refrigerate cookie dough for 1-2 hours.
Preheat oven to 350 degrees. Line
large baking sheet with parchment paper. Roll cookie dough into tablespoon-size balls. Roll in powdered sugar, coating with a thick layer (some will soak into the cookies). Place on parchment paper. Bake cookies for 10-12 minutes. Allow cookies to cool for 2 minutes on
baking sheet then finish cooling on cooling rack. Store in air-tight
container. Best served the same day.