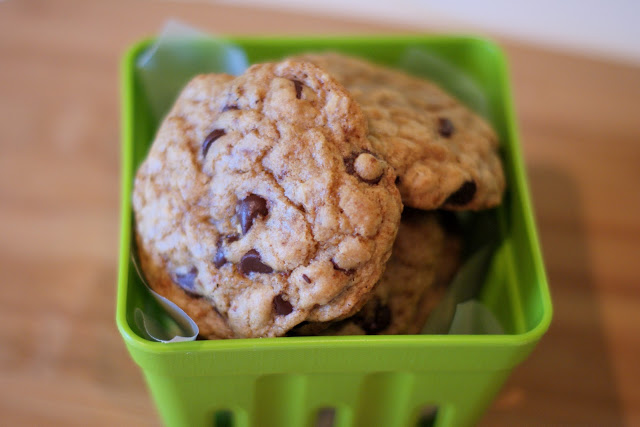 Warm, chewy, chocolate chip cookies. The classic cookie that everybody knows and loves. I've probably tried more chocolate chip cookie recipes than any other…why is it so hard to get just right? Some people like a more flat, crispy cookie. Some like them thick and cakey. I'm somewhere in the middle. Soft in the center, with a nice bite and a crisp edge. Good until every last crumb.
I've been falling more and more in love with coconut oil. It is a fabulous replacement for butter and is naturally dairy free. In these gluten free, dairy free cookies, it pairs quite beautifully with the chocolate chips. Chocolate + coconut = love. I also added a scoop of quick cooking oats to gives them the perfect texture. Now, when I made these, I used coconut sugar (which totally rocks!), but you could certainly use brown sugar. I will say that you MUST chill the cookie dough before baking. It is crucial when using the coconut oil and can make all the difference with those darn gluten free cookies. These cookies are my dream come true…I hope they will be yours too!
gluten free, dairy free chocolate chip cookies
makes 2-3 dozen cookies
1 1/2 cups Sarah's gluten free flour blend
1/2 cup certified gluten free quick cooking oats
1/2 teaspoon baking soda
1/2 teaspoon salt
1/2 cup coconut oil
1 cup organic pure cane sugar
1/2 cup coconut palm sugar
1 egg
1 egg yolk
2 teaspoons pure vanilla extract
2 cups dairy free chocolate chips
In medium bowl, sift together flour, oats, baking soda and salt. Set aside. In large mixing bowl, cream the coconut oil, sugar, and brown sugar. Add the egg, egg yolk and vanilla. Stir in the flour mixture. Add the chocolate chips and stir until combined. Refrigerate cookie dough for 1-2 hours.
Preheat oven to 350 degrees. Line large baking sheet with parchment paper. Place tablespoon-size scoops of cookie dough onto parchment paper. Bake cookies for 11-13 minutes, until edges are golden brown. Allow cookies to cool for 2 minutes on baking sheet then finish cooling on cooling rack. Store in air-tight container.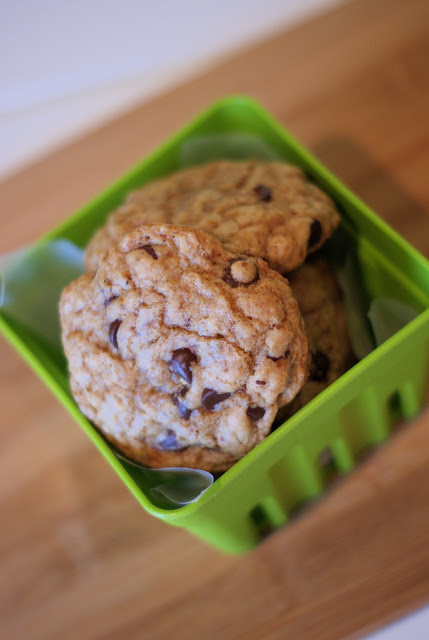 Recipe adapted from Mel's Kitchen Cafe