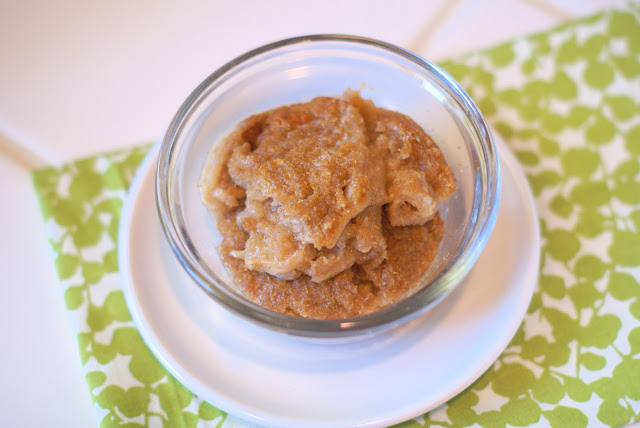 I would like to introduce you to Edison Grainery! They are a local company that provides a beautiful selection of
organic grains, beans, pastas, and much more. You have to go check out their website and browse through all of their whole grains. They also have a great assortment of pastas, as well as their exclusive quinoa crispies! They graciously sent me a
box full of some their products. Quite generous indeed. I love trying new gluten free baking goodies. Makes me happy, especially when they are high quality and organic. I was so excited to try out a new gluten free recipe…featuring Edison Grainery products!
A good, hearty breakfast is essential. It is the perfect way to start the day. Now, I'm not the best at always eating a balanced breakfast in the morning…but when I do, I feel amazing! Today I'm sharing a delicious, filling breakfast bake that is full of flavor. I used Edison Grainery organic quinoa and amaranth flakes. Both are packed with protein and fiber. I added freshly grated apples and cinnamon, which is one of my favorite flavor combinations. The sweetness comes from the ripe mashed banana and pure maple syrup too. Make a double batch of apple quinoa breakfast bake and you're set for the week! The leftovers reheat very nicely too. A hearty breakfast that will feed your very hungry family on these chilly fall mornings.
apple quinoa breakfast bake
serves 4
1/2 cup quinoa flakes
1/2 cup amaranth flakes
1/2 teaspoon baking powder
1 teaspoon cinnamon
pinch of salt
1 ripe banana
2 tablespoons butter, melted (I used Earth Balance to make dairy free)
1/4 cup pure maple syrup
1 1/3 cups milk (I used coconut milk)
1 teaspoon vanilla
2 apples, peeled and grated on large holes of grater
2 tablespoons quinoa bran (optional)
Preheat oven to 375 degrees. Spray 8×8 square baking dish with cooking spray. Sift together quinoa flakes, amaranth flakes, baking powder, cinnamon and salt. Set aside. In large mixing bowl, smash banana. Add melted butter, maple syrup, milk and vanilla. Stir in the shredded apples. Slowly mix in the quinoa mixture. Stir until combined. Pour into prepared baking dish. Sprinkle on the quinoa bran (optional). Bake for 25-30 minutes or until set in the center and golden brown. Let cool for 10 minutes before serving. Serve warm.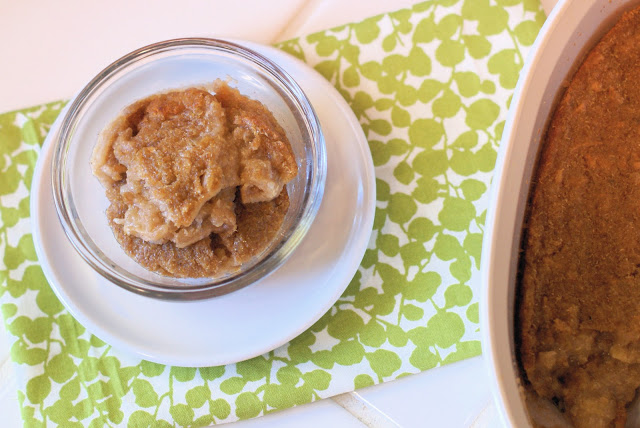 breakfast is served!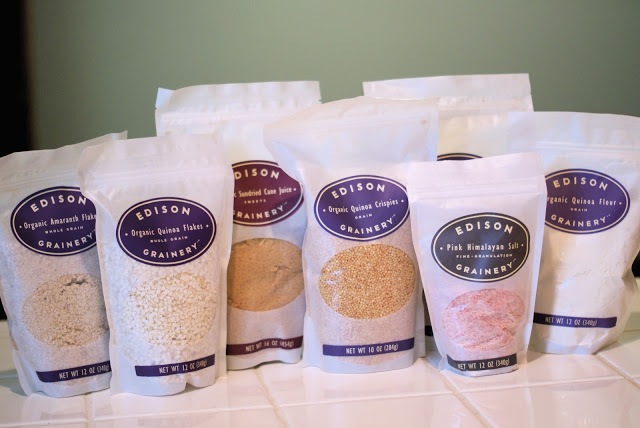 Edison Grainery sent me a package full of gluten free baking goodies and they want to send one to one of Sarah Bakes readers too! Their products would be a great addition to your gluten free pantry. Trust me. So versatile and nutritious! You're Edison Grainery package will include…
Organic Amaranth Flakes
Organic Quinoa Flakes
Organic Sundried Cane Juice
Organic Quinoa Crispies
Organic Quinoa Bran
Pink Himalayan Salt
Organic Quinoa Flour
To enter the Edison Grainery giveaway, you must sign-in using the box
below and leave a comment as well. Be sure to share with me your favorite warm breakfast meal. You can receive extra entries by liking Edison Grainery on facebook,
following me on twitter or tweeting this giveaway (be sure to enter your extra entries below). The last day to enter is Tuesday, November 13 at midnight. Lots of great gluten free, organic products…enter today!
THIS GIVEAWAY HAS ENDED.